Tickets for the event will go on sale in early March.
Update (03/09/20): As reported by GamesIndustry.biz, Mojang announced it has canceled Minecraft Festival due to complications related to COVID-19. However, the Minecraft Live presentation will still be livestreamed as originally planned.
---
Original Story:
This fall, the first ever Minecraft Festival will take place at the Orange County Convention Center in Orlando, Florida. The celebration of all things Minecraft will allow attendees to browse an exhibit hall, check out games in the Minecraft universe (and play some of them), attend panels, and more.
Minecraft Festival will take place from September 25 to September 27, 2020, and tickets for the event are going on sale soon.
On March 6 at 12 p.m. ET, Minecraft Festival tickets will go on sale on the event's website. There will be multiple ticket levels to choose from, depending on how many days you want to attend and what sorts of extras you want to receive (if any).
A one-day ticket will cost $60, or you can purchase a three-day ticket for $165. If you want extras, a 3-Day Gold Package will be available for $225 and a 3-Day Diamond Package will cost $300. While every ticket (even a single day ticket) will let you explore the exhibit hall and attend panels, the Gold and Diamond packages include more. For instance, both include early access to the exhibit hall.
Check out the chart below to see what's included with each ticket.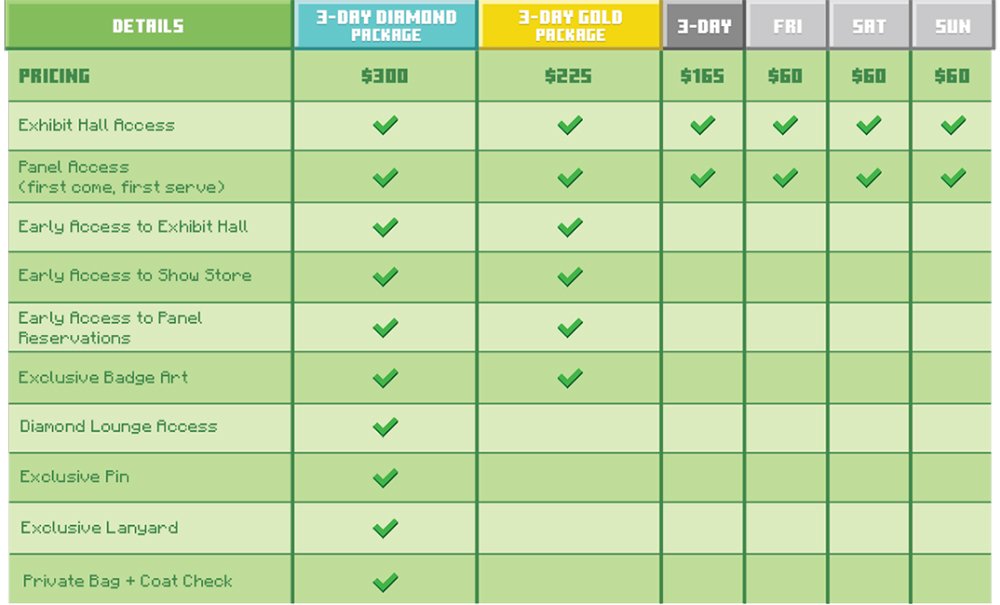 While it's not listed on the chart, a post on the Minecraft website said all attendees will also receive a Minecraft Festival cape for their in-game avatar in Minecraft (it will be compatible with both the Java and Bedrock versions of the game).
Even if you can't attend Minecraft Festival, you'll still be able to enjoy some of the event from home by watching Minecraft Live, a livestream that will take place at the show.
For more information about Minecraft Festival, head over to Minecraft's website.