Send a quick note when talking isn't an option.
Minecraft Dungeons recently launched on Switch, PlayStation 4, Xbox One, and PC. The dungeon-crawling game lets you explore procedurally generated levels full of enemies from the Minecraft universe, like zombies and skeletons. As you defeat these enemies, you'll have the chance to collect lots of new gear (like weapons and armor) that can make your character stronger over time.
While Minecraft Dungeons is fun as a single-player experience (check out our review), it's even better when playing with friends. Up to four people can play together through online and local multiplayer modes.
When you're playing with friends, you can quickly send your friends in-game messages using a chat wheel. This is helpful when you're not participating in a voice chat, but you still need to say something important.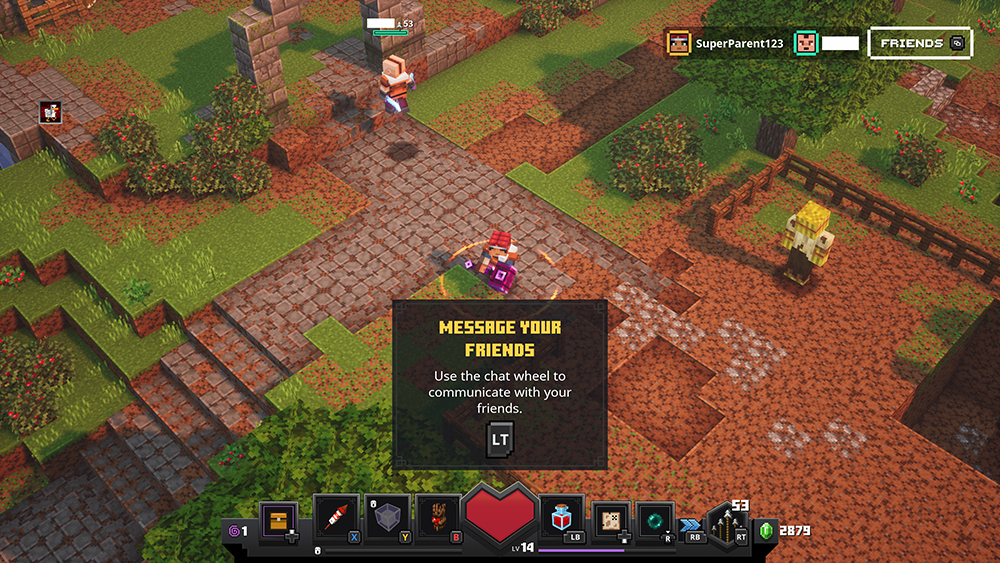 The chat wheel contains eight different messages:
Supplies Here!
Come Here!
Thanks
Ok!
Need Arrows
Wait
Need Health
No
To send one of these messages, press the chat wheel button (on Xbox One, this is "LT"), and then use the right analog stick to highlight and select one of the messages on the wheel.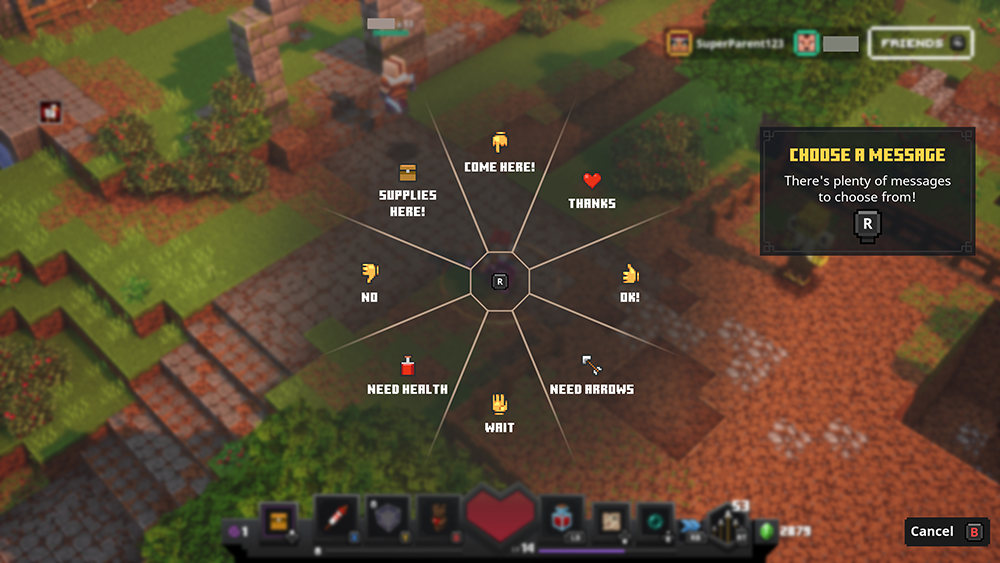 Once you send the message, it will appear on the screen for your friends to read. (If you need a reminder about which button opens the chat wheel on your particular platform, open the game's menu and select "View Controls.")
While these basic messages will let you tell your friends a few important things, they're still no replacement for actual voice chat. If you're in the market for a new headset that will allow you to talk to friends in real time, check out these Cloud Stinger headsets from HyperX.
To learn more about Minecraft Dungeons, or to view the rest of our guides for the game, check out our previous coverage.
Disclosure: HyperX is a sponsor of SuperParent. Xbox gave SuperParent codes for Minecraft Dungeons for coverage purposes.