Each box will contain a code for in-game content.
From toys and clothing to books and party supplies, Minecraft-themed merchandise can be found all over store shelves. And soon, Minecraft will make its debut in the cereal aisle via a new cereal called Minecraft Creeper Crunch.
The Kellogg's cereal has a cinnamon flavor, and it includes green, square-shaped marshmallows that represent the blocky creepers that players need to watch out for while playing the original Minecraft video game.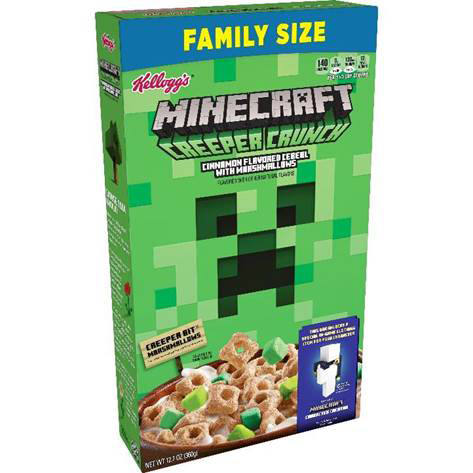 Each box of Minecraft Creeper Crunch will contain a code that players can use to unlock one of 10 clothing items for their Minecraft avatar. These items include cloaks, jackets, and more.
Minecraft Creeper Crunch cereal will debut in August 2020 in two box sizes. An 8 oz box will have a suggested price of $3.99, while a 12.7 oz box will have a suggested price of $5.69.
This isn't the first time a video game has been turned into a cereal. For instance, Super Mario Cereal was released in 2017. Its box functioned as an amiibo that could be scanned to receive rewards in participating Switch games.
Is your family excited to try this Minecraft-themed cereal? Are there any other video games you would like to see turned into cereal? Let us know on Twitter at @superparenthq.

Brandy Berthelson has been writing about video games and technology since 2006, with her work appearing on sites including AOL Games, Digital Spy, and Adweek. When she's not gaming, Brandy enjoys crafting, baking, and traveling with her husband.