SuperParent went hands-on with the device.
Miko recently updated its Miko 3 educational robot, which can move around in the real-world, carry on conversations with kids (and adults), and more.
Designed for kids aged 5+, the Miko 3 robot comes in two colors: red and teal. It measures 8.67 inches tall and has a triangular base with three wheels on the bottom, which allow the robot to move around on flat surfaces. In our experience, we had no trouble with Miko moving around on low-pile carpet.
Miko 3 features a 4.46-inch touch-screen "face" that kids (and adults) can tap to navigate menus and complete on-screen activities. Kids can also talk to Miko 3 by saying a key phrase ("Hello Miko"), followed by their request.
Finally, the Miko 3 features a camera and speakers. The camera can be used, in part, for video calls between the robot and the Miko 3 Parent App on iOS and Android devices.
Miko 3 allows kids to complete a variety of on-screen and off-screen activities, such as mini-games (like Tic-Tac-Toe and a game that encourages kids to dance in the real-world), take quizzes (like spelling quizzes), and more. Miko can also teach kids about topics like animals and numbers (as examples). Finally, kids can ask Miko questions, have the robot play music and dance, and more.
While some of Miko's content and activities are available for free, the Miko platform also offers a "Miko Max" subscription service that gives subscribers unlimited access to a wide variety of additional content from brands such as Disney, Da Vinci Kids, and Kidoodle.TV. The Miko Max subscription is priced at $49 for three months or $99 per year. Families can try Miko Max for free via a 7-day free trial.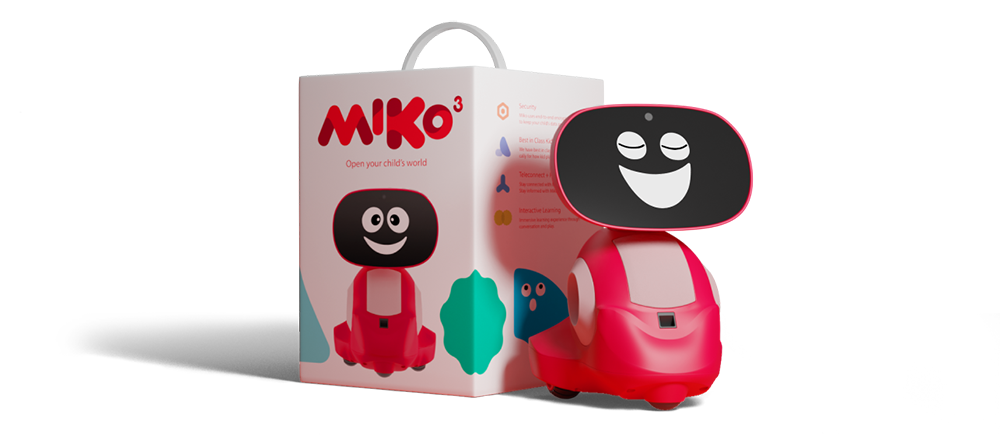 Before kids can get started with Miko 3, an adult will need to set up the robot by downloading the platform's Parent App on their mobile device and creating an account. Then, they can pair the Parent App with the Miko 3 device. In addition to supporting video calls, the Parent App can be used to track a child's progress across the platform's activities, as well as to learn more about the robot and the activities that are available.
Miko 3 will likely need a software update when it's first powered on. This update process is simple, but takes some time. We recommend updating the robot before introducing it to your kid(s) so it's ready to go when playtime starts.
It's also worth pointing out that Miko 3 includes a USB-C charging cable, but it doesn't include a charging brick to plug the cable into a wall outlet. If you want to charge Miko 3 through a wall outlet, you'll need to provide your own charging brick.
Unfortunately, in our time with the Miko 3, we experienced some technical issues that parents should know about. For one, the Parent App lost connection to our robot, so we had to re-pair it with the Miko 3 to continue using the app's features. We also had the robot lose connection to Wi-Fi, even though our Wi-Fi was behaving normally. These issues may not occur for everyone, and they may be fixed by the creator in the future, but parents should be aware that the Miko 3 platform has some problems.
The Miko 3 is regularly priced at $249, but it's currently available on Miko's website for $211. Miko 3 will be marked down to $199 as part of a Black Friday and Cyber Monday deal in November 2022.
You can learn more about the Miko 3 robot on Miko's website.
Disclosure: SuperParent received a Miko 3 robot for coverage purposes.