Help Mickey Storm rescue his parents in this waterslide platforming game.
Video game publisher Lion Castle released Mickey Storm and the Cursed Mask on Switch, PlayStation 4, and Xbox One. The side-scrolling platformer challenges players to help Mickey Storm and his sister, Jenny, rescue their parents (who happen to be super spies) after they're abducted by the evil Dr. Fisher.
Rather than being a traditional side-scrolling platformer, where the character runs back and forth across the screen, Mickey Storm and the Cursed Mask takes place at a waterpark and challenges players to complete levels by navigating water slides and pools as they ride on an inflatable raft.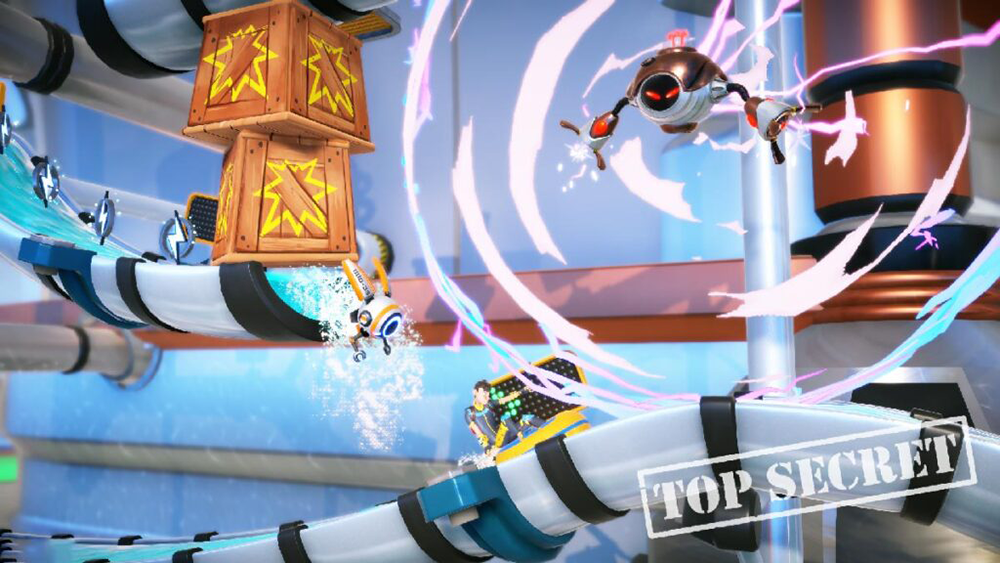 Each level is filled with multiple water slides at different heights, and players can jump (and use the environment) to reach these different areas. When players jump into the air, they can press two buttons to lean their character forward and/or backward to make sure they land safely.
In addition to water slides, stages are also filled with enemies and obstacles to avoid, as well as optional items to collect. Plus, each stage contains checkpoints that players can reach to save their progress up to that point.
Players can take a few hits in each stage before failing. If they take too many hits, they'll warp back to the nearest checkpoint they activated and can keep playing.
Finally, two players can team up to play together through local cooperative multiplayer.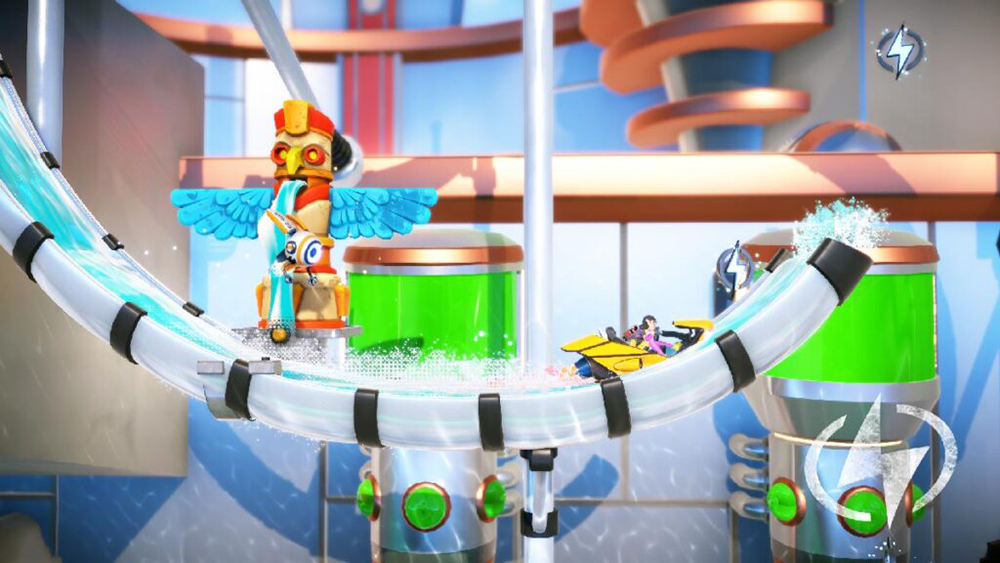 Mickey Storm and the Cursed Mask is now available on Switch, PlayStation 4, and Xbox One for $17.99. The game is rated E for Everyone by the ESRB.
Lion Castle will donate 5 percent of the game's sales to War Child, a charity with the goal of helping children affected by war.
While Mickey Storm and the Cursed Mask is family-friendly, it's a challenging game and may not appeal to everyone. In addition, there's no voice acting, so players will need to know how to read to follow along with the game's story. We also noticed a number of punctuation and grammatical errors in the game's text.
Check out some gameplay from Mickey Storm and the Cursed Mask on Switch in our video below.
Disclosure: SuperParent received a code for Mickey Storm and the Cursed Mask for coverage purposes.