Race on your own or against friends.
In early September, Nintendo revealed Mario Kart Live: Home Circuit, a racing game that will combine real world karts featuring Luigi and Mario with augmented reality technology (AR) and Switch software to allow players to create race tracks in their own home, and see where they're driving on the Switch's screen.
Each kart comes equipped with a camera that outputs to the Switch's screen so you can see where you're driving. That is, instead of racing on virtual tracks like in other Mario Kart games, you'll see the real-world environment on the screen thanks to the camera on the back of the kart.
While Nintendo revealed a brief look at the game earlier this year, we now know much more about how it will actually work.
Developed by Velan Studios, Mario Kart Live: Home Circuit will include one kart (you can choose either Mario or Luigi), four numbered gates, and two arrow sign boards (you'll also receive a USB charging cable for the kart). Once you purchase the physical bundle, the actual game software will be available as a free download from the Nintendo eShop.
Before it's time to race, you'll need to create a course layout in the world around you. The recommended gameplay area is 10 feet x 12 feet, though Nintendo said you can create courses in "most living spaces."
To create a course, you'll need to place the four gates on the ground and then drive your kart through them in numerical order to "teach" the game the course layout. Even if you place two gates near each other, you don't have to drive through them in a straight line. The path you take from gate to gate will determine the final course layout (you can see this in action in the trailer above).
After you've created a course, you can compete in multiple gameplay modes. The game's main mode is called Grand Prix, which will let you compete against computer-controlled Koopaling characters in eight cups (24 different races in total). Races can have different on-screen themes, like underwater and space, as a couple of examples.
The game will also have four classes to choose from (50cc – 200cc), which will determine how fast the real-world kart will move.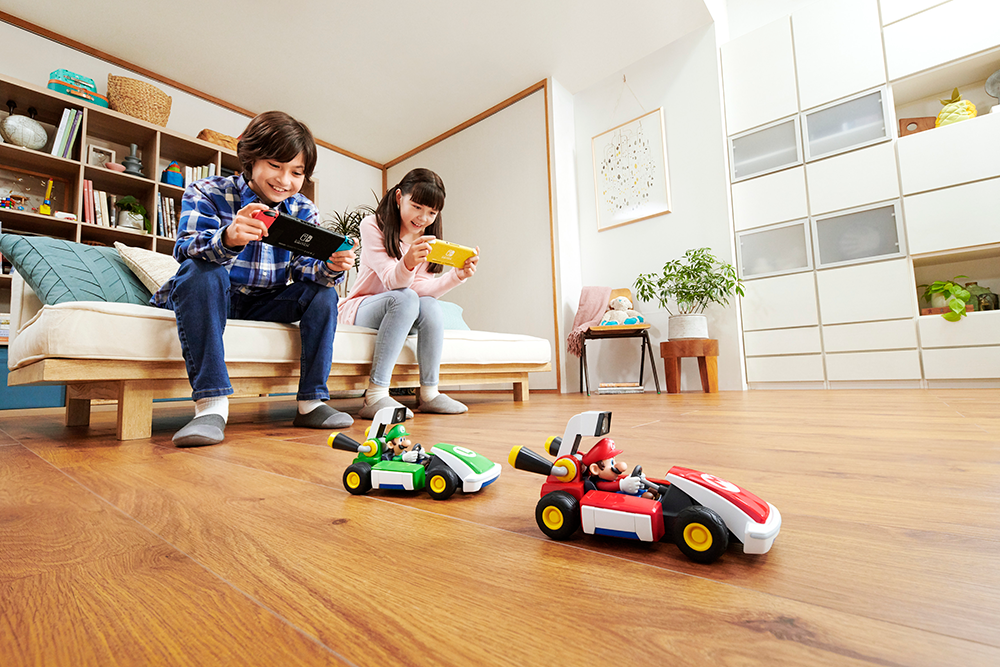 During a race, players will be able to pick up items like Mushrooms and Shells, which they can use to give themselves an advantage or mess with their opponents (depending on the item). In a press release, Nintendo provided more information about this feature:
"In every race, familiar Mario Kart elements in the game affect the physical kart itself, bringing the frenetic fun of Mario Kart into a whole new dimension. Grabbing a Mushroom in-game gives the physical kart a speed boost, whereas getting hit by a Red Shell will stop the kart in its tracks. A range of well-known items from the Mario Kart series are present, including slippery Bananas, ink-spilling Bloopers and even Bullet Bills that enable the kart to surge around the course at high speed, steering itself."
As players compete, they'll be able to collect coins that will allow them to change their in-game appearance "with different costumes and kart types." In addition, a steering assist option will be available for players who want some extra help while driving.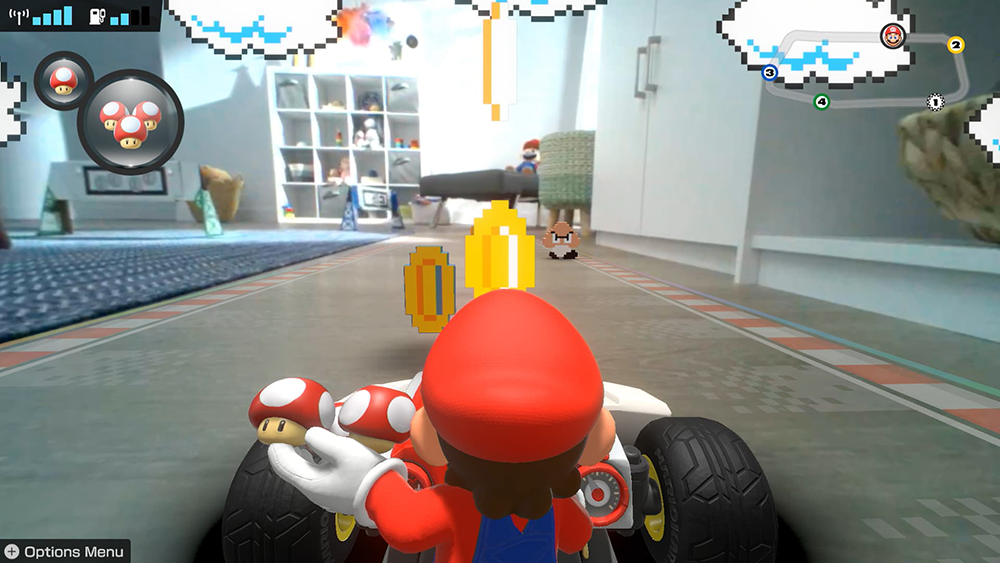 Finally, in addition to the Grand Prix mode, Mario Kart Live: Home Circuit will include three other modes: Custom Race, Time Trials, and Mirror Mode.
The press release detailed these modes:
"Custom Race: This mode gives players even more room for creativity, designing not just the physical layout of the course, but also the ability to add hazards, items and more to bring truly unique creations to life.
Time Trials: Players create a course and then race to set the fastest time possible – competing either against their own personal best, or handing the controller to another player for an exciting Time Trials head-to-head that requires only one Nintendo Switch system and one Mario Kart Live: Home Circuit game.
Mirror Mode: For those who fancy an extra challenge, this mode allows all of the Grand Prix cups to be played in mirror image, with right turns becoming left and the familiar becoming unfamiliar."
In addition to supporting single-player gameplay, families and friends can purchase multiple Mario Kart Live games in order to compete in up to four player multiplayer races in the game's Grand Prix and Custom Race modes. To be especially clear, when competing in these multiplayer races, each player will need their own Switch system, as well as their own kart.
Mario Kart Live: Home Circuit will be released for Nintendo Switch on October 16 for $99.99. You'll be able to choose the Mario package or the Luigi package, depending on the kart you want to own.
Mario Kart Live: Home Circuit is rated E for Everyone by the ESRB.