Collectible 'BeatBits' will let kids customize their videos in unique ways.
As reported by The Verge, The Lego Group has partnered with Universal Music Group (UMG) to launch a music video creation platform for kids called Lego Vidiyo.
Lego Vidiyo will combine a mobile app with real-world minifigures and small tiles called "BeatBits" to allow kids to create their own music videos featuring music from UMG artists. Once a video is finished, kids can share it to their in-app feed, where it can be viewed by others after it's gone through a moderation process.
Lego Vidiyo is aimed at kids 7-10. The platform resembles the "toys-to-life" craze that featured video games like Skylanders and Disney Infinity. That is, you'll be able to purchase real-world Lego minifigures and BeatBits, and then scan them using the mobile app to bring the content to life in the mobile application (in games like Skylanders, families could purchase real-world figures and scan them on a platform to bring those figures to life in the games).
BeatBits are small square tiles that each allow kids to unlock a different editing capability for their music video. For instance, one may unlock a mouse voice audio effect, while another allows their minifigure to do a breakdance move, and so on.
To actually create a music video, kids will first need to pick a song from the UMG library. From there, they can place one of the system's minifigures and up to 12 BeatBits tiles onto the Lego Vidiyo stage platform.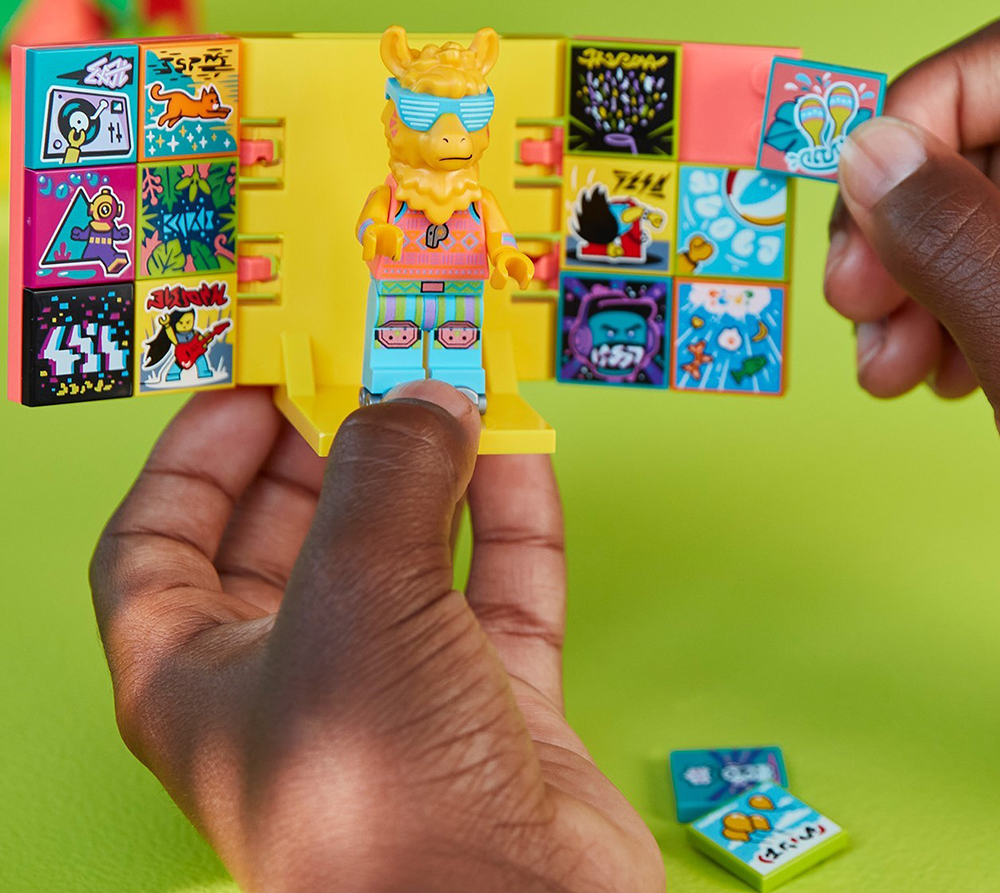 Once they've made their selections, kids can scan the stage using the Lego Vidiyo mobile app to bring the minifigure and editing options to life on their device. They can then record a 60-second music video.
The Lego Vidiyo app will use augmented reality (AR) technology to make the moving minifigure appear as though it's in the real-world in front of kids. This "real-world" environment serves as the backdrop for the music video, so kids can use their imagination to design a perfect background for each creation.
Videos can be trimmed to 5-, 10-, 15-, or 20-second clips that can be shared within the app. If kids decide to share content with other users on Lego Vidiyo, this content will go through a moderation process to ensure it's appropriate. For instance, if a video features personally-identifiable information, it can't be shared, though kids can still save the video for their own viewing later on.
To further ensure kids remain safe on the platform, Lego Vidiyo will require "verified parental consent," and all users must remain anonymous.
The first products in the Lego Vidiyo line will be available to purchase starting March 1, though Lego hasn't released any pricing information just yet. Keep checking back with SuperParent, as we'll bring you more information about Lego Vidiyo in the future.
Are your kids excited to try the Lego Vidiyo app? Let us know on Twitter at @superparenthq.
Top image via The Lego Group