Complete in head-to-head multiplayer battles in this real-time strategy game.
Lego Star Wars Battles is now available on Apple Arcade, Apple's game subscription service that gives subscribers unlimited access to a curated selection of games for a single monthly price.
Lego Star Wars Battles is a real-time strategy multiplayer game that's similar to Clash Royale. Players will face off in head-to-head battles against other real players with the goal being to eliminate the other player's base while defending their own.
In Lego Star Wars Battles, players can fight as both the Light Side and the Dark Side of the Force. This gives players two separate groups of units to collect and upgrade over time.
During each battle, players can spend energy to deploy units to the battlefield, and those units will automatically advance toward the enemy base and attack any enemies or enemy towers in their way. Once a player's units have passed certain "tower" points on the battlefield, players can build offensive and defensive towers in those positions to give themselves an advantage.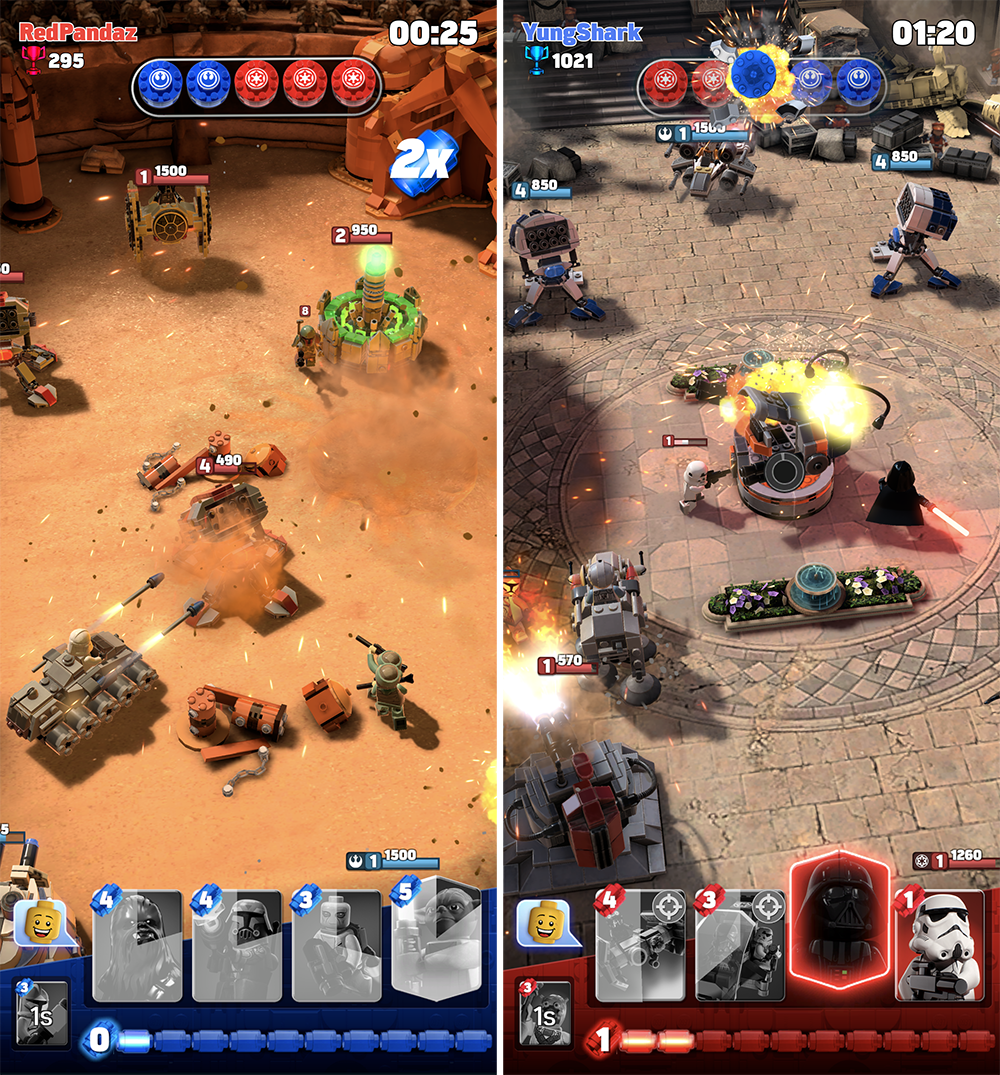 Each unit requires a different number of energy points to deploy, and energy will recharge automatically over time.
Players also have access to special Champion units, which are main characters from the Star Wars franchise, such as Luke Skywalker and Darth Vader. Once these units are deployed on the battlefield, players can trigger their special ability. Their special ability will automatically recharge after it's been used, so players can use it again when it's ready.
As players complete battles, they'll receive mystery chests containing rewards like unit cards and in-game currency. As players collect the required number of cards for each unit, they can upgrade that unit to make it stronger. Mystery chests take time to open, but players can skip the timer by participating in more battles.
Players will also earn a second currency as they play, which resembles a green crystal. These crystals can be spent on new units and unit cards in the shop (including new Champions).
Apple Arcade games don't contain in-game purchases or advertisements. This means players can only unlock the game's content by playing the game.
Lego Star Wars Battles is available to download on Apple Arcade. The game has an age rating of 9+. Even though Lego Star Wars Battles is a multiplayer game, players can't chat with each other. They can only communicate by sending animated emotes.
Check out some gameplay from Lego Star Wars Battles in our video below.