Kids can play mini-games, collect dolls, and play in a virtual dollhouse (just watch out for the ads).
MGA Entertainment, the company behind the popular L.O.L. Surprise toy line, and developer TutoTOONS have released L.O.L. Surprise Disco House on mobile devices. The mini-game title is designed for kids aged 6+, and it allows them to play mini-games, collect L.O.L. Surprise dolls, and play with them in a virtual dollhouse.
When players first begin L.O.L. Surprise Disco House, they'll have a single L.O.L. Surprise doll in their collection, a few pieces of furniture in their dollhouse, and only one mini-game to play. As players complete mini-games, they'll earn more furniture and decorations for the dollhouse, as well as diamonds, the game's currency. Players can spend diamonds on surprise balls containing new dolls.
As players collect new dolls, they'll also unlock new mini-games to play. As a couple of examples, a music mini-game asks players to tap symbols in response to prompts as L.O.L. dolls dance on the screen, while another asks them to find specific clothing and accessory items among a jumbled pile of items before time runs out. While many games are fairly self-explanatory, there is some text to read, so players will need to know how to read.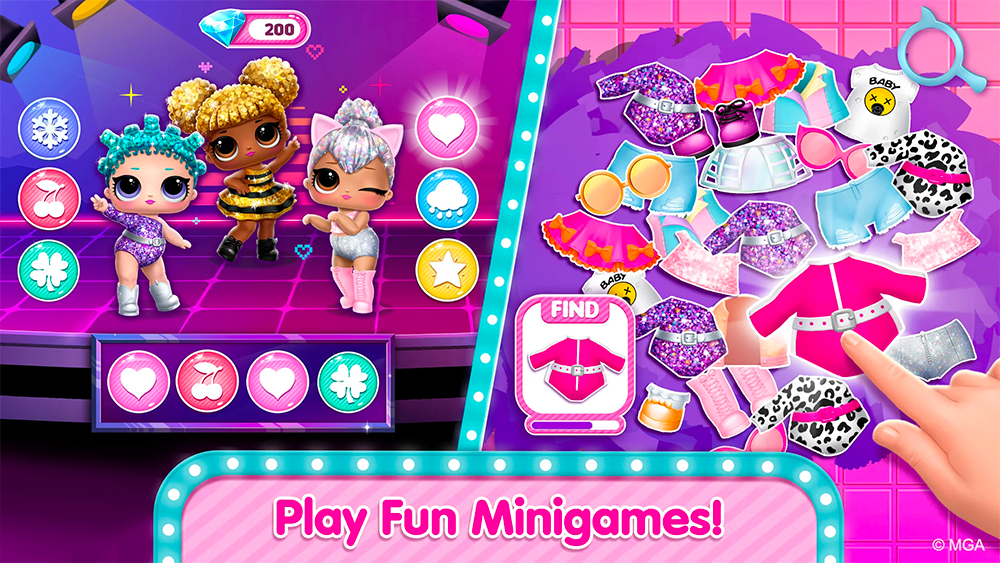 L.O.L. Surprise Disco House is now available to download for free on iOS and Android devices. While the game is free-to-play, it's heavily supported by video advertisements, some of which can't be skipped. For instance, a full-screen video ad usually plays each time players finish a mini-game, and the coloring mini-game requires players to watch an ad before they can color certain pictures. The L.O.L. Surprise balls also take time to open, but players can watch an ad to skip the timer. Players can also watch ads to receive free diamonds.
If you want to stop your kids from seeing ads, make sure they only play the game when their device is offline (for instance, by using airplane mode). The game also allows players to remove ads via an in-app purchase of $4.99.
Check out some gameplay from L.O.L. Surprise Disco House in our video below. Please note we've edited the advertisements out of our video.