This multiplayer game challenges players to help Kirby eat as many strawberries as possible during each event.
Nintendo released Kirby's Dream Buffet on Nintendo Switch.
Kirby's Dream Buffet is a multiplayer game that allows up to four players to race through obstacle courses and complete mini-games. In each event, players are challenged to help Kirby eat as many strawberries and other treats as possible to grow in size and earn points.
In Kirby's Dream Buffet, up to two players can compete against computer-controlled opponents on a single Switch system. In addition, up to four real players can compete against one another through local wireless if they have their own Switch systems and copies of the game. Finally, players can compete against friends and strangers online.
Kirby's Dream Buffet features three kinds of events for players to participate in: races, mini-games, and a battle royale.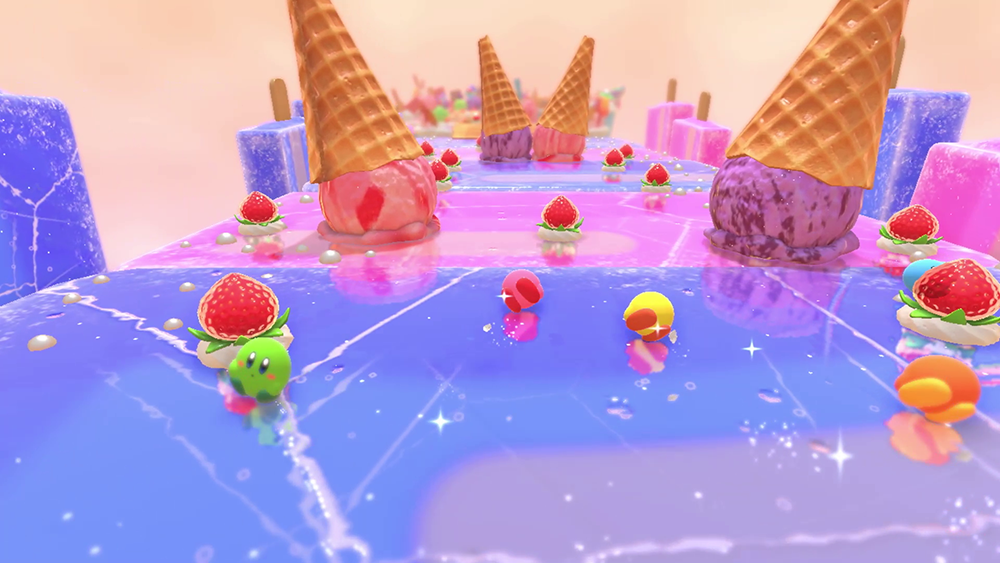 Races challenge players to make it to the end of an obstacle course as quickly as possible. Each course is full of strawberries and other goodies that players can roll into to help Kirby grow in size. The larger Kirby becomes, the faster he'll move. Strawberries are also worth points at the end of each event.
Each race features four competitors, and they'll be challenged to collect one of three strawberry mountains at the end of the course. If players can reach one of these strawberry mountains before their opponents do, they can eat the large pile of strawberries to earn lots of points at once.
As players make their way through each race, they can roll into their opponents to try and knock them off of the course. Players can also use Kirby's "copy abilities" to mess with their opponents and/or give themselves an advantage.
Elsewhere, mini-games ask players to eat as many strawberries as possible in a short amount of time. For instance, one mini-game asks players to jump into tea cups holding strawberries that will randomly appear around the screen. When players jump into a tea cup, they can eat the strawberries inside of it to earn points and help Kirby grow.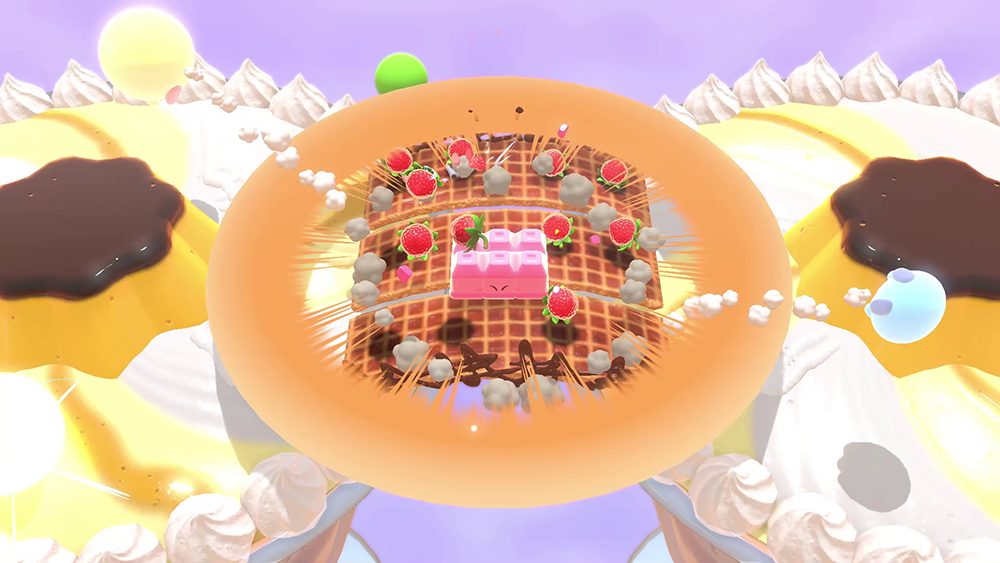 Finally, battle royale events will challenge players to eat as many strawberries as possible in a limited amount of time. This mode allows players to use Kirby's copy abilities to mess with their opponents. If players can knock an opponent off of the play area, they'll earn some bonus strawberries, and the player they knocked off will lose some strawberries.
Players can participate in each of these event types individually as many times as they'd like. They can also participate in the "Gourmet Grand Prix," which features two races, one mini-game, and one battle royale event that are played one right after the other. In a Gourmet Grand Prix, players carry their strawberries (and Kirby's size) with them from one event to the next, and the player with the most strawberries at the end of the four events will win.
As players collect strawberries in individual events and Gourmet Grand Prixs, they'll earn experience points that will help them level up in the overall game. As players level up, they'll unlock new costumes and colors for Kirby, treats for decorating a large cake back in the game's hub area, and more.
Kirby's Dream Buffet is now available on Switch for $14.99. The game is rated E for Everyone by the ESRB.
Check out some gameplay from Kirby's Dream Buffet in our video below.
Disclosure: SuperParent received a code for Kirby's Dream Buffet for coverage purposes.