This cooperative tabletop game lets players explore a fantasy world with the help of a smart device.
We recently had the chance to check out Kids Chronicles: Quest for the Moon Stones, a tabletop game from Lucky Duck Games, the company behind titles such as Yummy Yummy Monster Tummy and Chronicles of Crime.
What is Kid Chronicles: Quest for the Moon Stones? What's this game about?
Designed by David Cicurel, Kids Chronicles: Quest for the Moon Stones is a cooperative tabletop game for 1-4 players with a recommended age of 7+. The game combines the use of a game board and real-world cards with a mobile application that can be downloaded for free on iOS and Android devices.
In Kids Chronicles: Quest for the Moon Stones, players will become apprentice magicians and will be able to explore a fantasy world on a quest to find four missing moon stones. The game features five different scenarios, or stories, to complete, which players are meant to experience in a set order.
Each game of Kids Chronicles: Quest for the Moon Stones has an expected play time of 30-45 minutes, though this time may vary greatly, depending on how many scenarios you decide to complete in a single session.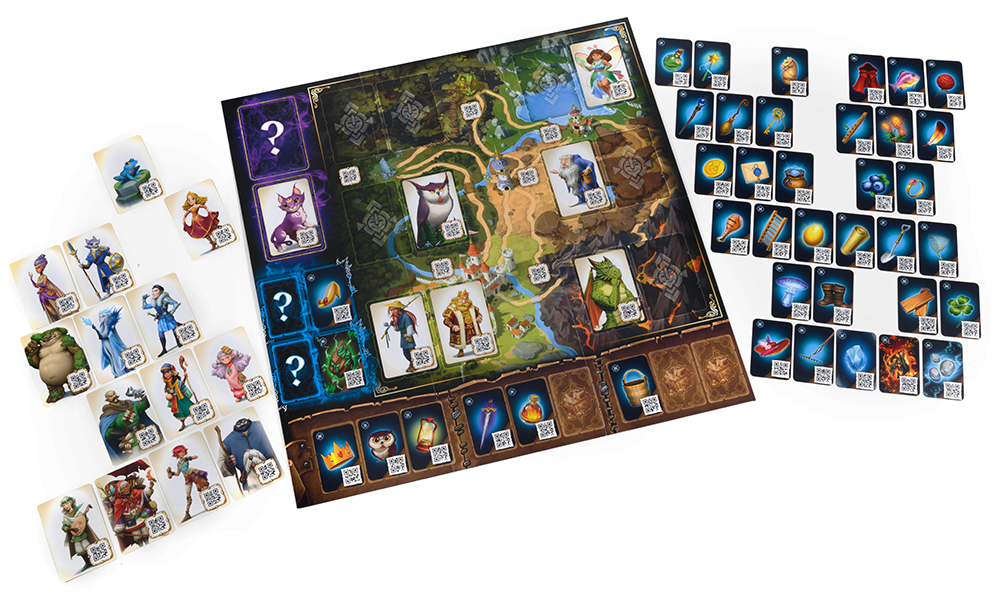 How do you play this game?
Kids Chronicles: Quest for the Moon Stones includes a double-sided game board and two decks of cards. One side of the game board represents The Kingdom of Summer, while the other represents The Winter Empire. Each side of the board features multiple locations that players can visit during each scenario, as well as spaces meant to hold the game's cards.
There are two types of cards: Character Cards and Item Cards. Character Cards feature the characters and creatures players can interact with throughout the game, while Item Cards feature items players can discover and take with them on their quest.
The game's board and cards feature QR codes that can be scanned using the camera on a smartphone or tablet. Depending on their progress in the current scenario, scanning a QR code may allow players to travel to a different location, talk to a specific character, use a specific item, and so on.
Players are guided through each scenario by the game's mobile application. There's lots of reading to do here, so younger players may need help following along with the game's story.
As players visit different locations on the game board, the application will show them 360 images of these locations on the screen. A player can hold the device in their hands and move in a physical circle in the real-world in order to view the entire in-game environment. As players view these environments, they're encouraged to look for characters/creatures and items that are also featured on the game's cards.
Once players explore an environment using the application, the app will tell them how many key items and/or characters they were supposed to find. If players spotted the correct number of items, they can scan the associated cards to move the story forward. If not, they have the option to look at the environment again.
As players uncover new characters and items to interact with, they'll need to scan cards in the correct order to move the story forward. For instance, they may need to scan ingredients (Item Cards) to make a potion, or travel to a certain area on the game board to talk to a specific character. If players ever need help figuring out what to do next, they can talk to their cat companion named Nils, who will give them a clue related to how they should progress.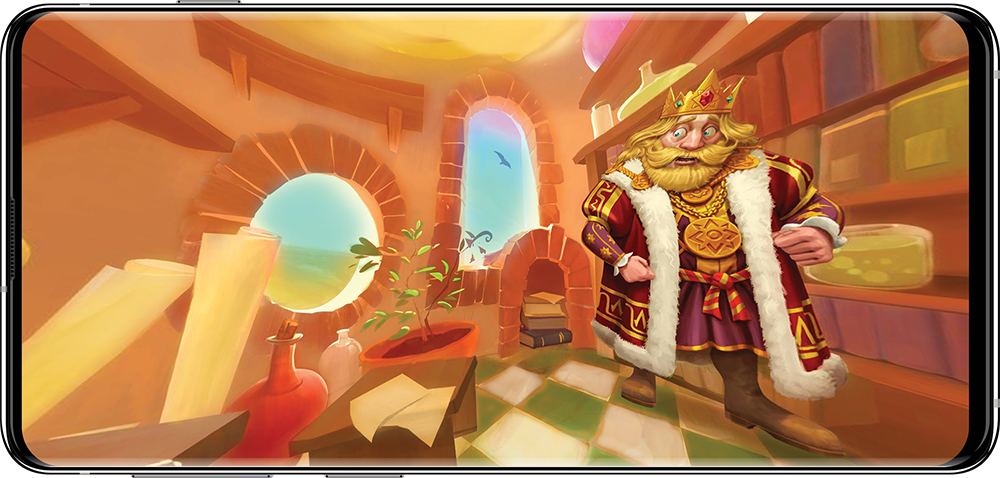 Is this game fun to play?
We loved Kids Chronicles: Quest for the Moon Stones. The game encourages players to use critical thinking and deductive reasoning to figure out which card to scan next, and the stories are very entertaining.
If we have any complaint about the game, it's that it lacks replayability. That is, once you've completed all of the stories, you won't have any incentive to play through them again. However, the game is still lots of fun to experience the first time around.
Is there anything else parents need to know about this game?
If you have your smartphone or tablet in a case that obscures the device's back-facing camera, you may want to remove the device from the case to play the game more easily (for instance, we have our iPad Pro in a folio-style case that covers the back-facing camera by default). If you remove the device from its case, kids should be encouraged to handle the device with extra care while playing the game.
What's the final verdict?
Kids Chronicles: Quest for the Moon Stones is a thoroughly enjoyable tabletop game that even adults can enjoy. We highly recommend picking this one up.
---
Kids Chronicles: Quest for the Moon Stones is available for $24.99 on the Lucky Duck Games website and at other retailers.
Disclosure: SuperParent received Kids Chronicles: Quest for the Moon Stones for coverage purposes.