The game challenges players to help Barry Steakfries avoid obstacles and enemies as he makes his way through a scientific lab.
Jetpack Joyride 2 is now available on Apple Arcade, Apple's game subscription service that gives subscribers unlimited access to a curated selection of games for a single monthly price.
Jetpack Joyride 2 is the sequel to the original Jetpack Joyride, which was released on mobile devices in 2011. The game challenges players to help Barry Steakfries survive as long as possible as he uses a jetpack to fly through a scientific laboratory (Jetpack Joyride 2 was developed by Halfbrick, and Barry Steakfries is a character that appears in multiple Halfbrick games).
The original Jetpack Joyride was an endless runner that allowed players to keep playing until they eventually hit an obstacle, which ended the game. In Jetpack Joyride 2, players can complete a storyline that will take them through multiple environments, or stages, which will become more challenging over time.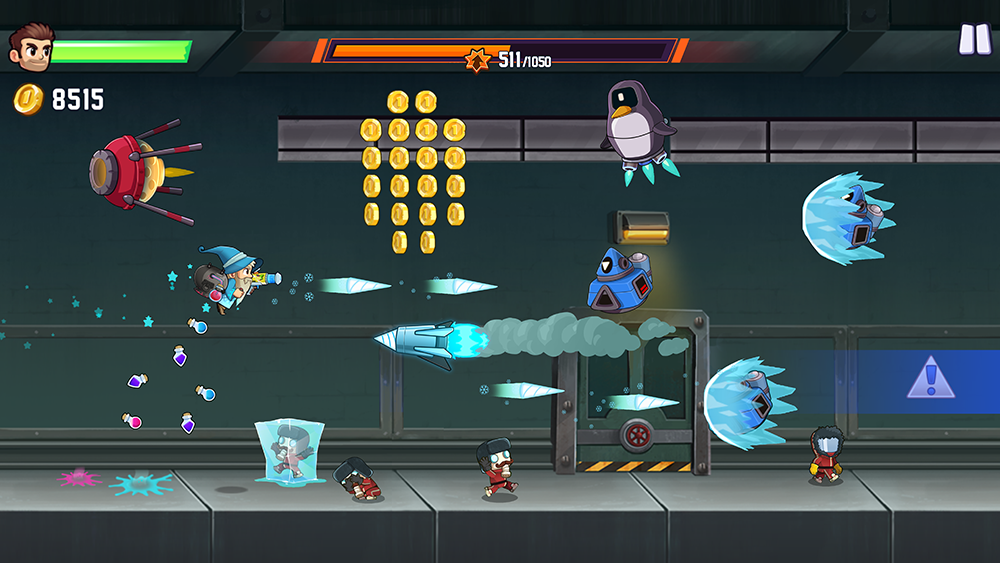 During each game, Barry will run from left to right across the screen automatically, and players can tap and hold on the screen to rise into the air using Barry's jetpack. When players let go of the screen, Barry will fall back down to the ground. Players will need to avoid a variety of obstacles, like laser beams, missiles, and robots, as they make their way through each stage.
At certain points in each game, Barry will be able to temporarily use a weapon (like a pistol) to attack enemies that appear in front of him. Barry will fire these weapons automatically. Players can also collect coins and power-ups as they play, as well as vehicle tokens that will allow them to temporarily enter a vehicle.
If players hit an obstacle, Barry will lose a portion of his health. If Barry runs out of health, the current game ends and players can start a new game from the beginning of the stage. If players can survive long enough to make it to the end of a stage, they may be challenged with a boss battle, depending on the stage. Once players complete a stage, the current game will end and the next game will start in the next stage.
In between games, players can use the coins and other items they've collected to upgrade Barry's jetpack, weapons, and vehicles. Players will also earn experience points as they play, which will help them level up over time. As players level up, they'll receive in-game rewards.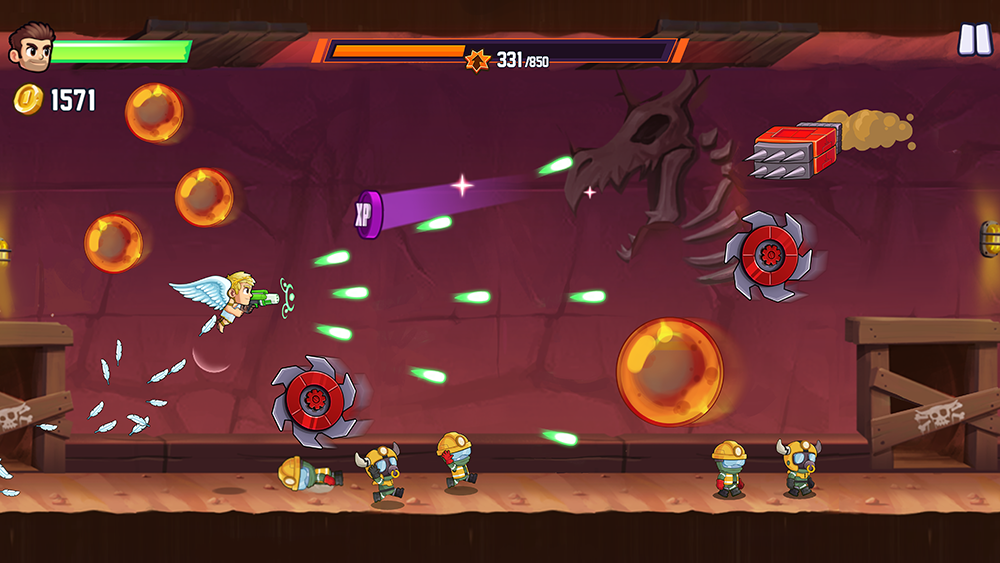 Elsewhere, players can unlock new costumes for Barry and skins for the jetpack as they play. Players can also play as a female character named Betty.
On top of this, players can complete missions to receive free in-game items, like coins and experience points. They can also collect additional resources that are generated over time in the game's Factory. The Factory will generate these resources even when players are away from the game.
Finally, in addition to a story mode, Jetpack Joyride 2 features an Arccade mode that allows players to play mini-games with a variety of themes.
Apple Arcade games don't contain advertisements or optional in-game purchases. This means the only way players can unlock content in Jetpack Joyride 2 is by playing the game.
Jetpack Joyride 2 is now available on Apple Arcade. The game has an age rating of 9+. While Jetpack Joyride 2 is family-friendly, parents should know that we encountered one instance of mature language while playing.
Check out some gameplay from Jetpack Joyride 2 on iPhone in our video below. Please be aware this video contains the instance of mature language we previously mentioned.
Editor's Note (08/19/2022): This article has been updated with information about the game's Arcade mode.