Gather around the table.
By Laura Higgins, Director of Community Safety and Digital Civility at Roblox
Thanksgiving is the time in the U.S. when families and friends usually come together for a special celebration, but it's looking very different this year. Some supermarkets are asking shoppers to make reservations before coming in to shop for holiday meals to ensure social distancing. Travel is limited, so there are family members who can't join traditional dinner celebrations. In some states, gatherings are restricted to just a few people in a single household.
In these times of isolation when people often can't be with their loved ones in the same room for this special day, stories of families staying in touch and having fun with their kids, cousins, and grandkids together on Roblox are incredibly inspirational. Some are even making play on Roblox part of their Thanksgiving day celebration.
This is great news, as we hear over and over again from parents and caregivers who play their kids' and teens' favorite games together with them how they naturally get more involved in their kids' online lives and build a stronger bond through play.
Gina Rich, mom of two, recently wrote in The Washington Post how her whole family started playing Adopt Me on Roblox together. She notes that parenting in a pandemic means constantly delivering instructions to kids, be it to wear their masks, wash their hands, or keep social distance. However, when she's playing with her kids, they are the ones telling her what to do and becoming her "teachers, coaches and mentors." Now the whole family has a shared language and lots of fun times and laughs together. Moreover, various studies show how playing social video games in general makes people happier and less lonely. Finally, playing together with kids and teens means lots of opportunities for adults to help them learn civility and safely navigate the online world.
So, what's on the table for Thanksgiving in 2020? Here's how some families are planning to get together and swap traditional board games for some multiplayer fun:
Thanksgiving Family Meal Plans…in Bloxburg
A Missouri mom Lisa Long, 44, has been playing on Roblox with her daughters since early this year. She shares that because she's immunosuppressed, their whole family has been isolated and staying home since March. Her daughters started playing first, but then convinced her to also join them at some point early during lockdown. Lisa says, "We stuck to Fashion Famous and Adopt Me with my girls, and we laughed so much!"
Then, during summer break from school, they connected quite frequently with friends and family, exploring virtual places with her brother's family and building houses together in Bloxburg with their cousins. They also became huge fans of YouTuber PeetahBread's Bloxburg Kids series. With time, dad also joined, and now the whole family has houses in Bloxburg, and loves trading and growing pets in Adopt Me.
"Recently, the cousins all had a virtual sleepover over one weekend to watch the Lil Nas X concert on Roblox that was at midnight here, and then we all watched a replay the next day which was a lot of fun," adds Lisa. "We don't have a specific Thanksgiving plan YET, but the girls said they want to have a Bloxburg Thanksgiving meal together with all the family from anywhere in the country who can join us."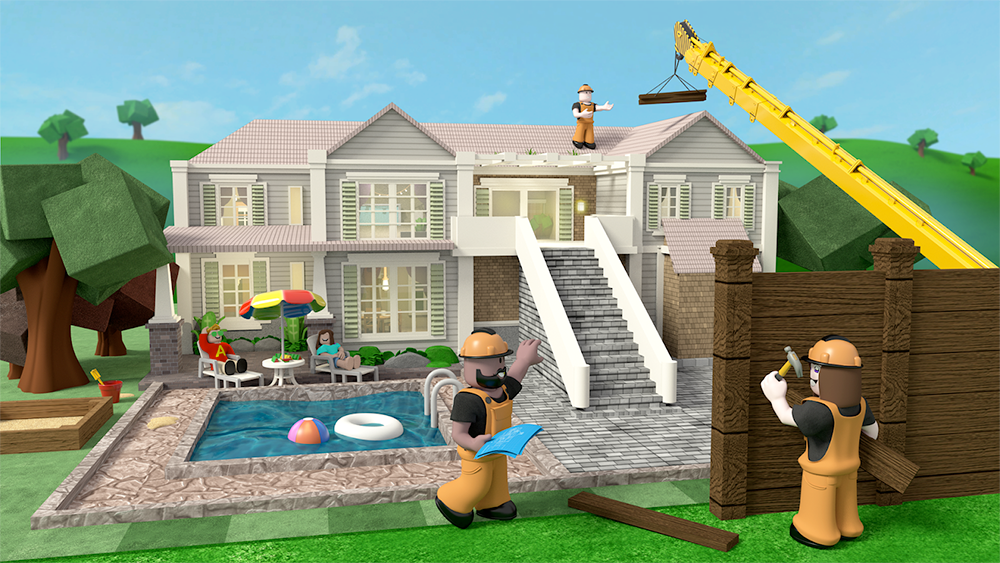 Turkey Day "Roblox Quarantine" with Grandma
Barbara Benson, 66, lives in Florida while her 6 and 11 year old grandsons reside in New Orleans, living with their parents who own four restaurants. "When COVID-19 hit in March, the kids were home and the parents were dealing with the new stresses of catering and delivery," says Barbara. "The kids would (and still do) FaceTime me on my phone, then we sign in to Roblox on our iPads and pick whatever game they feel like playing—there's a lot of laughter."
Barbara adds they just love the "great variety of games" on Roblox. When they get together, she also tries to emphasize fair play and they do a lot of pretend chatter, practicing manners and social skills. There's always some competition between the two brothers, but Barbara always comes in last, demonstrating that "losing can still be fun." She adds, "The best moments are when I learn something with one of them, then the other one joins the game, and the first one explains perfectly what we learned. Being a see one, do one, teach one gal, it warms my heart to see the circle of learning right there on my phone."
For Thanksgiving this year, Barbara and her husband are driving to New Orleans to help watch their kids while their parents work. They are extremely excited to finally get to be in the same house with their grandkids playing after all these months apart and three trip cancellations so far. Their Thanksgiving plan? "We're calling it our Roblox Quarantine. Roblox every day with one day of turkey!"
~~~
PRO TIP: Thinking about great family games to play with your kids, friends, and family over Thanksgiving while at a distance? There are curated collections of games like the Play Together game sort on Roblox with games that also offer a free Private Servers feature (this allows you to invite just your family or friends to join). The sort offers an easy way to find experiences and fun social activities like visiting shopping malls, going skiing, or cooking together — all while remaining safe and healthy indoors. And don't worry if you're terrible! It gives your young Roblox experts an opportunity to help teach you a few things about the digital world.
---
Laura Higgins currently serves as Director of Community Safety and Digital Civility at Roblox leading the company's new digital civility initiative and providing the community with the skills needed to create positive online experiences. She has 20+ years of experience building and managing proven online safety projects and safeguarding initiatives.
Top image © mizina / Adobe Stock