Put the pedal to the diecast metal.
Hot Wheels Unleashed races onto consoles and PC on September 30, 2021. We had the chance to check out the PlayStation 4 version of the game (we played it on PlayStation 5 through the console's backwards compatibility functionality).
What's Hot Wheels Unleashed?
Hot Wheels Unleashed is an arcade-style racing game that allows players to collect dozens of Hot Wheels vehicles and put their racing skills to the test in multiple gameplay modes, including a career mode, multiplayer races, time trials, and more.
How do you play this game?
Hot Wheels Unleashed features five different racing modes, as well as an environment editor, livery editor, and track creator. Here's a brief overview of these options:
Hot Wheels City Rumble – This is the game's career mode, which challenges players to defeat five monsters that are terrorizing Hot Wheels City. We'll talk more about this mode in a bit.
Quick Race – Choose a location, track, and vehicle and compete in a single race against computer-controlled opponents.
Time Attack – Choose a location, track, and vehicle and complete a lap as quickly as you can.
Split Screen – A multiplayer mode for two people in the same room who will play on the same screen.
Multiplayer – Compete against other players online in races for up to 12 players.
Basement – An environment editor that allows players to customize the look of the game's "Basement" environment, which is where several race tracks are set. If players create a custom track in the Basement environment and then share that track, other players will be able to see the customizations they've made to the Basement area.
Track Builder – A robust track editor that allows players to create and share their own race tracks.
Livery Editor – Players can create a custom look for each vehicle by choosing from different paint colors, materials, and more. They can share liveries with other players and download liveries created by others.
How Wheels Unleashed features six gameplay environments, like a skyscraper and a skate park, which each have multiple tracks to choose from. Since the game's vehicles are Hot Wheels "toys" (not full-sized vehicles), the race tracks and vehicles will appear as small items in each environment, with furniture and more appearing as huge objects all around each track.
The racing gameplay is fast-paced, with a focus on drifting around tight corners and boosting to temporarily gain extra speed. As players drift around corners, they'll charge their vehicle's boost ability, and this boost ability will also recharge automatically over time.
Tracks are made up of classic Hot Wheels pieces, including loops and ramps — there's even an animated spider that tosses sticky webs onto the track. Rather than having invisible walls at the side of the track, vehicles are allowed to accidentally (or purposefully) leave the track, to land outside of the track after performing a jump, and so on. If you find yourself in trouble, the game features a quick reset button that allows players to get back into the action (each track also has a series of checkpoints).
Hot Wheels Unleashed offers multiple difficulty settings that change the skills of the game's computer-controlled opponents. Even on the medium setting, players may find it difficult to win every race as the computer puts up quite a fight. At the same time, the easiest difficulty setting allowed us to leave our opponents in the dust, which means it should be a good option for younger kids or newcomers to the racing genre (though, this setting may actually be too easy).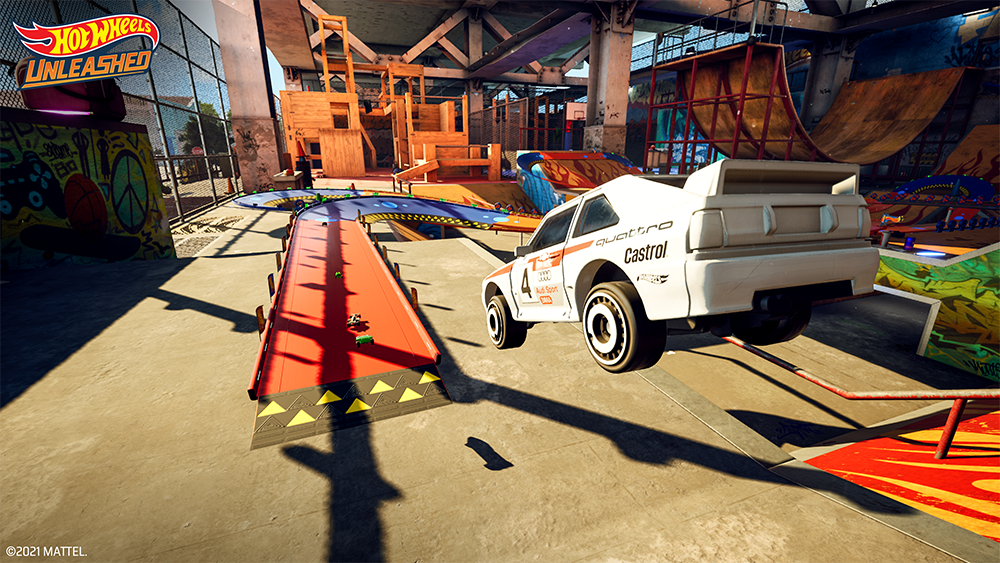 Hot Wheels Unleashed offers 66 Hot Wheels vehicles to collect at launch, and more will be released as downloadable content in the future. Some of the game's vehicles, like the '71 El Camino and the Ram 1500 Rebel, are realistic, while others, like the Bump Around (a bumper car from an amusement park) are more imaginary but still just as fun to collect (or maybe even more so).
Players will start with only a few of the game's vehicles in their collection and they can unlock more over time.
While the game's Quick Race, Time Attack, and multiplayer modes offer truly unlimited gameplay, the Hot Wheels City Rumble mode features a limited number of events to complete, including single races, time trials, boss races, and "secrets" that must be unlocked by fulling specific requirements (each secret gives you a clue related to unlocking it, but these clues could have been clearer).
Many of the City Rumble events have two objectives to complete, and so long as players complete one of those two objectives, they'll also complete the event and can move onto the next. For instance, a quick race will give players the goals of finishing in the top three and finishing in first place.
Players will receive coins by completing events in any game mode, but they'll receive even more coins for completing events in the game's career mode. These career mode events will also reward players with extra items, like gears (another type of currency), customization options for the game's Basement editor, Track Builder pieces, and more.
As players collect coins, they can purchase new vehicles from the game's store (only a small selection of vehicles is available to purchase at any time) as well as vehicle blind boxes (blind boxes and free vehicles can also occasionally be earned for free as players progress through the game).
Each blind box contains a single random vehicle, and, unfortunately, it's possible to receive duplicates of vehicles you already own. In fact, our collection had only grown to five vehicles before we received our first duplicate, which wasn't a great experience. We wouldn't mind the game's blind boxes if they were designed to only allow players to receive vehicles they hadn't yet collected. But as it stands, players will likely waste a ton of coins trying to collect every vehicle the game has to offer.
If and when you receive a duplicate vehicle, you can sell it for a few coins or dismantle it for gears, which can be used to upgrade vehicles. Each vehicle has different stats for "Speed," "Braking Power," and so on, and upgrading a vehicle will improve some of its stats. (There's no way to see a vehicle's stats before you purchase it from the shop.)
A vehicle's stats are pretty important, and you can really feel the difference between vehicles as you try out different options on the track. That is, it may take you a few laps to get used to the feel of each vehicle and when it's the right time to start your drifts, etc., but this should become easier with practice.
Finally, the game's Track Builder offers tons of different tools that allow players to design the tracks of their dreams. Players can choose from lots of different track pieces, and they can also customize many pieces once they place them down. As some examples, players can create tracks using slight curves, tight corners, downhill slopes, ramps, loops, speed boosts, fans, tunnels, split track pieces, and more. They can even add animated elements to their tracks, like a cobra and a dragon.
The Track Builder has a lot going on, and the controls take some getting used to. Thankfully, control guides are presented on-screen at all times, which is extremely helpful.
Before sharing a track online, players must race through the track on their own to prove it can be done. Players can also download tracks created by others to try them out.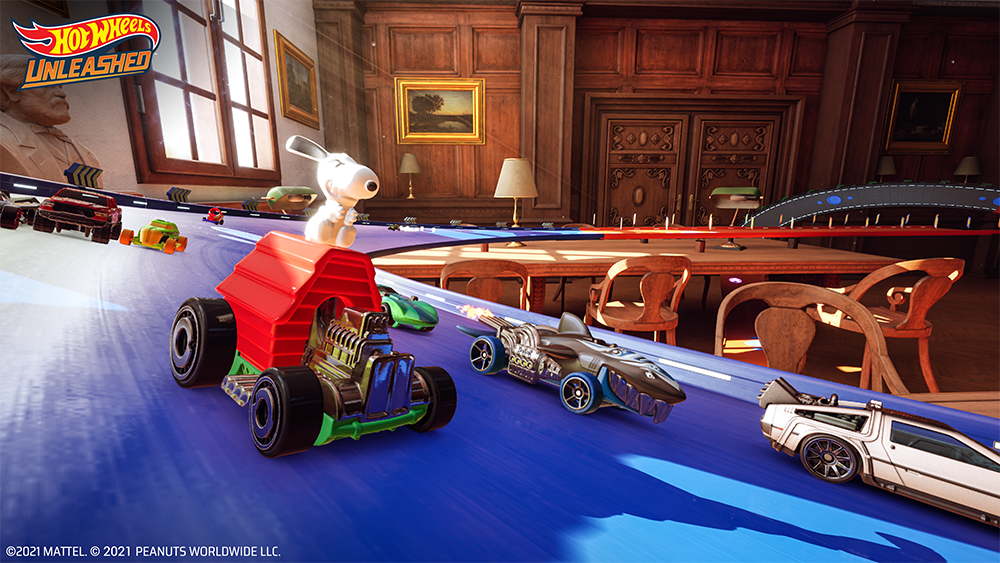 Is this game fun to play?
Hot Wheels Unleashed has a lot of potential and offers plenty of content for arcade racing and Hot Wheels fans. However, as we mentioned before, the easiest difficulty setting feels a bit too easy. On this setting, you can drive away from your opponents as soon as a race begins, and when this happens, it feels like you're the only one racing for the rest of the event. At the same time, the Medium setting may shoot the difficulty up too high for players to consistently win races. If the Easy setting were a bit harder, it would give players (for instance, kids) more of an enjoyable challenge while still allowing them to consistently come out on top.
Our biggest complaint, however, comes back to the game's blind boxes and the rate at which players can earn coins. Players will need to complete multiple races before they can purchase a single blind box, and if they receive a duplicate, they will have — in effect — wasted coins and will need to complete more races before being able to try again. We would prefer being able to pick each vehicle we wanted to purchase manually from a large catalog, even if this meant the vehicles all cost more.
Whether or not this blind box feature is a deal breaker will come down to each player's patience. (That is, are you patient enough to deal with random unlocks in order to collect a vehicle you really want?)
Is there anything else parents need to know about this game?
Following the launch of Hot Wheels Unleashed, the game will be updated with a variety of free and premium downloadable content (DLC), which will add new vehicles, customization items, and environments to the game. Players will be able to purchase pieces of DLC individually or in groups called "Hot Wheels Passes" (as of this writing, we know there will be three Passes to purchase).
The game will also offer premium "Racing Seasons," which will allow players to complete challenges to unlock even more vehicles and customization items. These Racing Seasons will be a separate purchase from Hot Wheels Passes.
With so many items available to purchase, families could quickly spend a lot of extra money on Hot Wheels Unleashed even after purchasing the base game. That being said, these DLC packs and Racing Seasons will be optional purchases. Players won't be required to purchase any extra content to access everything the base game has to offer.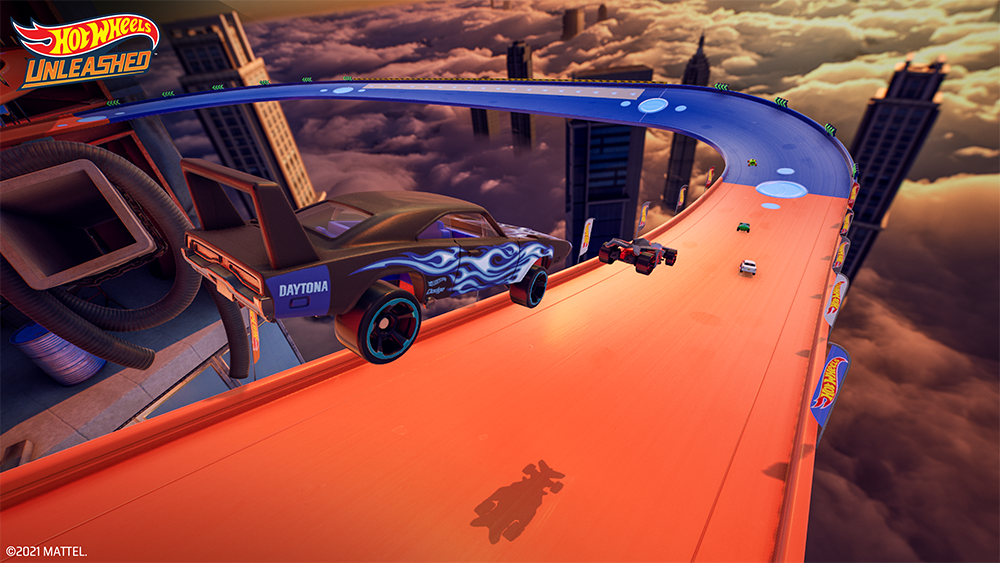 What's the final verdict?
Hot Wheels Unleashed left us feeling pretty torn. While the blind box feature may remind Hot Wheels fans of the mystery of searching for rare vehicles on store shelves, it left a sour taste in our mouths that really put a damper on the entire experience for us. Plus, we were left disappointed by the striking difference between the game's Easy and Medium difficulty settings.
At the same time, we acknowledge that other players may not be bothered by the blind box feature at all, and they may wind up having a blast with the game's fast-paced racing.
That being the case, even though we at SuperParent can't recommend this game as a "must-buy," you may want to give the game a second look if you think it's something your family may enjoy.
---
Hot Wheels Unleashed will be released on September 30, 2021 for $49.99 on Switch, PlayStation 5, PlayStation 4, Xbox Series X/S, Xbox One, and PC. The game is rated E for Everyone by the ESRB.
Disclosure: SuperParent received a code for Hot Wheels Unleashed for coverage purposes.