Nintendo and The Lego Group revealed lots of new expansions for the Adventures with Mario Starter Course.
Later this year, The Lego Group and Nintendo will bring elements from the popular Super Mario video games to life in the real world with the launch of Lego Super Mario building sets.
The Lego Super Mario lineup includes multiple expansion sets, Power-Up Packs, and more, but they all center around the Adventures with Mario Starter Course. This set includes all of the bricks and interactive elements that kids (and adults) will need to build basic Super Mario-style courses in the real world, including a large Mario figure that kids can use to complete the courses they create.
The Mario figure has LCD screens in its belly, eyes, and mouth, which allow Mario to react as the figure interacts with specific bricks.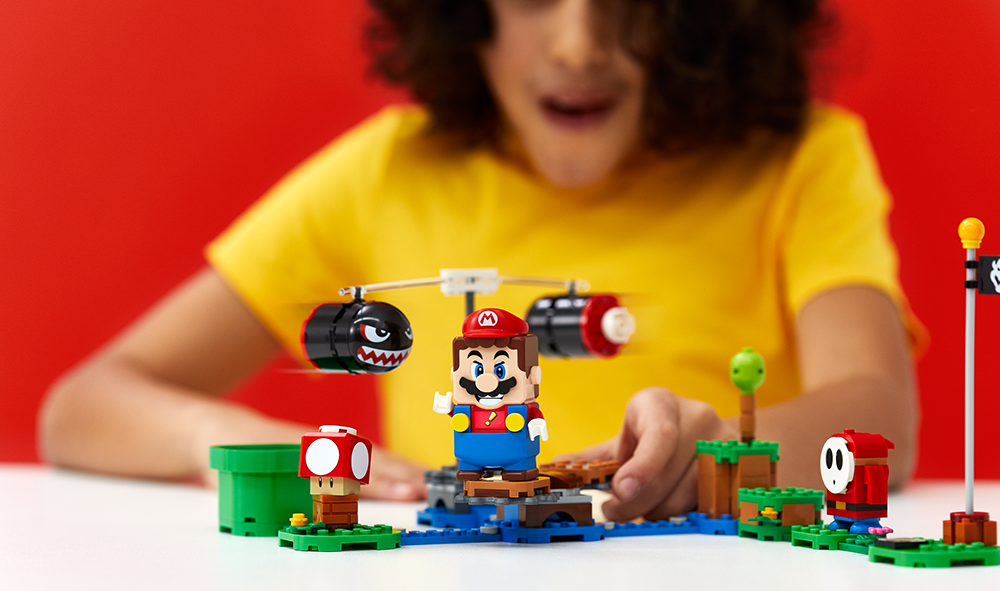 Once you've purchased the Starter Course, you'll have the option to expand your play possibilities through lots of different expansion sets. Previously, we knew about two expansions: the Piranha Plant Power Slide set and the Bowser's Castle Boss Battle set. Now, we've learned that there will actually be 10 different expansion sets to purchase at launch.
Here's the full lineup, along with each set's suggested price:
Guarded Fortress Expansion Set ($49.99)
Desert Pokey Expansion Set ($19.99)
Whomp's Lava Trouble Expansion Set ($19.99)
Piranha Plant Power Slide Expansion Set ($29.99)
Boomer Bill Barrage Expansion Set ($29.99)
Mario's House & Yoshi Expansion Set ($29.99)
Toad's Treasure Hunt Expansion Set ($69.99)
Bowser's Castle Boss Battle Expansion Set ($99.99)
Thwomp Drop Expansion Set ($39.99)
King Boo and the Haunted Yard Expansion Set ($49.99)
The Thomp Drop and King Boo expansion sets will only be available at "select retailers."
In addition to these expansion sets, we also learned about new blind bag Character Packs, which will allow you to collect 10 different enemy characters to add to your courses. The 10 characters are the Paragoomba, Fuzzy, Spiny, Buzzy Beetle, Bullet Bill, Bom-omb, Eep Cheep, Blooper, Urchin, and Peppa. Each Character Pack will cost $4.99.
Since these Character Packs will be blind bags, you won't know which enemy you'll receive before you open the package. That means you may wind up with duplicates on your quest to collect them all.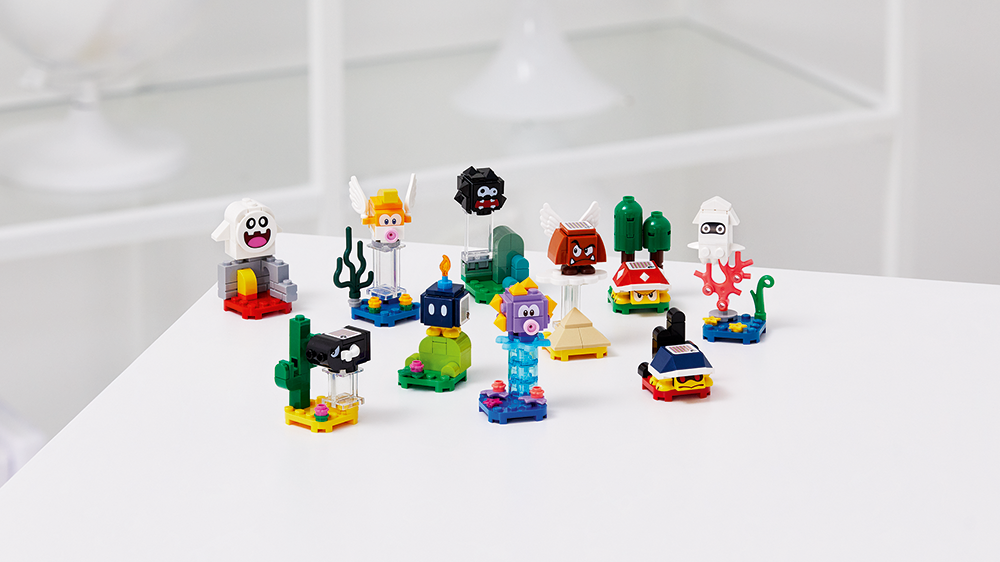 Four Power-Up Packs will also be available at launch, which will allow you to dress Mario in different outfits (such as the Cat Mario costume) to add more variety to your stages. You can learn more about these Power-Up Packs in our previous coverage.
Finally, a free Lego Super Mario app will be released on mobile devices, which will allow kids to look at digital building instructions, keep track of their scores, access a forum to chat with other users, and more.
All of the Lego Super Mario products will launch on August 1, 2020. You can pre-order the Starter Course now on Lego's website.