Complete match-three puzzles in the Wizarding World.
Harry Potter: Puzzles & Spells is a match-three puzzle game from Zynga, the company behind games like Wonka's World of Candy and Words With Friends 2. The game takes players to the Wizarding World of Harry Potter, where they can create their own wizard and complete puzzles to collect spells and magical creatures.
In Harry Potter: Puzzles & Spells, you'll experience a story inspired by Harry's own trip through the Wizarding World, starting with the arrival of the Hogwarts acceptance letter. You'll need to complete level-based puzzles to progress through different "scenes" that move the story along.
In each level, you'll be challenged to complete one or more tasks before running out of moves. For instance, one level may ask you to collect specific kinds of symbols by making matches with them on the board, while another may ask you to collect train tickets by making matches next to them, and so on.
You can make matches by swapping the locations of two touching symbols to create a line of three or more matching symbols. When you create a match of four or more symbols, or matches in a special T, L, or square shape, you'll trigger the appearance of power-ups on the board that can help you complete levels (you can also activate separate power-ups before a stage begins).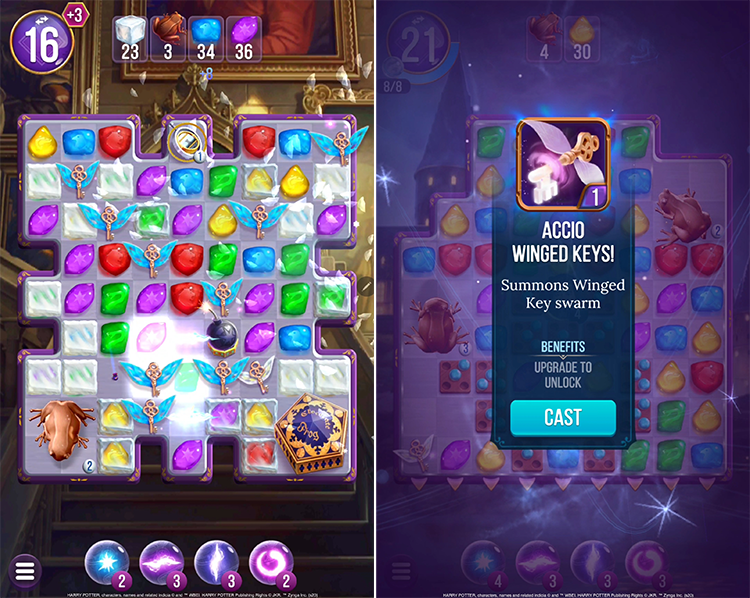 In some levels, you may need to cast a spell to unlock a chest or clear obstacles from the board (as examples). You'll start with only two spells (Alohomora and Wingardium Leviosa), but you can eventually unlock up to 21 spells as you progress.
If you fail to complete a level before running out of moves, you can spend coins to keep playing, or choose to lose a heart. Hearts recharge automatically over time.
Each time you complete a stage, you'll earn experience points that will allow you to level up over time. When you level up, you'll receive an in-game bonus, such as coins or an upgrade for one of your spells. Plus, as you complete levels, you'll earn stars that allow you to collect magical creatures.
While Harry Potter: Puzzles & Spells is free-to-play, it does allow you to spend real money on optional in-app purchases. For instance, you can purchase bundles that contain items such as power-ups, coins, and temporary unlimited hearts.
Harry Potter: Puzzles & Spells is available to download for free on iOS, Android, and Amazon Kindle devices. The game can also be played for free on Facebook.
Check out 15 minutes of Harry Potter: Puzzles & Spells gameplay in our video below.