Check out these spooky Halloween updates in a handful of popular mobile games.
So many mobile games have been updated with Halloween-themed content that it's hard to contain our excitement. From Pokemon Go to Fortnite, kids (and parents) have plenty of ways to get into the spirit during this spookiest time of the year (and for free, to boot!).
Here are just some of the mobile games that have been updated for Halloween.
Animal Crossing: Pocket Camp
Rated E for Everyone
Available on: iOS, Android
This free-to-play life simulation game in the popular Animal Crossing series lets players build and customize a campground for friendly, talking animal characters to visit. For Halloween, players can participate in a special version of the game's Fishing Tourney event, hosted by Jack, the game's Halloween mascot. Players will need to capture candy fish and trade them into Jack to receive in-game goodies.
If you're ok spending some Leaf Tickets (the game's premium currency), you can also decorate your campsite with new spooky terrain options, as well as craft the Jack's Puppet Theater item, which costs 350 Tickets. Once you place this item in your campsite, Jack will sometimes appear next to it, where you can speak with him. Check out the video below to see how this item — and Jack — looks in action.
Finally, the fortune cookie shop has a "Muffy's creepy cookie" to purchase that's full of all sorts of spooky furniture and clothing items. You can buy a single cookie for 50 Leaf Tickets, or a bundle of five for 250.
Fortune cookies are the game's random mystery boxes, so you won't know which item you'll receive ahead of time. Here's a tip: If you want some of the items from the fortune cookie but you don't want to spend any Leaf Tickets, keep an eye on the store's free cookie selection. Sometimes, the game's premium cookies show up for 5,000 Bells each. That's a much easier price to take.
---
Subway Surfers
Rated E10+ for Everyone 10+
Available on: iOS, Android, Amazon
This endless runner was released way back in 2012, but it's still a ton of fun, despite its age. Over time, the game has allowed players to run through digital versions of all sorts of real-world locations, from New York to Berlin and beyond. For Halloween, the game has gone to New Orleans, and players can run alongside buildings that have been decked out with plenty of fun decorations for the holiday. As players run, they may also travel through some spooky environments like foggy forests, abandoned castles, and haunted graveyards.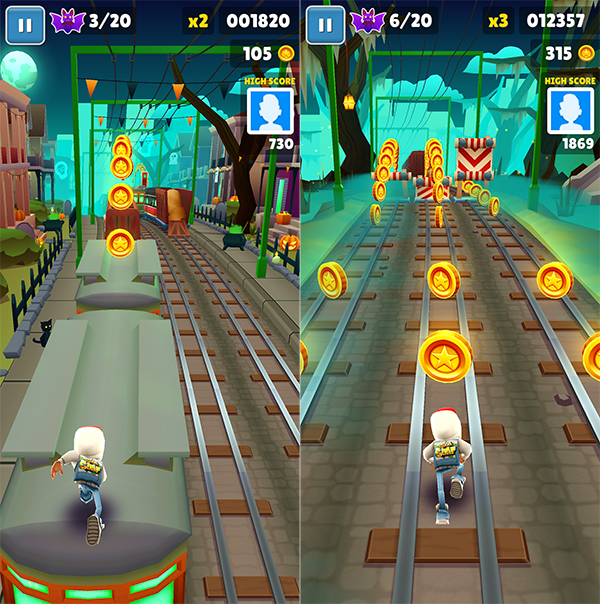 A Weekly Hunt event will also allow players to collect bats scattered along the path as they run. Once players collect the required number of bats, they'll receive a special in-game prize. The event has a time limit, so players will need to collect the bats quickly to make sure they don't miss out.
Finally, players can spend keys, the game's premium currency, to unlock a new character, a vampire named Scarlett. Users can also unlock a vampire outfit for Eddy.
---
Best Fiends
Rated E for Everyone
Available on: iOS, Android, Amazon
Best Fiends is a match-three puzzle game that allows players to collect friendly creatures and use them to defeat slugs across more than 2,000 levels. This year, the game has multiple Halloween events for players to participate in for a limited time.
The Howlin' Halloween Party event asks players to complete 30 Lollipop Challenges to win the Frankenkarma version of Karma (one of the game's creatures), which is themed after Frankenstein's monster. Each challenge requires players to collect a different amount of Lollipops, a special currency that can be earned by playing the game's levels or spinning the in-game prize wheel.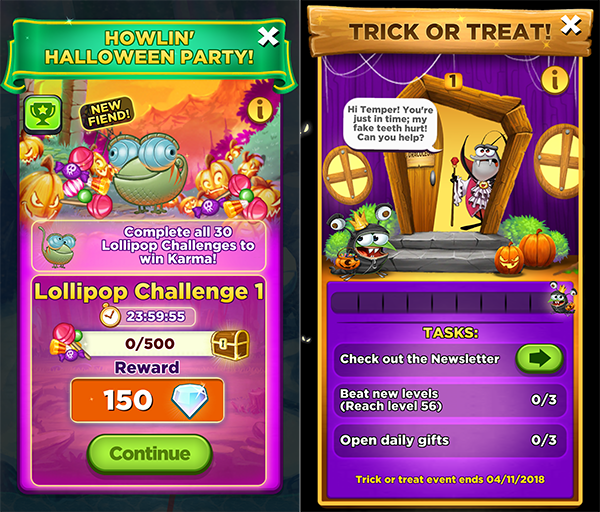 Every challenge has its own time limit. Once players finish a challenge, they'll need to wait for a cooldown timer to elapse before they can take on another one. The Howlin' Halloween Party ends on November 6.
The other Halloween event allows players to go trick-or-treating with a creature named Temper. Players will need to complete nine tasks, such as opening daily gifts and completing a certain number of levels, in order to receive a Halloween outfit for Temper, which gives it a +50 attack boost against the slugs. This Trick or Treat event will end on November 4.
While you're participating in these events, watch out for the fun Halloween graphics and animations that have been added to the game's map, as well as the Halloween-themed slugs. So spoopy!
---
Fire Emblem Heroes
Rated T for Teen
Available on: iOS, Android
This role-playing game allows players to collect characters from multiple games in the Fire Emblem franchise and take them into turn-based battles against a variety of enemies. To celebrate Halloween, players can add new heroes to their team that are wearing special Halloween costumes.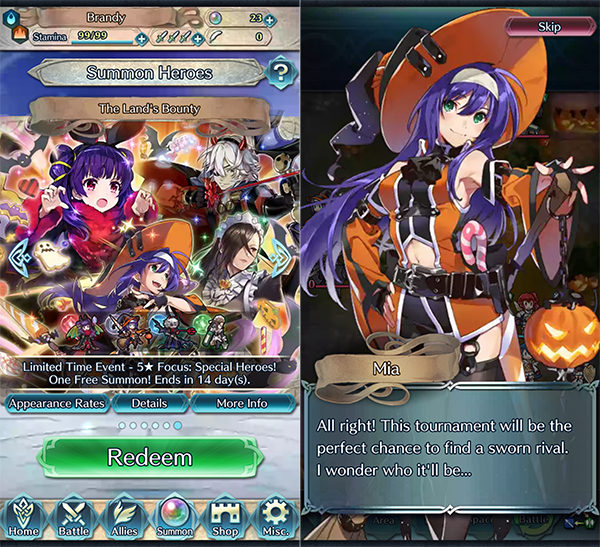 Specifically, a new summoning option called "The Land's Bounty" has been added to the game's summon menu. It gives players the chance to collect four special 5-star focus heroes, all dressed in costume:
Myrrh: Spooky Monster
Niles: Forbidden Tease
Kagero: Beverage Ninja
Mia: Moonlit Witch
Summoning from this pool is a random event. The Land's Bounty option has lots of possible prizes, so players aren't guaranteed to receive a Halloween character even if they summon multiple times. Everyone can summon their first hero from this pool for free, while additional heroes can be summoned by spending Orbs, an in-game currency.
This isn't the first year that players have had a chance to collect Halloween-themed heroes. Thankfully, if you missed out on the Halloween characters from the "Trick or Defeat" summoning pool last year, it's also been added back to the summon menu for a limited time.
In addition, Destructoid reported that players can complete a new paralogue story called "The Land's Bounty," which stars the four Halloween-themed heroes from The Land's Bounty summoning option. The Land's Bounty story is split into three parts, and players will receive an Orb for completing each one.
---
The Sims Mobile
Rated T for Teen
Available on: iOS, Android
The Sims Mobile is a life simulation game that allows users to create digital humans (called Sims) and control their lives, doing everything from sending them to work to choosing who they get married to and beyond. For the Halloween season, players can complete quests and other in-game actions to collect candy corn, which helps them earn a variety of cool prizes.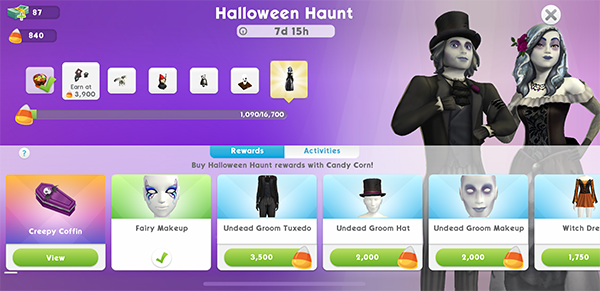 As players reach certain candy corn collection milestones (say that three times fast), they'll receive prizes like a Candy Bowl, a Gravestone Trio, and even an Undead Bride Costume for their Sims. Players can also spend the candy corn they've collected on additional prizes, like Fairy Makeup for their Sims, an Undead Groom Tuxedo, a Witch Dress, and much more.
There are 24 different tasks to complete in the game's Halloween quest line. Each one asks players to complete a specific action, such as having one of their Sims interact with a certain piece of furniture, or even another Sim. If players can complete all 24 tasks before time runs out, they'll receive the special Mystic's Table item.