Inspire kids to build epic marble runs with this imaginative STEM playset from Ravensburger.
Lots of STEM toys rely on smartphones or tablets in order to work, specifically for augmented reality games. The problem is and always will be the screen time that comes with these products. A company can release the most entertaining and educational STEM toy the world has ever seen, but some parents might cry foul if it results in their little ones staring at iPhones for several hours a week.
We're not suggesting that you should avoid these toys, but rather, that it's cool to engage young minds with something that doesn't expose them to blue light. With that in mind, GraviTrax from Ravensburger is a wonderful alternative.
Editor's Note: This article contains Amazon affiliate links.
What is GraviTrax?
GraviTrax is a modular STEM toy that challenges kids to create marble runs using a variety of different parts, including, but not limited to, magnetic cannons, scoops, hammers, and trampolines. You can do something as simple as having one marble roll down a ramp into a hex-shaped piece, or (through plenty of imagination and expansion sets) have 10 plus marbles weaving through an elaborate set-up comprised of several hundred pieces. With some pre-planning, marbles can even jump the tracks and land safely. You'll need to put a lot of thought into more complex builds, but investing the time will teach you about cause and effect, kinetic energy, magnetization, and more.
Although the instructions are simple to grasp and come in multiple languages, the system is user friendly enough that kids around the age of seven or eight should be able to figure out the basics on their own.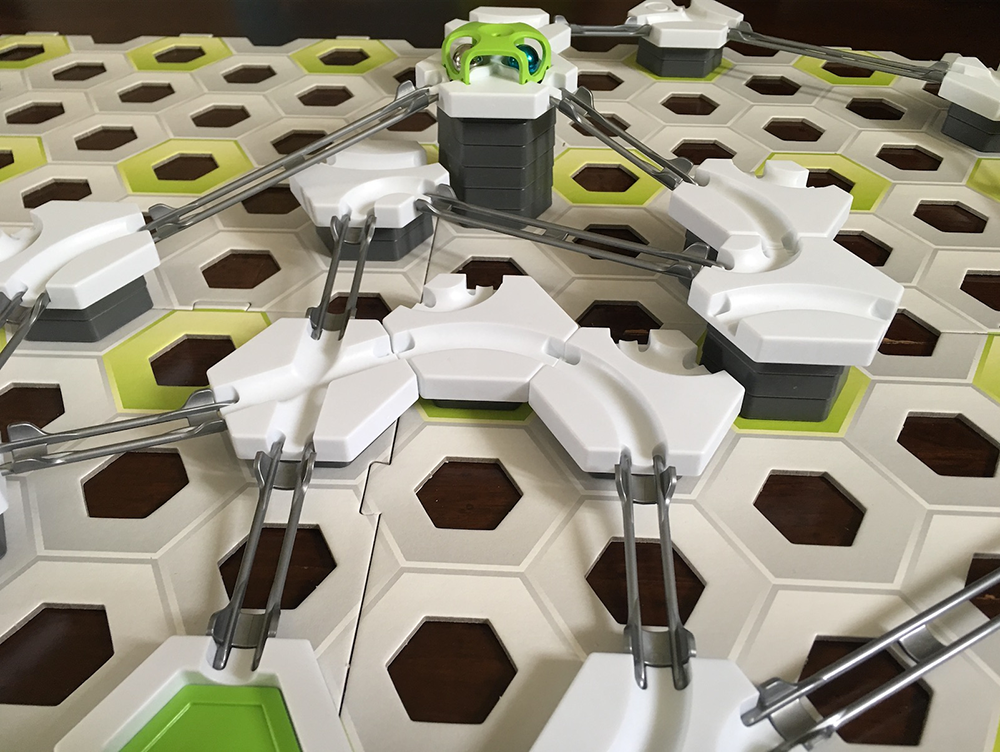 Parts fit together with little effort and slot into honeycomb-like cardboard or plastic grids. That said, it's easy to knock over towers and ramps, so you don't want to leave a completed GraviTrax set within a toddler's reach.
The GraviTrax Starter Set comes with over 200 components, and Ravensburger sells the trampoline, catapult, and other items separately. There's a lot you can do with the Starter Set, but eventually you'll see its limitations. This is where you might want to buy one or more upgrades in order to enhance the experience and challenge whoever plays with GraviTrax to come up with more complex ideas.
If you do invest in multiple sets, then naturally the goal should be to build the most complicated and spectacular things imaginable and then share them to YouTube and/or social media; there appears to be a thriving community of GraviTrax fans who inspire each other.
YouTube in particular has several amazing GraviTrax videos to watch and draw inspiration from. In fact, one of the coolest GraviTrax models is comprised of 20,000 parts!
What's the verdict?
All told, GraviTrax earns high marks for offering a positive learning experience without the screen. You'll need to spend upwards of $150 if you want to amass a sizable amount of parts, but if all you want is the Starter Set, you'll still be amazed at what youngsters can dream up.
On that note, if your kids are tired of plain old blocks and you're in search of something that will inspire them without exposing them to blue light, GraviTrax comes highly recommended.
Disclosure: Ravensburger provided SuperParent with the GraviTrax Starter Set and expansion sets for review. Our coverage remains objective.