Google will monitor whether apps 'unintentionally' appeal to children.
The Google Play store (the app store on Android devices) recently made news after a report by Wired in the U.K. found the store contained apps and games with inappropriate content, but with kid-friendly content ratings. Now a few weeks later, Google, which runs the Google Play store, introduced new policies to keep kids safe on its platform. Whether Google made these changes as a result of Wired's report isn't clear, but it is a step in the right direction.
In a blog post for Android app developers, Google laid out some new ground rules developers will have to abide by when they publish applications on Google Play.
When developers submit a new application to the Google Play store, they'll need to complete a new "Target Audience and Content" questionnaire, which asks them to indicate which age group(s) they're targeting (that is, which age groups they are hoping to attract to their app).
Google will use the developer's responses, along with its review of the developer's "app marketing assets" to categorize the app into one of three groups — Target Audience: Children, Target Audience: Children and Older Users, or Target Audience: Older Users — which will determine whether or not the app will need to comply with Google's "Families" policies.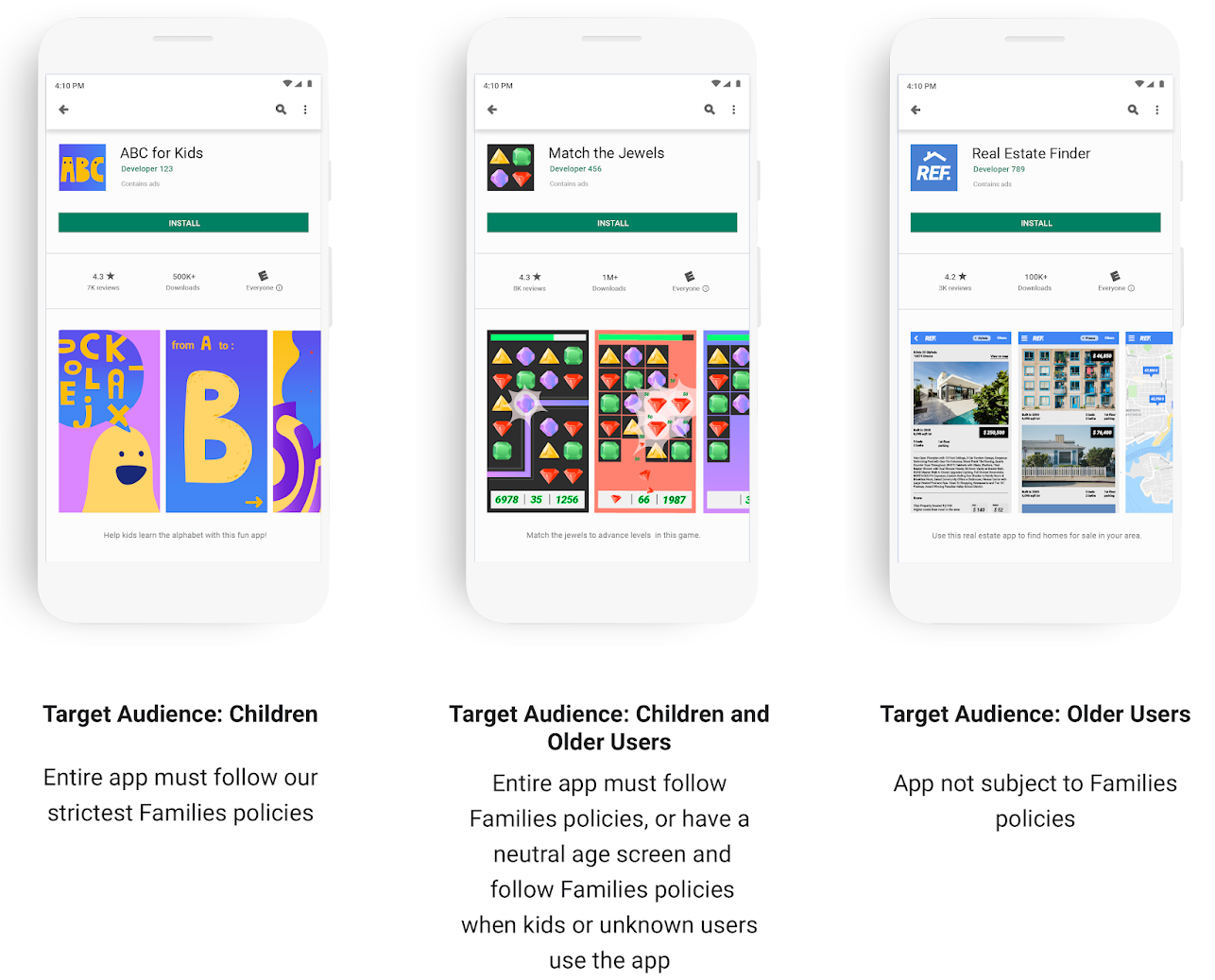 These policies touch on many areas, including advertising, data collection, and more. If an app fails to meet the policy requirements, Google's website said it "may result in app removal or suspension."
All new apps submitted to Google Play are required to comply with the new policies. Developers will need to fill out the Target Audience and Content questionnaire for existing apps by September 1, 2019.
In Google's blog post, Kanika Sachdeva, product manager for Google Play, commented on the changes:
After taking input from users and developers we are evolving our Google Play policies to provide additional protections for children and families. These policy changes build on our existing efforts to ensure that apps for children have appropriate content, show suitable ads, and handle personally identifiable information correctly; they also reduce the chance that apps not intended for children could unintentionally attract them.
Over the next few months, we will continue to roll out additional features that will help parents make informed choices before they install apps for their kids.
[H/T: GamesIndustry.biz]