The two family-friendly games will be available later this year.
From Fortnite to Game of Thrones, there are Monopoly games based on many different brands, video games, and films. Now, we can add Godzilla to the list, as The Op (formerly Usaopoly) revealed a new version of the property buying game based on the King of the Monsters.
Monopoly: Godzilla is inspired by the many Godzilla films that have been released since 1954. As with other branded versions of Monopoly, the game will have a redesigned board, with themed property spaces taking the place of traditional ones. For instance, Monster Island and Infant Island will replace Boardwalk and Park Place, respectively.
The game will support up to six players ages eight and up, who can choose from six different movers, including Godzilla, Mechagodzilla, and King Ghidorah.
In addition to Monopoly: Godzilla, The Op also announced it will release a version of Jenga inspired by Godzilla called Jenga: Godzilla Extreme Edition. The game is rated for players 6+, and its pieces look like parts of a building, rather than standard wooden blocks.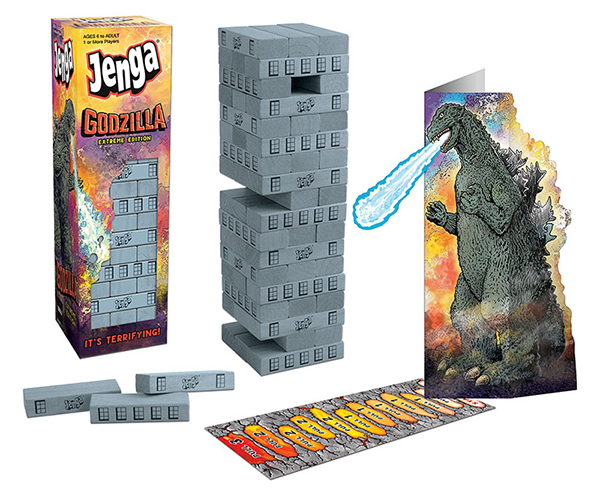 In a news post on The Op's website, John M. Davis, president and CEO of The Op, commented on these games:
"Since the 1950's, Godzilla has spawned a worldwide fan base. Today, with our games, older fans can nostalgically relive childhood memories while introducing their families and younger generations to the world's most revered monster."
Monopoly: Godzilla and Jenga: Godzilla Extreme Edition will be released in North America in spring 2020 for $39.99 and $19.99 each, respectively.