Hit the track as Garfield, Jon, and their friends.
Garfield Kart: Furious Racing is a kid-friendly racing game inspired by the popular Garfield cartoon series. It's the sequel to the original Garfield Kart video game, which was released in 2013.
In Garfield Kart: Furious Racing, you can compete on your own against computer-controlled opponents, race against friends and family in the same room, and compete against other players online.
The game has three different gameplay modes: Single Race, Grand Prix (four races in a championship), and Time Trial (beat each track's record times). It also has three different speeds to choose from (50cc, 100cc, and 150cc).
Garfield Kart: Furious Racing has 16 different tracks in all, and you can choose from eight playable characters: Garfield, Odie, Jon, Nermal, Arlene, Liz, Harry, and Squeak.
Each of these characters has different "stats" related to things like speed and handling, so players can choose the one that best fits their play style. In addition, you can choose from different vehicles, which also have their own stats. Finally, you can unlock a variety of hats and spoilers as you play, which can change your stats or give you a special ability.
Similar to other kart racing games (like Mario Kart 8 Deluxe and Crash Team Racing: Nitro-Fueled), during each race in Garfield Kart: Furious Racing, you can pick up special boosters and weapons that allow you to mess with your opponents or give yourself an advantage. For instance, lasagna gives you a temporary speed boost, while things like pies and springs can be placed on the track as obstacles for your opponents (and you) to avoid.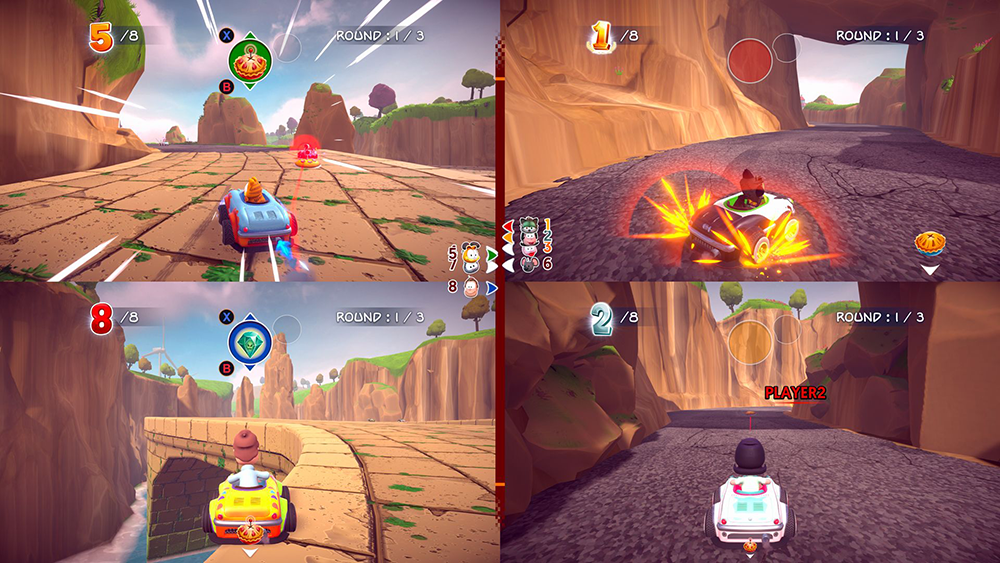 You can also drift around corners to unlock a quick speed boost, and discover shortcuts that may allow you to quickly catch up on (or pass by) the competition.
Garfield Kart: Furious Racing is available on Switch, PlayStation 4, Xbox One, and PC. The game is rated E for Everyone by the ESRB. It's worth pointing out that the game doesn't come with a standard tutorial "race." Instead, you can read a full tutorial in the game's menu, which teaches you about things like boosting and the game's various "weapons." That being the case, younger players may need a bit of help learning the game's controls.
Check out 14 minutes of Garfield Kart: Furious Racing gameplay in our video below.
Disclosure: Microids gave SuperParent a code for this game for coverage purposes.