Mobile gaming with a controller that doesn't require a ton of fiddling with settings? Count us in!
Update (3/5/2019): A previous version of this post incorrectly listed PUBG as one of the games that's supported by the Gamevice, but that game is currently not supported.
Mobile phones aren't the most stellar gaming devices, but they are the most common. Mobile is one of the only platforms where the match-three, Candy Crush crowd plays alongside the more "core" Fortnite, PUBG gamers.
But the biggest problem with playing on a mobile device, whether it's a tablet or a smartphone, is the lack of haptic feedback. Haptic feedback, which is when a noise or a vibration on the device allows us to feel when the device recognizes us pressing a button (like typing on the keyboard), is reduced to almost nothing when playing a game like Need For Speed: No Limits.
I've played around with a device that mostly fixes that problem, even if it introduces a few of its own in the process. Mobile-ready controllers are becoming more and more common, but few of them are as compact and, well, mobile friendly as the Gamevice. Gamevice sent us a review unit to test out our favorite games and there's quite a bit of good to say about it.
What is the Gamevice controller?
The Gamevice controller looks a lot like an extendable Xbox 360 controller, with a similar aesthetic. Your phone plugs into one end of it and is gripped by the other (as shown below). Once the Gamevice controller recognizes that you're using it (and you download the Gamevice app on your iOS or Android device), you can boot up one of the many games that are compatible with the device, which you can explore on iOS or Android.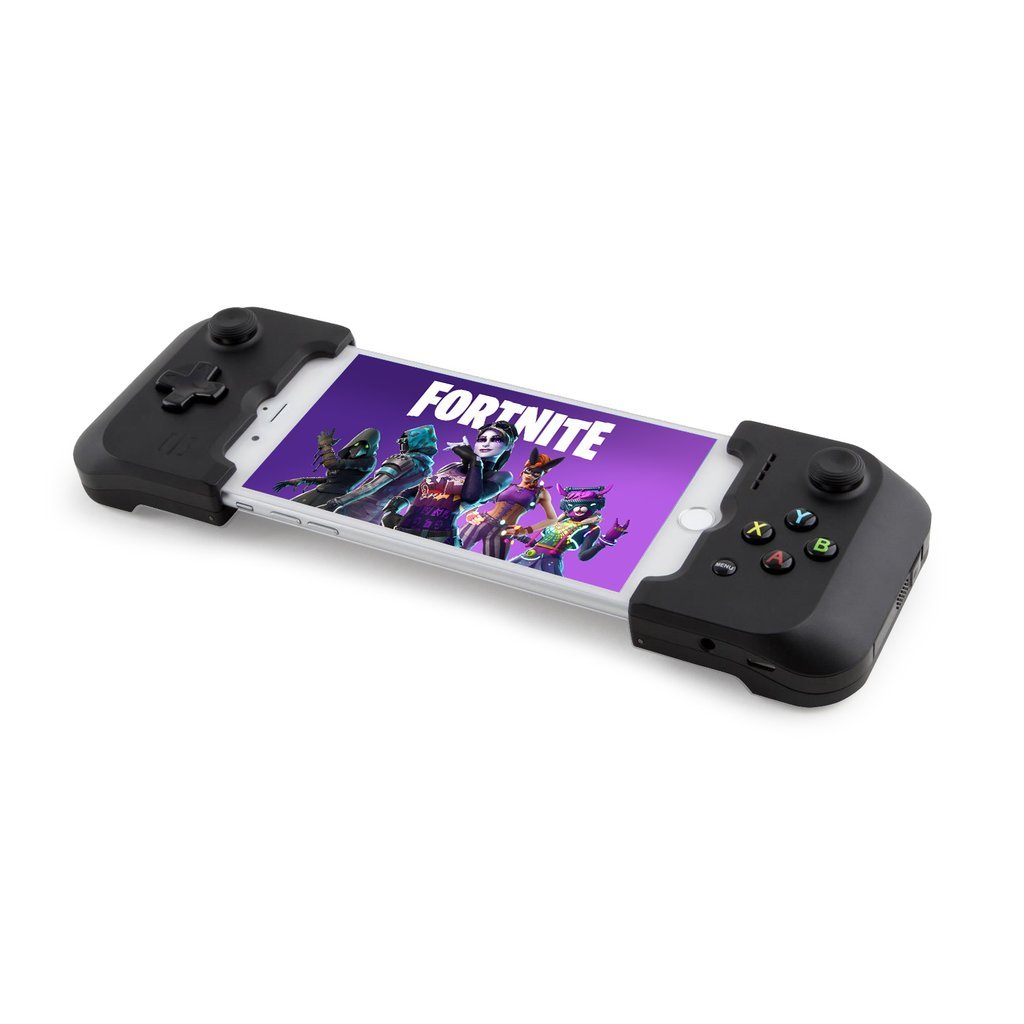 You can also charge your phone through the Gamevice, as it uses system batteries to keep itself powered. No need to keep yourself tethered to a battery bank to use it, however, because it runs fine on its own. (It just drains the battery faster than usual, as you'd expect.)
What kinds of games does it play?
It depends on your platform, but the most ubiquitous game that it plays is Fortnite. It also plays games like Alto's Odyssey (and the previous game in the series, Alto's Adventure) with grace and ease. Minecraft is an essential as it reduces the need to put grubby fingers all over the screen to get to where you need to go. (And make what you need to make.)
How easy is the Gamevice to use?
It takes some getting used to, especially if you have small hands. This is an ideal solution for older children and teenagers looking to get their hands on mobile gaming without being beholden to a console or a PC.
But if you've ever held an Xbox 360 controller, it's about the same. The buttons are a bit sticky in places, but it certainly makes playing games like Fortnite that much easier.
What makes the Gamevice different from all the other mobile-ready controllers?
The Gamevice attaches to your phone, which means that you don't have to mess around with complex bluetooth settings or fiddle with menus until it works. You plug it in and play with it. It's as simple as plugging a USB controller into an Xbox, PlayStation, or even your PC/laptop.
How expensive is it?
It depends on the model that you're looking for and for what phone. The unit that SuperParent was sent for review is currently on sale for $49.99, but there are a number of bundles that Gamevice sells that give you access to games like Minecraft for an additional $10 (and they also include a protective case).
If you have an iPad Pro, which is an excellent way to experience iOS-enabled games, then the price can go all the way up to almost $100. And, if you have an Android, there are a number of different ports and sizes available for your Android devices.
The price of a Gamevice is fairly comparable to purchasing a brand-new controller for PlayStation or Xbox One, but this can be stored in a case to take along with you in a far more compact capacity than a PS4 or Xbox controller can be.
What's the verdict? Do you recommend it?
The Gamevice is a great accessory if you're looking to play mobile games that require more precision and feedback than a smart device typically can offer. Minecraft, Fortnite, and racing games are measurably improved using the Gamevice, which means that it's certainly a device that makes it worthwhile if you and your kiddo are playing those kinds of games on the regular.
But if you and your kiddo are only playing match-three, low-impact games, it's overkill. It's better to get a solid, grippy phone case (and maybe a Pop Socket) to allow ease of use when playing more casual games over longer periods.