Become a DJ hero in the latest rhythm game from Harmonix.
There was a time when you couldn't go to a party without someone pulling out the plastic instruments and forming a virtual band, and that was largely thanks to game developer Harmonix. From early cult classics like Frequency to mega-hits like Guitar Hero and Rock Band, the studio pioneered the rhythm genre. Those bulky, expensive guitar and drum controllers may have fallen out of style, but Harmonix is still contributing to the genre in innovative new ways.
Harmonix's latest, the DJ simulator Fuser, continues the developer's grand tradition of using licensed music and rhythm-based gameplay to get players rocking out from the comfort of their living rooms. We had the opportunity to play the Xbox One version of Fuser, which also worked perfectly on the new Xbox Series X thanks to the magic of Microsoft's next-gen cross-platform capabilities.
What is Fuser?
Fuser gives players the opportunity to create their own music mixes using hit songs from a variety of genres and time periods, much like a real-life DJ would. Each song is broken down into up to four instruments, with guitar, keyboards, and vocals being the most common elements. Players can then fill four disc slots with the tracks of their choice.
If this concept sounds familiar, it's because a similar gameplay loop was used in DropMix, a 2017 tabletop game from Harmonix and Hasbro. In many ways, Fuser feels like a natural evolution of DropMix, losing the physical game board and song cards in favor of making the experience entirely virtual.
How do you play Fuser?
At the core of Fuser is the campaign in which players go from up-and-coming aspiring DJs to headline acts. Throughout the campaign, players are introduced to increasingly complex mechanics across six different concert stages. It starts out fairly simply, with players tasked with dropping beats at the right time to boost their scores. For example, a player could pair the vocals from Smash Mouth's "All Star" with the distinctive keyboards of Rick Astley's "Never Gonna Give You Up," then layer in some rock guitar and a kickin' drum beat.
Timing is everything in Fuser. Each level awards a score between one and five stars — a holdover from the Rock Band era — and much of that score is determined by how well you time each movement. Thankfully, for those of us without real-life DJ skills, Fuser walks players through the concept of adding, removing, or changing instruments on the downbeat, or the first beat in a bar of music.
Each level also comes with its own objectives and audience requests to get that score up. Level objectives might be playing a specific instrument from a track, performing an action like ejecting a disc, or including tunes from a certain genre. Throughout each show, you'll see requests from the crowd pop up on screen, though these are typically less specific. Audience members might ask for songs from a certain era, like the 1970s, and any instrument from this decade will satisfy the request.
As the campaign continues, the objectives of each stage become increasingly complex. Soon it's not enough to simply drop some drums from a favorite song; you need to create your own drum beat and loop it in. You'll fade tracks in and out, change the key, increase and decrease the tempo, and so on. It's a lot to keep track of, and it can honestly be a bit overwhelming, but it's also a lot of fun to experiment with all of the different options.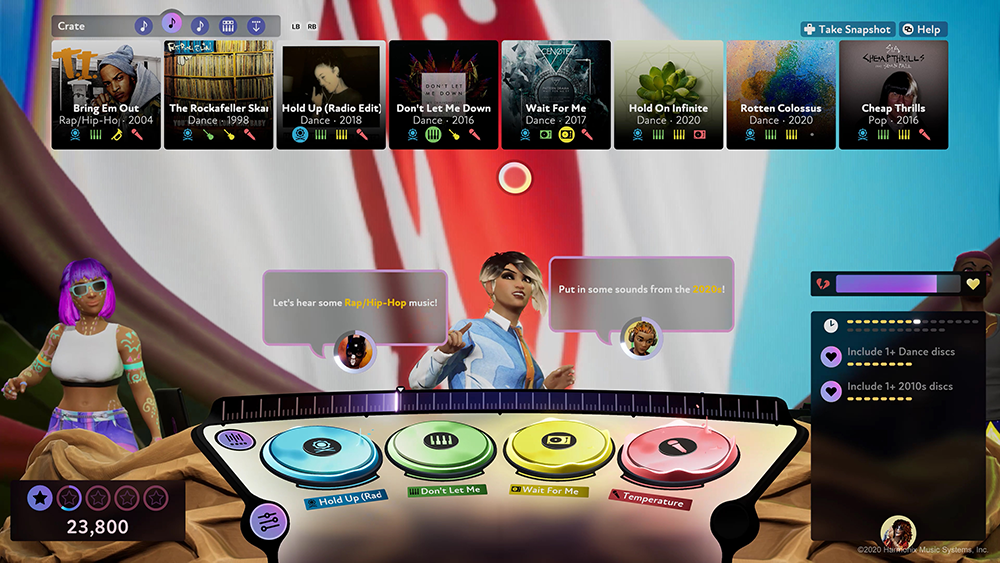 What kind of music does Fuser have?
The core game has over 100 songs, though not all of them can be played right away. Additional songs can be unlocked via in-game currency, earned for each successful set, or at predetermined points in the game. There are also a number of songs available to buy with real money, with more added to the DLC catalog every week.
The full track listing can be found on the Fuser website and contains a number of rock, R&B, rap/hip-hop, country, and pop tunes. No matter how old you are or what kind of music you like, there's something for everyone, with the catalog spanning five decades' worth of hits.
Parents should be aware that while the explicit words are muted, songs can still have mild curses or suggestive lyrics. Because of this, the ESRB gave Fuser a T (for Teen) rating.
What are Fuser's other game modes?
Once you've mastered the techniques from the Fuser campaign, you can jump into the freestyle gameplay mode and mix tracks to your heart's content. Freestyle is technically available from the start of the game, but it's more fun after you understand the basics and you've unlocked an impressive collection of music and customization options.
There are also a couple of multiplayer modes: co-op freestyle and battle mode. The online-only co-op lets up to four players take turns building on each other's sets, while up to eight spectators can join the set and make requests. Battle mode, which is also online only, lets you compete against other players for the highest scores in head-to-head DJ battles.
While the career and multiplayer modes are fairly standard, Fuser's social tab offers something truly different. Here, players can upload their own mixes, participate in themed challenges, and find other ways to engage with each other. It's almost like a DJ social network within the game itself, and there's already a thriving community putting together new mixes on a daily basis.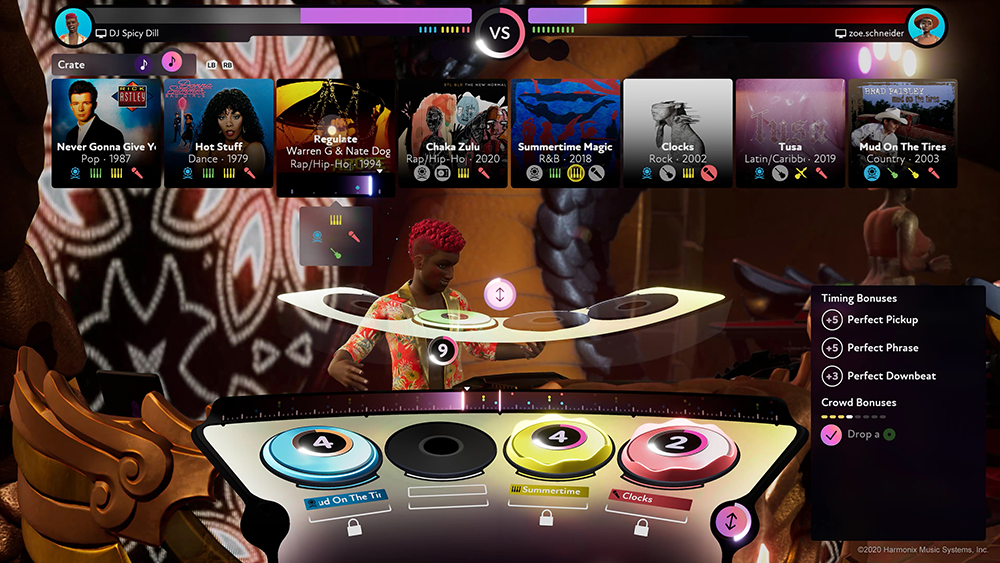 Is Fuser fun to play?
When everything comes together just right, Fuser is an absolute blast. It'll have you bopping around in your seat and nodding to the beat as you switch up songs and instruments and find new combinations that somehow work together. It's exciting to open up each new concert venue and find new songs to add to your collection, and the customization options offer plenty of opportunities to infuse your DJ with personality.
Another one of Fuser's strengths is its presentation. The vibrant settings, explosive stage effects, and cartoonish characters work together to create a fun, almost magical world where music is everything. The customization options are often unapologetically bright, which makes Fuser a refreshing standout in an industry obsessed with gritty photorealism.
However, there are missed opportunities, too. As a huge fan of Harmonix's catalogue, I expected Fuser to have an engaging multiplayer experience, but the end result left me less than satisfied. Because multiplayer is online only, there's no chance to make Fuser the kind of party game hit the genre is known for. It's a little baffling that co-op freestyle makes players take turns instead of letting them build on each other's tracks in real time, and this mode ends rather abruptly. Meanwhile, battle mode focuses more on score than creativity and originality.
Of all of the online options, Fuser's social mode is by far the strongest. The ever-changing stable of challenges ensures that there's always something to do for aspiring virtual DJs, but that's only scratching the surface. Players can follow their favorite players, much like you would on a social network, and even snapshot community-favorite mixes to incorporate into their own sets. In my time exploring the social hub in the two weeks after Fuser's release, I found an active community of DJs and their fans. If there's one thing we need in 2020, it's a social network that doesn't make you feel terrible, and Fuser might just be it.
For the most part, Fuser hits all the right notes, no pun intended. There's a surprising depth to the mechanics that highlights how DJing is more than just mashing up songs from different genres and eras, and mastering these mechanics will make you feel like a star. The engaged community also gives me hope that Harmonix will continue to refine and improve the overall experience.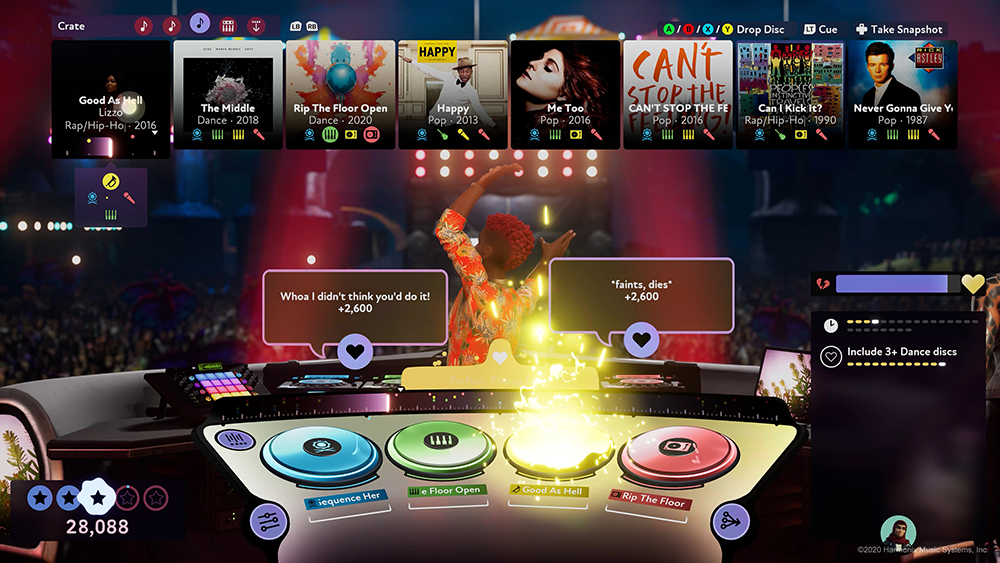 What's the final verdict?
Fuser is a colorful, creative, and enjoyable game that lets players feel like professional music-mixers. The game does much of the heavy lifting of making all of the various tracks, instruments, and effects work together, but there's still a lot of depth to the gameplay mechanics. It's unfortunate that it doesn't quite replicate the social experience of previous Harmonix games, but there's plenty of solo content to enjoy, including a lengthy career mode.
Music is everything in a game like Fuser, and I found myself continually impressed at the track listing. There really is something for everyone, whether you're old enough to remember when MTV played music videos or young enough that you don't remember a time when people actually bought music. Regardless of personal preferences, every track has something to offer, whether it's a unique instrumental loop or a solid drumline to build a mix on.
As for me, I'll be working on my Fuser career for weeks to come. There are still plenty of new things to unlock, scores to improve, and mixes to create, and I'm looking forward to getting back onstage.
---
Fuser is now available on Switch, PlayStation 4, Xbox One, Xbox Series X/S, and PC. The game is rated T for Teen by the ESRB.
Disclosure: Harmonix gave SuperParent a code for Fuser for coverage purposes.