Here's your exclusive first look!
If you love collecting Funko's Paka Paka figures, check this out! SuperParent is here with the exclusive reveal of Funko's next Paka Paka series: ClownSpy.
This series stars a character named ClownSpy, who is both a happy and friendly clown and a serious spy. Series 1 of the ClownSpy figures will feature 18 different vinyl figures to collect.
Some of these figures feature bright colors like pink, yellow, and neon green, while others are black, white, and gray. Some of the figures show off ClownSpy's accessories, like a pair of binoculars, a giant clown horn, and a clown car, and there are even a couple of glow-in-the-dark figures to collect.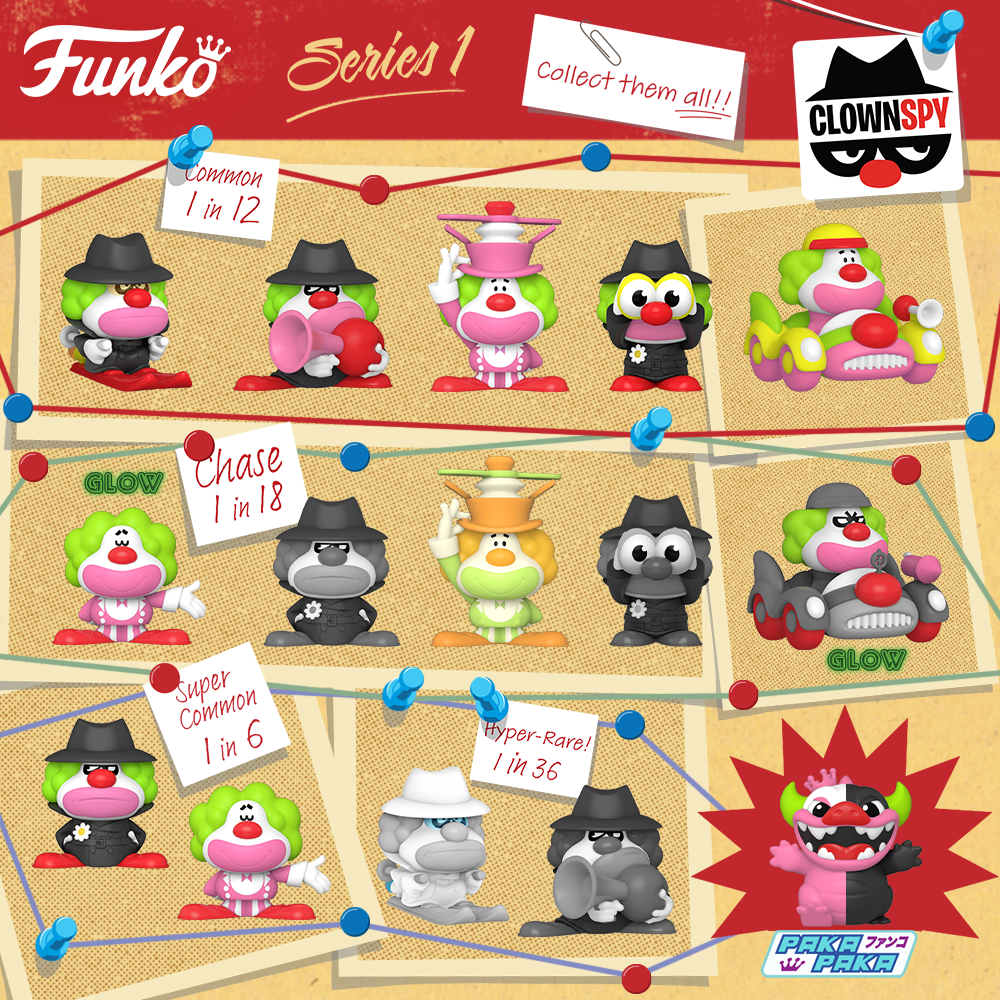 Senior designer, John Skewes, talked about the new ClownSpy figures:
"Originally he was a generic clown character designed by Seth. I was really drawn to him and began playing around by placing him different [sic] situations. When we coined the name "ClownSpy" it all came together: He needed a car, lots of funny spy gadgets and, most of all, an ironclad secret identity. We have lots of ideas for future ClownSpy adventures."
Funko's Paka Paka ClownSpy figures will be priced at $5 each. They'll be sold as blind bags, meaning you won't know which figure you'll receive in each package until you open it. Some figures will also be rarer than others.
Series 1 of the ClownSpy figures will also include a new Paka Paka Dragon figure to collect, which features the same colors as the rest of the figures. Since these are blind bag figures, you won't know which packages contain the Dragon and which contain the regular figures before making a purchase.
Funko's Paka Paka ClownSpy Series 1 figures are now available to pre-order on GameStop's website, but they'll be available at multiple retailers once they launch. Funko hasn't announced the exact release date just yet.
These figures have an age rating of 3+.
Are you excited to collect Funko's new ClownSpy Paka Paka figures? Let us know on Twitter at @superparenthq.