The box contains 24 Pint Size Heroes figures.
Advent calendars are a fun, family-friendly tradition that give kids and adults a toy, yummy treat, or activity to look forward to each day, traditionally from December 1 through December 24 or 25.
All sorts of advent calendars are released each year, based on a variety of themes, but if there's a Fortnite fan (or two) in your house, we can make a pretty good guess about which one they'll probably want this year.
Funko's Fortnite advent calendar contains 24 "Pint Size Heroes" vinyl figures that represent some of the many outfits (costumes) found in the massively popular battle royale game.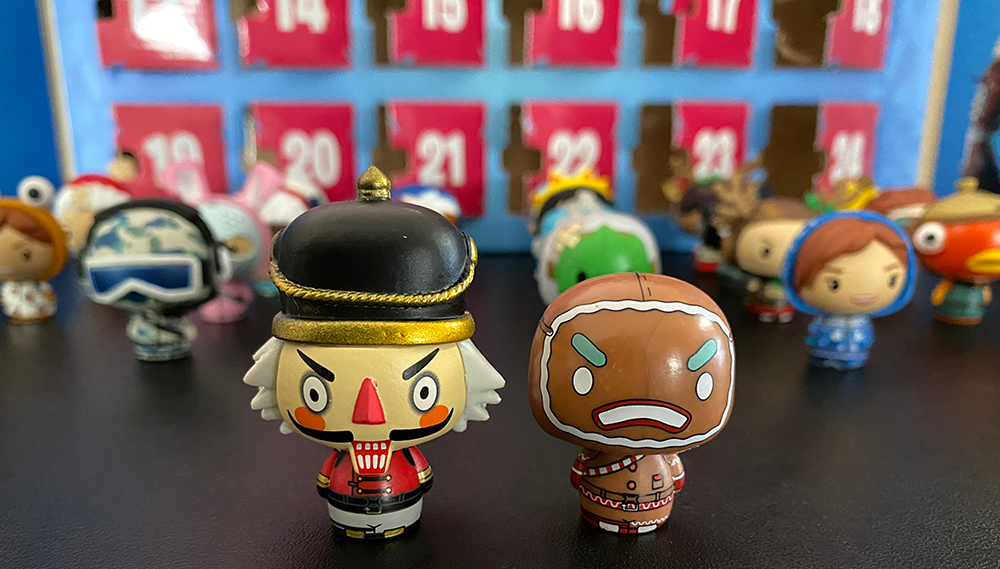 The advent calendar itself is made of cardboard, with a plastic tray inside that's split into 24 compartments, each holding a small figure in its own plastic bag. The figures are located behind 24 numbered doors, which are perforated so they're easy to open.
There's only a touch of mystery about what's inside the advent calendar, as the 24 figures are pictured on the outside sleeve that holds the calendar. However, you won't know which figure you'll receive each day until you actually open the door.
Some of the figures — like the ones based on the Crackshot (nutcracker) and Merry Marauder (gingerbread man) outfits (pictured above) — have a Christmas theme, while others — like the Peely (banana) and Rabbit Raider figures (pictured below) — don't. The figures vary slightly in height (depending on the outfit), but they're all roughly 1 and a half inches tall.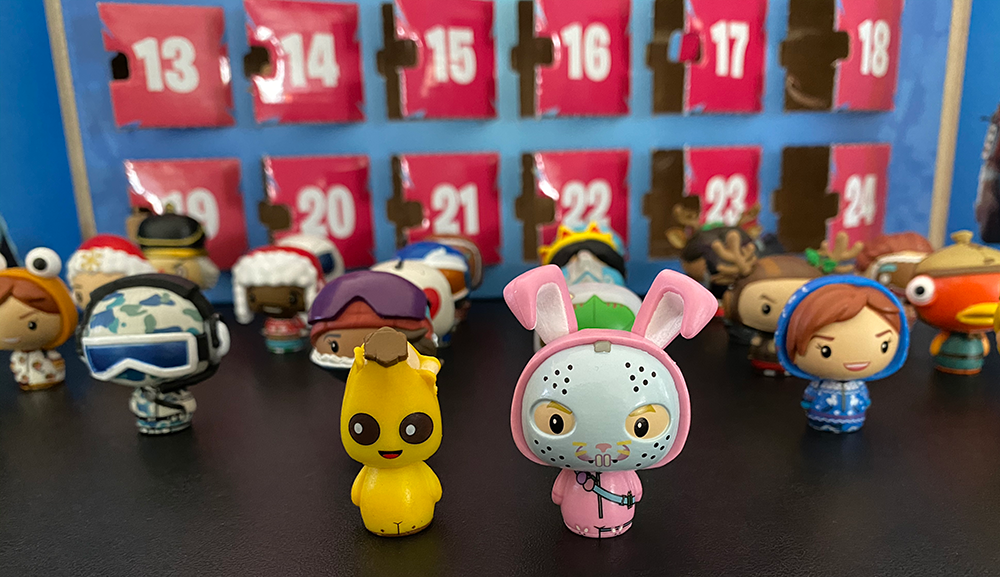 In our experience with the calendar, we noticed that a few of the figures had slight paint issues, but since the figures are so small, you likely won't notice these imperfections unless you're viewing the figures up close. Each figure stands upright on its own on a flat base, though you may want to use some temporary adhesive if you want to display these figures long-term, to prevent them from falling over (they're top-heavy due to their large heads).
The Fortnite advent calendar is available now for $39.99. Some online retailers are selling it for more than that, so we recommend shopping around for the best deal.
Disclosure: Funko sent SuperParent a Fortnite advent calendar for coverage purposes.