Here's your chance to grab the exclusive products that would have been released at the show.
Update (0/4/09/20): Funko has updated the time when these exclusives will be available on its website to April 10 at 7 a.m. PT. We've updated our post to reflect the change.
---
Original Story:
In March 2020, WonderCon Anaheim was postponed due to the ongoing COVID-19 pandemic. However, pop culture collectible company Funko is still celebrating the event with its second "Funko Virtual Con" that's taking place entirely online. (The first Funko Virtual Con was held in March as a replacement for Emerald City Comic Con, which was also postponed.)
Funko previously revealed the exclusive products that would be for sale during this second Funko Virtual Con, and now it announced more details about how you'll be able to buy them.
The event's exclusives include things like flocked versions of the Pichu and Eevee Pokemon Pop figures, a Captain Atom figure, two Good Luck Trolls Pops, and various Soda vinyl figures inspired by franchises like Speed Racer and Scott Pilgrim vs. the World. To see all of the exclusives, head to Funko's blog.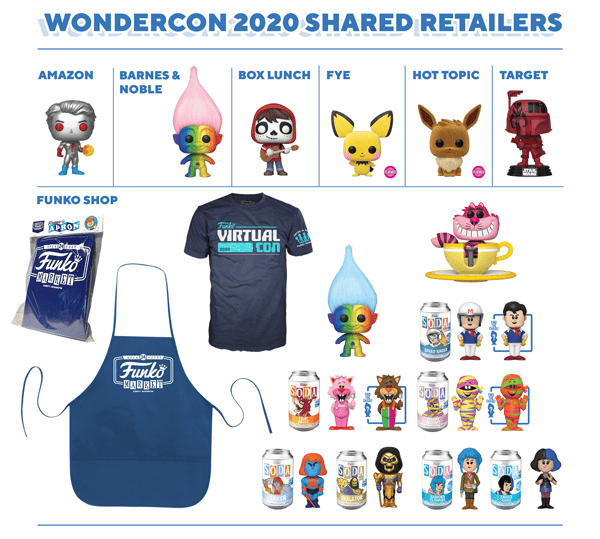 Funko Virtual Con for WonderCon Anaheim will run from April 8 through April 12. However, the exclusive items that would have been offered at the show won't go on sale until April 10 at 7 a.m. PT. You'll be able to buy all of the exclusives from Funko's online store.
Some of the event's exclusive products are shared retailer exclusives, meaning they'll be available at specific stores, such as Hot Topic and FYE, as well as being available on Funko's website. These shared exclusives will be available at those stores starting at 12:01 a.m. PT on April 10.
For more information about Funko Virtual Con, check out Funko's blog.

Brandy Berthelson has been writing about video games and technology since 2006, with her work appearing on sites including AOL Games, Digital Spy, and Adweek. When she's not gaming, Brandy enjoys crafting, baking, and traveling with her husband.