You'll also be able to pick up an Aggretsuko expansion pack.
At London Toy Fair this month, Funko revealed four new items coming to its line of Funkoverse tabletop games.
First, three new standalone games are coming soon, with two being based on the original Jurassic Park film, and the third being based on the television show The Golden Girls.
The two Jurassic Park games have different characters, and they can support different numbers of players (the games have an age rating of 10+). The first game supports two to four players, and it includes four different figures: Dr. Alan Grant, Dr. Ellie Sattler, Ray Arnold, and a Velociraptor. The other game is for two players, and it includes two figures: Dr. Ian Malcolm and a T. Rex.
Meanwhile, the new Golden Girls game is for just two players. It includes figures of Dorothy and her mother Sophia.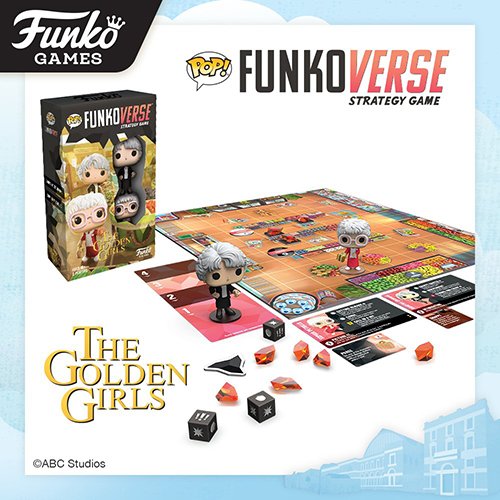 Finally, a Funkoverse expansion pack was also revealed, based on the Sanrio character Aggretsuko. Rather than being a game on its own, this pack includes the Aggretsuko figure and the other game pieces you'll need to play with this character in a regular Funkoverse game that's sold separately.
Funkoverse originally debuted last year with games based on DC Comics, Harry Potter, Rick and Morty, and The Golden Girls (this original pack has the other two characters from the popular quartet).
While these games are based on different themes, they play similarly, and allow you to mix and match characters from the different packages to suit your tastes.
Funko didn't reveal the exact release date(s) for these new items, but we expect them to hit store shelves soon.
To learn more about Funkoverse, check out our review.