Make matches as fast as you can in this Funko-themed match-three game.
Funko Pop Blitz is a free-to-play game on iOS and Android devices that allows players to collect digital Funko Pop figures as they complete match-three puzzle rounds.
When you first begin playing Funko Pop Blitz, you'll get to choose the first Pop for your collection. You'll be able to choose from Marty McFly (Back to the Future), El Diablo (Fantastik Plastik), Shrek (DreamWorks Shrek), and Claire (Jurassic World).
From there, you'll dive into your first game. In each round of Funko Pop Blitz, you have 60 seconds to earn as many points as possible by quickly making matches with Funko Pop symbols. To make a match, you need to swap the locations of two touching symbols to create a line of three or more matching symbols. When you create a match of four or more symbols, or matches in T, L, or square shapes, you'll trigger the appearance of power-ups on the board, which you can activate to earn extra points.
In addition, each Funko Pop figure has a special ability that you can charge by making matches with their symbol. For instance, Shrek will cause a power-up to appear on the board, while Tigress (from the Kung Fu Panda collection) will cause extra Tigress symbols to appear on the board, and so on.
As you create matches, you'll charge a special Blitz Mode meter at the bottom of the screen. When this bar is completely filled, Blitz Mode will automatically activate and five seconds will be added to the clock. During Blitz Mode, you're encouraged to quickly make matches to earn bonus points for your score.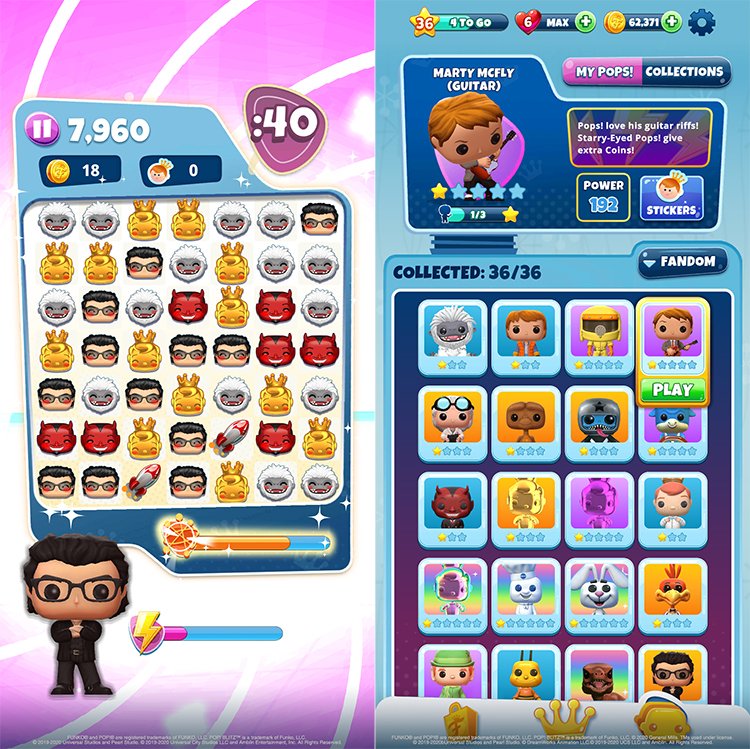 At the end of each game, you'll earn coins that can be spent on additional Pop figures for your collection. The higher your score, the more coins you'll receive.
Each Pop in the game belongs to a specific collection, such as "Wetmore Forest," "Universal Studios Monsters," and "General Mills," among others. When you collect every Pop in a collection, you'll receive bonus coins. You'll also earn coins when your cumulative high score (tracked across each Pop you've used) reaches certain thresholds.
Finally, you can collect stickers while playing by dropping them to the bottom of the board. Each Pop has different stickers to collect, and when you gather them all, the Pop will be upgraded to increase their "power" in future games.
As of this writing, there are 47 different Pop figures to collect, but more will be added through future updates. Some Pops will be "Event Exclusives," meaning you'll have to participate in in-game events in order to collect them. For instance, the game's first event is themed after Jurassic Park, and it will give players the chance to collect Pops of characters like Ian Malcom and John Hammond, among others.
While Funko Pop Blitz is free-to-play, the game does contain optional in-app purchases. For instance, you can purchase more coins instantly.
Funko Pop Bliz is available to download for free on iOS and Android devices. The game is rated 12+ on iOS and T for Teen on Android.
Check out nine minutes of Funko Pop Blitz gameplay in our video below.