Following 2019's set of Pikachu figures, Eevee will have its turn in the spotlight this year.
Throughout 2019, Funko and The Pokemon Company released a series of adorable figures in a line called "A Day With Pikachu." Each figure starred Pikachu and was themed after a holiday, season, or event (like St. Patrick's Day or a football game).
Now, for 2020, The Pokemon Company and Funko have teamed up again to release a new line of figures on The Pokemon Center website. However, instead of Pikachu, these figures will feature Eevee and its eight different evolutions.
The overall line is called "An Afternoon with Eevee & Friends." The first figure (pictured above) will be available on February 18, 2020, and it will feature two Eevee hanging out in a field of flowers.
The next eight figures are expected to be released on a monthly basis, and while we don't know exactly what these additional figures will look like, there's a silhouette for each figure on the Pokemon Center website. We also know which Pokemon each figure will focus on.
Here's the full breakdown of which Pokemom will be featured in the rest of the figures, and when they're expected to be released:
Vaporeon (Expected March 2020)
Sylveon (Expected April 2020)
Glaceon (Expected May 2020)
Flareon (Expected June 2020)
Espeon (Expected July 2020)
Jolteon (Expected August 2020)
Leafeon (Expected September 2020)
Umbreon (Expected October 2020)
All of these figures will be sold on the Pokemon Center website for $14.99 each. As a fun bonus, the bases will be constructed in such a way as to allow you to place the figures next to each other to create a larger scene with the first Eevee figure standing in the center. You can see a preview of what the figures will look like standing together in the screenshot below.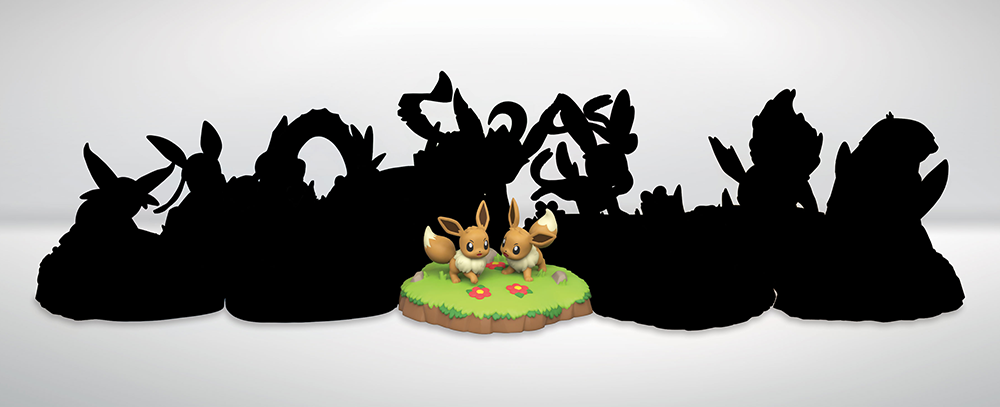 Are you excited about these new Eevee figures? Let us know in the comments, or tweet us at @superparenthq.