The Cat in the Hat, The Grinch, and more are here to play!
Last August, Funko Games released the first six games in its line of Something Wild card games. Similar to the company's line of Funkoverse strategy games, the Something Wild card game allows players to mix and match cards and figures from different games to create unique experiences. Each Something Wild card game can also be played on its own as a complete experience.
While the first six Something Wild games were inspired by Disney characters, such as those from The Little Mermaid and Toy Story, the newest Something Wild card game is inspired by the wacky worlds of Dr. Seuss.
If you're unfamiliar with the Something Wild games, they're simple card games inspired by the classic game of Rummy. Players work to be the first to score "three Powers" (think three points) by creating "sets" or "runs" of cards. A set is a group of three cards with the same number, while a run is a group of three cards of the same color that have consecutive numbers (for instance, Red 1, 2, and 3.)
Something Wild Dr. Seuss includes a small Pop figure of The Cat in the Cat, as well as 45 character cards that feature a number and an image of a Dr. Seuss character, such as Thing 1, Thing 2, Sam-I-Am, Horton, or the Lorax, among others. There are also 10 power cards that players can activate on their turn if they have control of the Cat in the Hat figure.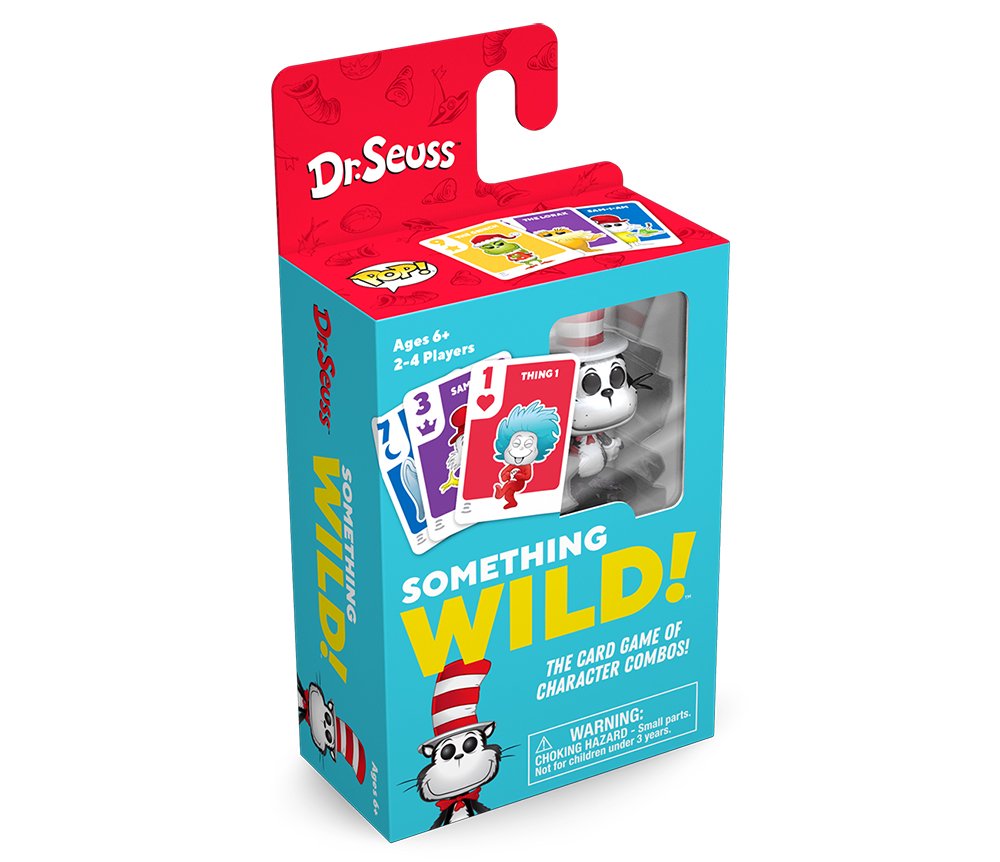 The Something Wild Dr. Seuss card game is designed for 2-4 players aged 6+. It can be played on its own for a simpler experience, or combined with other Something Wild games your family may already own to up the complexity. When games are combined, all of the character cards are mixed into one larger draw deck, while the power cards are kept separate. For more information on combining Something Wild games, check out our review of the first six games in the line.
Something Wild Dr. Seuss is now available for $7.99.
While the holiday season is still many months away, we feel it's worth pointing out that these games make great stocking stuffers. In fact, we enjoyed Something Wild so much we featured the game in our 2020 Tabletop Games Holiday Gift Guide.
Disclosure: Funko Games sent SuperParent a copy of Something Wild Dr. Seuss for coverage purposes.