During Funko Fair 2021 in January, Funko revealed a series of Funko Pop figures inspired by the classic Disney film Pinocchio.
The series includes Pops of Pinocchio, Geppetto, Jiminy Cricket, the Blue Fairy, and the pair of Figaro and Cleo. There are two versions of the Jiminy Cricket Pop to collect, with one being a regular Pop figure and the other being part of Funko's Diamond Collection (it has a glittery coating). The Diamond Collection Jiminy Cricket is exclusive to Books-A-Million.
There are also two versions of the Blue Fairy in this series, with one being a regular Pop and the other being a "Chase" variant that has a glittery dress. (Chase Pops are designed to be found in stores at random.)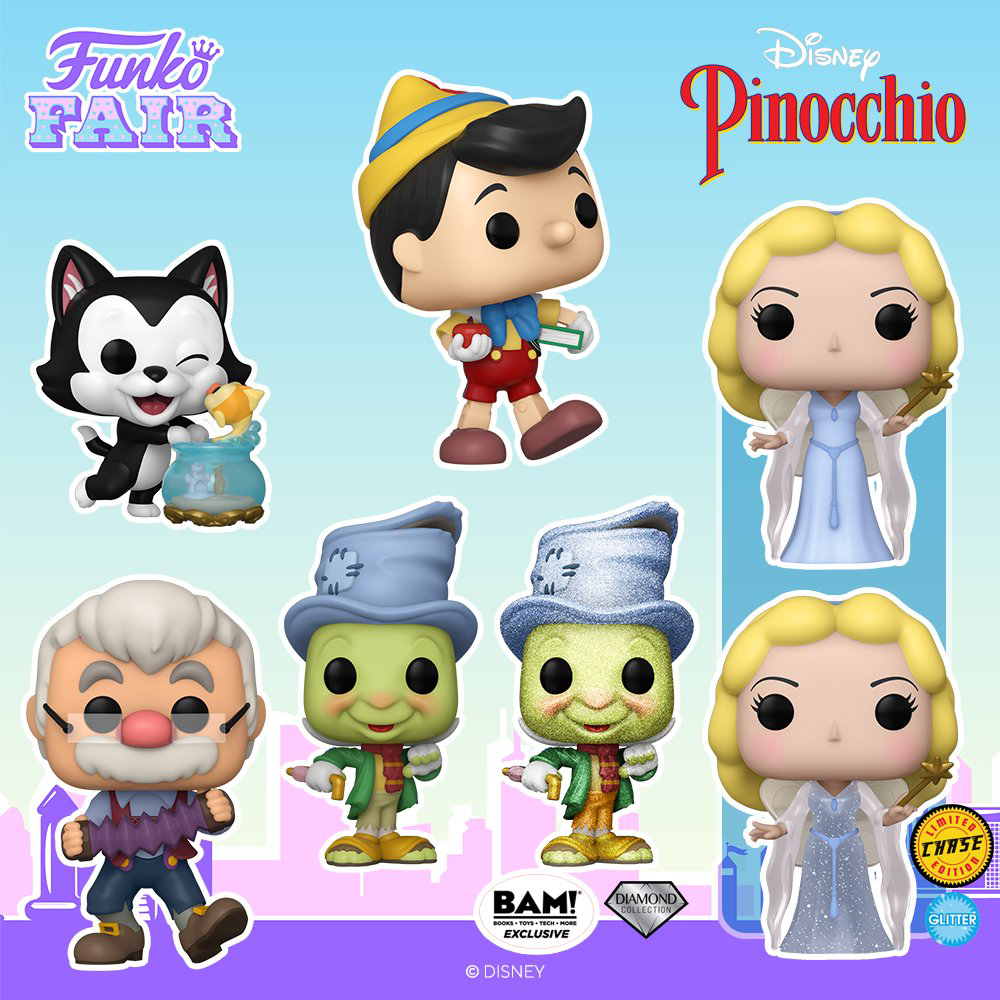 We had the chance to check out two of the Pops in this series: Figaro with Cleo and the Diamond Collection Jiminy Cricket.
While both figures come in standard-sized Pop boxes, Figaro with Cleo is smaller than many normal Pop figures, measuring roughly 3.25 inches tall from the bottom of Figaro's foot to the top of its ear. For comparison, the Jiminy Cricket Pop is between 4.25 and 4.5 inches tall, from the bottom of Jiminy's foot to the top of his hat.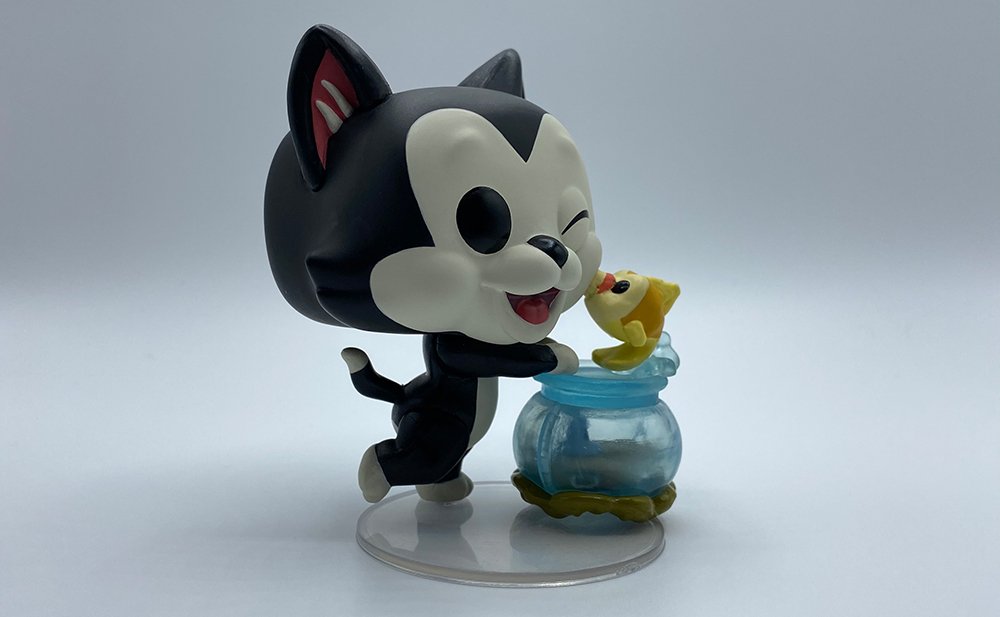 Both of these Pops can stand up on their own, though the Figaro and Cleo Pop will lean to the left due to Figaro's foot being up in the air. To prevent this from happening (and to prevent the Jiminy Cricket Pop from falling over), both Pops come with a clear plastic base that makes them more stable.
Finally, while the Jiminy Cricket Diamong Collection Pop has a glittery appearance, you don't have to worry about this glitter falling off and making a mess. Instead, the glitter is a hard coating covering the entire Pop, except for the bottom of Jiminy's feet. We did lose a couple of glitter flakes in the process of handling and photographing the figure, but this seemed like a fluke.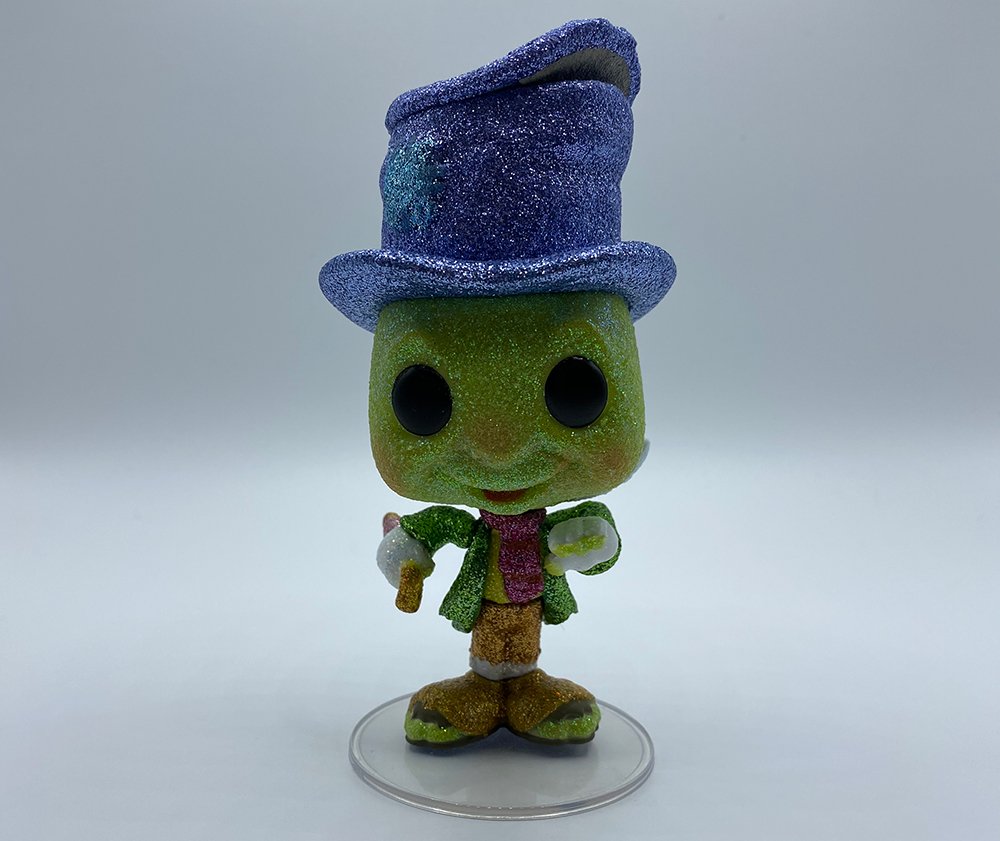 If you're interested in adding these adorable Funko Pops to your collection (or you know a Disney fan who would love them), they're now available for pre-order.
The Diamond Collection Jiminy Cricket is available exclusively at Books-A-Million. You can pre-order it now for $12.99.
The Figaro with Cleo Pop is also available for pre-order at Books-A-Million for $10.99, or you can pre-order it at stores like Amazon and FYE, among others. Just keep in mind that different stores may sell the same Pop for different prices, or release the same Pop on different dates. Make sure to shop around to find the best deal!
Disclosure: Funko sent SuperParent these Pinocchio Funko Pops for coverage purposes.