Players who turn on this extra security measure will unlock an in-game dance.
Fortnite: Battle Royale is the most popular game in the world, challenging players to be the last person standing in matches containing up to 100 users. The game is free to download and play, so anyone who's interested in trying the game can do so for free.
But nothing's really free in free-to-play. Free-to-play games are free to download, but they often contain optional in-app purchases that players can buy to improve or change their in-game experience in some way. In Fortnite: Battle Royale, players can purchase cosmetic items like skins (costumes) for their playable character, as well as Battle Passes. These Battle Passes contain in-game challenges for player to complete, which reward them with more cosmetic goodies.
So what's wrong with that? When players make a purchase in Fortnite, they have the option to store their financial information to make future purchases easier. This makes Fortnite accounts a perfect target for hackers, who can hack an account and make false purchases using someone else's money.
Fortnite allows users to turn on two-factor authentication to protect their account from unauthorized users. This security feature is used on all kinds of websites, from social networks to banking sites. It adds an extra step to a user's login process, often asking them to enter a special security code that's generated each time they try to login (or, for instance, when they try to login on a new device).
On any website or platform, turning on two-factor authentication is always a good idea. But now, Fortnite players have even more reason to turn on two-factor authentication on their account. As IGN reported, users who do so will unlock a free in-game dance called Boogie Down.
Parents, if your kids play Fortnite, follow these steps to turn on two-factor authentication on their accounts.
Click here to go to the sign in page on the Epic Games website. Epic is the developer of Fortnite.
Enter the user's email address and password, and then click "Sign In." If your teen logs into Fortnite using a PlayStation 4, Xbox One, Nintendo, Facebook, or Google Account, click the appropriate icon and login to the account in the pop-up window that appears.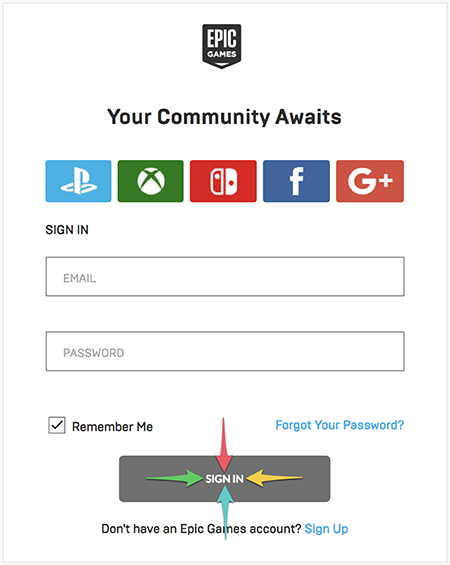 If you clicked the link above to go to Epic's website, you'll immediately be redirected to the Password & Security page when you successfully sign in.
Scroll to the bottom of this page, until you see the "Two-Factor Authentication" section.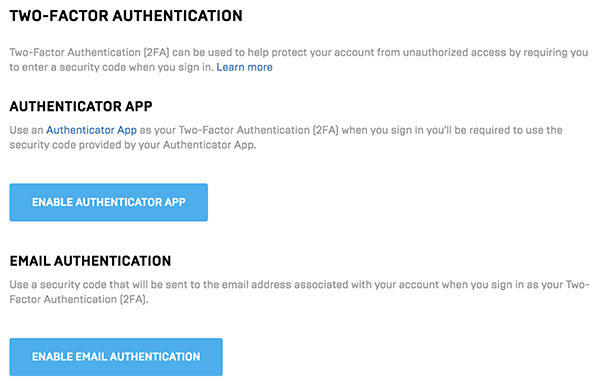 You can now activate one of the two authentication options, depending on your preference.
If you want to login using a special code generated by an authenticator app (for instance, Google Authenticator), click "Enable Authenticator App."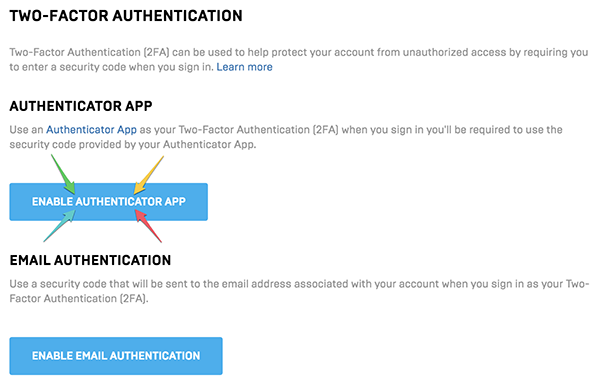 A new menu will pop up. Follow the on-screen instructions, which ask you to open your authenticator app and scan the QR code on the screen (we've covered up our QR code in the screenshot below). If you don't have an authenticator app, you can click the "Authenticator App" link to go to a page containing a list of common authenticator apps that you can choose from.
When you scan the QR code with your authenticator app, you'll see a six-digit code within the app that has the label "Epic Games." Type this six-digit code in the "Security Code" field on the Epic Games website, and then click "Activate."
If you have trouble scanning the QR code, you can also type the string of text under "Manual Entry Key" in your authenticator app to complete this step.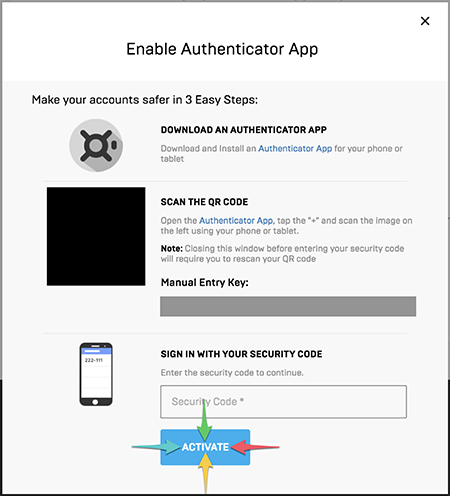 Once you click activate, you'll have the option to click a "Generate Codes" button to receive a list of pre-generated backup codes that you (or your teen) can use to login to this account in the event that you lose access to your authenticator application. You can generate your backup codes now, or come back and do it later (or you can choose to not take this step).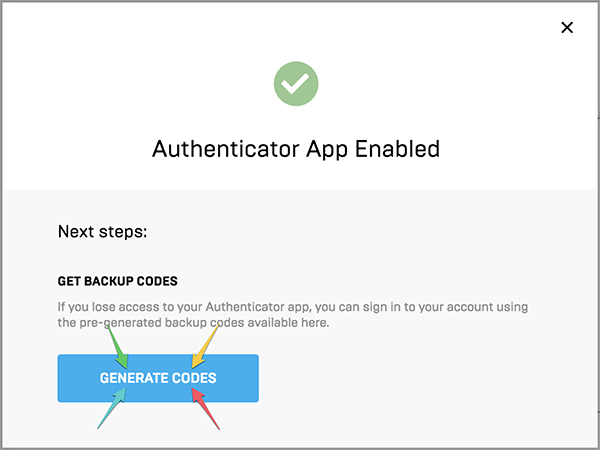 After you click "Generate Codes," you will be presented with 10 backup codes that you can write down on a piece of paper, or copy into a document (we've blocked our codes out in the screenshot below). You can also click the "Download Codes" button to download the codes to your computer in a text file. Whatever you decide to do, make sure that once you generate these codes, you keep them in a safe location where no one else can get ahold of them.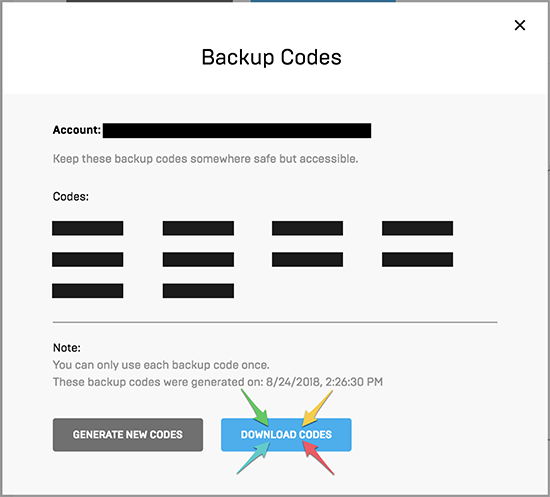 If you want to login using a special code that's sent to the email address associated with your (or your child's) account, click "Enable Email Authentication."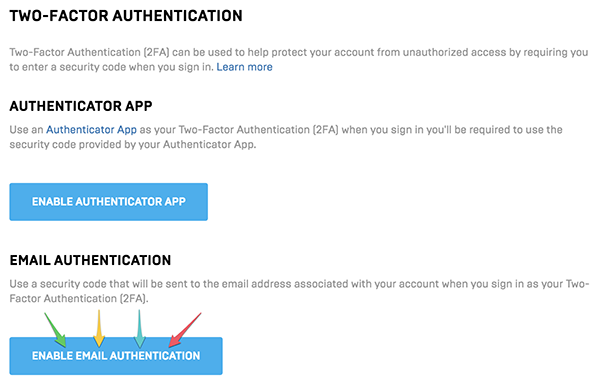 A new menu will pop up, telling you that an email containing a six-digit security code has been sent to the email address associated with your Epic Games account (we've blocked out our email address in the screenshot below). Type the six-digit code from this email in the "Security Code" field on the Epic Games website. Then, click "Continue."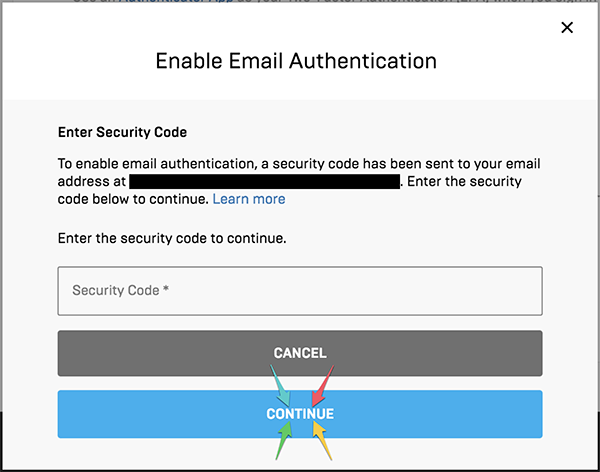 Once you enable one of these two authentication options, you (or your teen) will need to enter a security code each time they login under the following circumstances:
The first time you sign in after turning on two-factor authentication
The first time you sign in on new device (like a new computer or phone)
If it's been over 30 days since you last signed into your account
If you recently cleared your browser cookies