Families can experience what it's like to be a short order cook in Flapjack Flipout, a family-friendly tabletop game from designer Peter Newland.
Flapjack Flipout is designed for 2-6 players aged 8+. At the beginning of each "round," one player will read out an order that asks for particular flavors and quantities of flapjacks (pancakes). For instance, an order may ask for one blueberry and two chocolate flapjacks.
From there, everyone will grab a flapjack card from the pile and place it onto their handheld griddle face down. They'll need to use the griddle to flip the flapjack over so they can see what flavor it is (and "cook" the other side).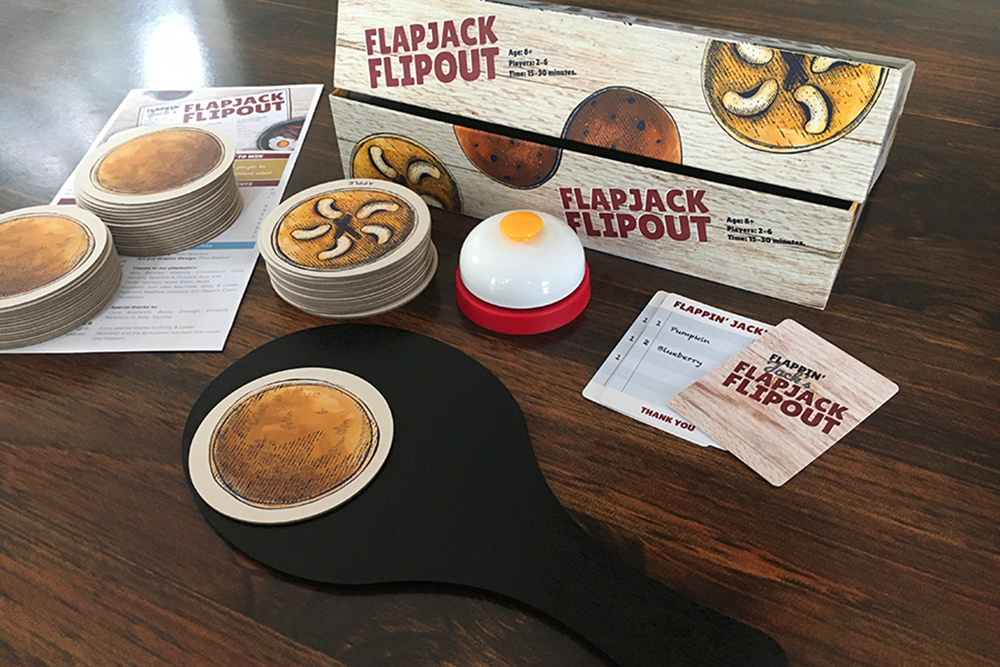 Once a flapjack has been cooked, players can remove the flapjack card from their griddle and place it face down in a pile in front of them. Players can organize their cooked flapjacks in any way they like, with the goal being to remember which flavors are placed where (they can't flip the flapjacks back over again to check their flavors).
As soon as a player thinks they can fulfill the current order using the flapjack cards they've collected, they'll hit the game's bell (which looks like a sunnyside up egg) and flip their flapjack cards over to see if they've made a match. The first player to successfully complete three orders wins the game.
Each game of Flapjack Flipout has an estimated run time of 15-30 minutes.
Flapjack Flipout is now available to purchase for $29.99 on the Mind the Gap Studios website.

Brandy Berthelson has been writing about video games and technology since 2006, with her work appearing on sites including AOL Games, Digital Spy, and Adweek's Social Pro Daily. When she's not gaming, Brandy enjoys crafting, baking, and traveling with her husband.