The latest update for the popular battle royale game is here.
Fall Guys received a new update Monday called HOTFIX 2 or "Spicy Hot Fix." This update contains bug fixes for the battle royale game, as well as some changes that only affect players on PlayStation 4.
For one, this update "Added Controller options" for PlayStation 4 players, which will allow you to invert the X/Y axis and change sensitivity settings to match your preferences.
In addition, Hotfix 2 tweaked the game's "purchase dialog to avoid accidental selections."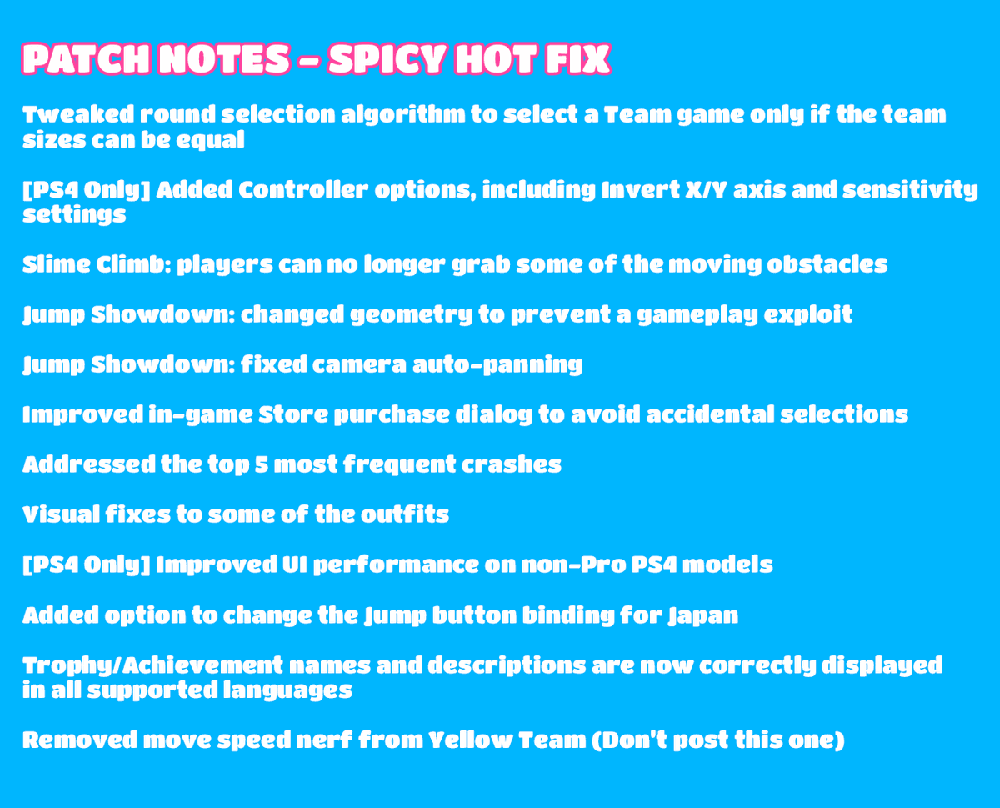 Here are the full patch notes, direct from the Fall Guys Twitter account:
"Tweaked round selection algorithm to select a Team game only if the team sizes can be equal
[PS4 Only] Added Controller options, including invert X/Y axis and sensitivity settings
Slime Climb: players can no longer grab some of the moving obstacles
Jump Showdown: changed geometry to prevent a gameplay exploit
Jump Showdown: fixed camera auto-panning
Improved in-game Store purchase dialog to avoid accidental selections
Addressed the top 5 most frequent crashes
Visual fixes to some of the outfits
[PS4 Only] Improved UI performance on non-Pro PS4 models
Added option to change the Jump button binding for Japan
Trophy/Achievement names and descriptions are now correctly displayed in all supported languages
Removed move speed nerf from Yellow Team (Don't post this one)"
It's worth pointing out that the last entry on this list is a joke. In the Fall Guys community, "Yellow Team" is seen as the worst.
Finally, on the official Fall Guys Twitter account, the developer said the ability to spectate teammates first will be released in the game's next update.
Fall Guys: Ultimate Knockout is available on PS4 and PC for $19.99. The game is also available at no additional cost for PlayStation Plus subscribers. (PlayStation Plus is PlayStation's premium subscription service that is required to play online multiplayer games.)
To learn more about Fall Guys, check out our previous coverage.