Devolver Digital is publishing a family-friendly battle royale game that's more American Ninja Warrior meets Total Wipeout than shoot 'em up.
Fortnite: Battle Royale has dominated our kids' attention spans for the better part of two years at this point. The allure of battle royale has been inescapable, as we've seen the game mode blossom from a feature to the entire purpose of a game. But what if we could do away with the guns and the violence in battle royale, but keep the competitive spirit?
Mediatonic's latest game is "colorful nonsense," as one of the developers described to me during the demo at E3. It's everything you could possibly want in a family-friendly battle royale game: it's ridiculous, fun, colorful, and completely off-the-wall.
What is Fall Guys?
Fall Guys is a whimsical take on the battle royale genre where customizable characters are pitted against one another in a variety of rounds. If you've ever played Mario Party or have seen a WarioWare game, Fall Guys has a similar flavor.
Mediatonic was playfully firm that Fall Guys needed to feel like a television show: fun to watch and fun to play.
How do you play Fall Guys?
In my E3 demo, I took control of a jellybean shaped character named "Pickle Pancakes" (and no, I definitely didn't change it because that name is perfection). I made sure that it looked kind of like a pickle with dark green stripes. Once Pickle Pancakes had an acceptable aesthetic, we jumped in.
The first round pitted four human players against 96 non-playable, AI players, and was designed to whittle down the group by half before moving onto the second round. We raced down a course that was riddled with doors. Some doors opened, others didn't, and we had to be careful about which ones we chose. It was often beneficial to be a little behind at the beginning of the race so that others would stumble and you could race ahead.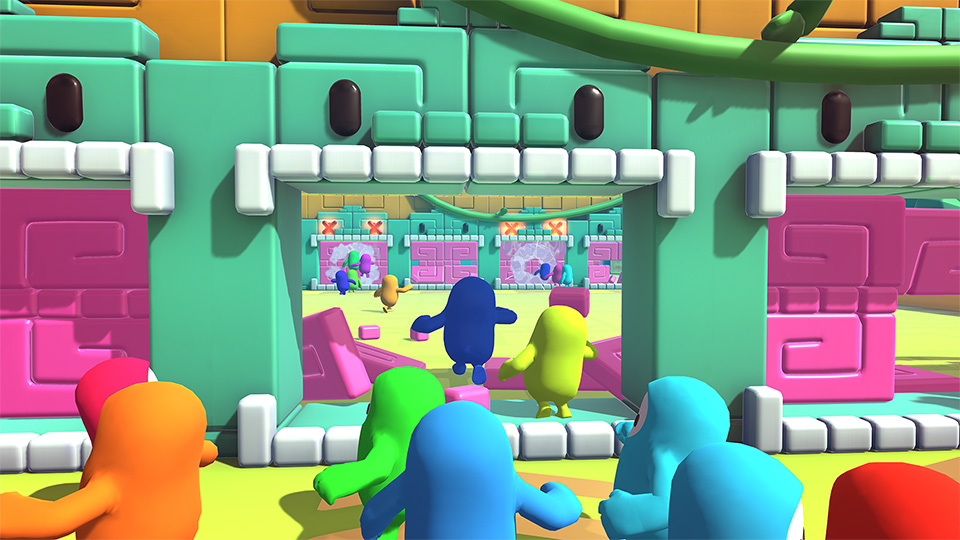 (That's what I did, anyway.)
The top half of the players moved onto the second round, which was called "Tail Tag." In this mode, half of the players have tails and the other half has to chase them around to steal those tails. Players with tails move onto the final round.
The final round is a free-for-all obstacle course, complete with spiky beach balls being lobbed at the players, spinning hammers to prevent players from getting any further up the hill, and moving barriers that spun depending on the direction that the spiky beach balls hit them.
Once players hit the top of the course, they need to time their final jump and grab onto the crown.
(I won both final rounds, but that's not why it was fun!)
The final game will have 30 different courses that will randomly cycle so that no two playthroughs of Fall Guys will be the same.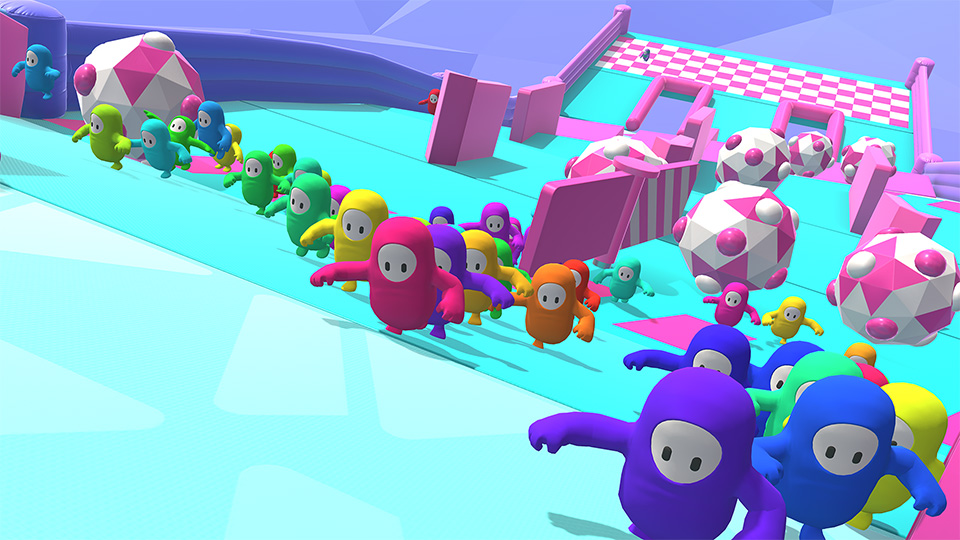 So, this isn't like Fortnite?
It really isn't. There are no weapons and no violence.
If you get pushed around, there's resistance but no blood. Mediatonic wanted this game to be "colorful nonsense" in every way, which means that it's focused on making sure that this is friendly to everyone.
When is Fall Guys coming out, and on which platforms?
Fall Guys will be out in 2020, though there isn't a specific date just yet. It will be available on Windows PC and PlayStation 4 at launch. Mediatonic didn't specify whether or not the game would eventually make its way to Switch, Xbox, or Mac OS.