Parents and kids can sign the Pledge and use 'kindness stickers' to send to friends.
Facebook launched Messenger Kids, a kid-friendly version of its text and video messaging app, on iOS in December 2017 (it hit Kindle Fire tablets and Android in early 2018). The standalone mobile app was designed to let kids communicate with friends and family in a safe environment that parents could control using their own Facebook accounts.
The Messenger Kids app was initially only available for users in the U.S., but it's expanded this week into Canada and Peru. French and Spanish versions of the app have also been launched, along with a series of new in-app features.
Once of these features is called the Messenger Kids Pledge, which is designed for parents and kids to complete together. The Pledge explains a set of four basic principles — Be Kind, Be Respectful, Be Safe, and Have Fun — that help kids learn responsible online behavior. Parents and kids can read the pledge and then tap the "We Agree" button to move on.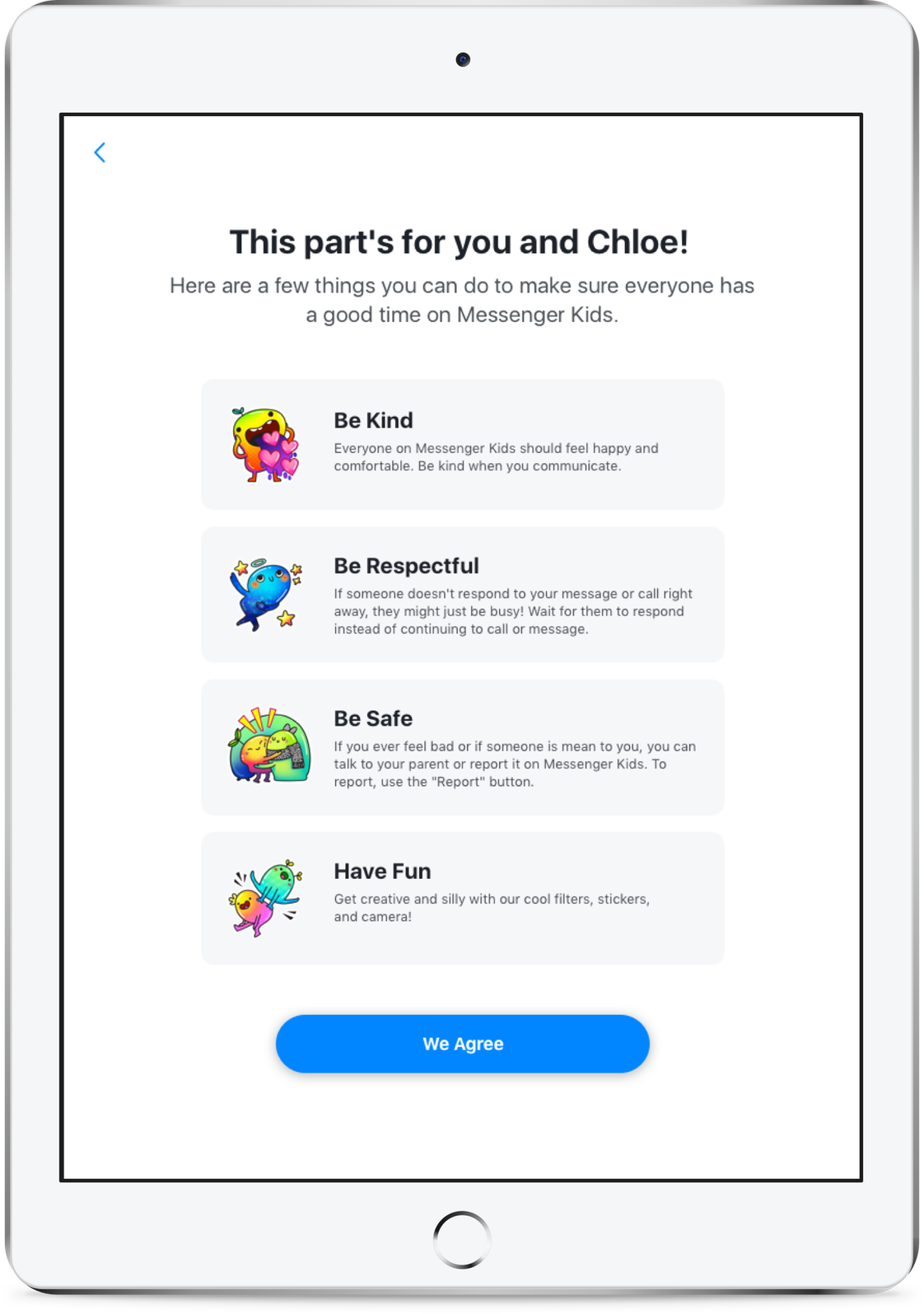 This update also adds a set of "Kindness Stickers" to the app that kids can send to their friends. These stickers contain fun artwork and messages that Facebook said were "designed to inspire kindness towards others." At launch, stickers include phrases like "Problem Solver," "My BFF," and "Most Adventurous."
Special "Appreciation Missions" will also be added to the app in the future, with the goal of inspiring kids to express their appreciation for the friends and family in their lives.
Messenger Kids originally only allowed a single parent (or approved guardian, such as a grandparent) to control their child's experience in the app, two users can now manage a single child's account. It's worth noting, a child's Messenger Kids account isn't the same thing as a regular Facebook account – those are still only available to users 13+.
The app's parental controls let parents decide who their kids can connect with, and parents can also read their kids' messages, which never disappear.
If you want to try the Messenger Kids app, it's available to download for free on iOS, Android, and Kindle devices. If you're looking for additional tips to keep your kids safe online, check out our guide.
[H/T TechCrunch]