Put down the controller for some family-friendly Fortnite fun.
Video game-themed merchandise is nothing new. From school supplies to clothing to collectible figurines, players have plenty of ways to celebrate their love for their favorite games even when they're away from the screen.
Fortnite players will soon have two new ways to keep the fun of the massively popular battle royale game going even after they've turned off the game.
As reported by IGN (via Eurogamer), a Fortnite Monopoly board game will be available to purchase starting October 1. The game replaces traditional Monopoly locations, like Boardwalk and Park Place, with locations found on Fortnite's in-game map, like Tilted Towers. The game will also play pretty differently from your standard game of Monopoly (which is all about purchasing real estate and collecting rent).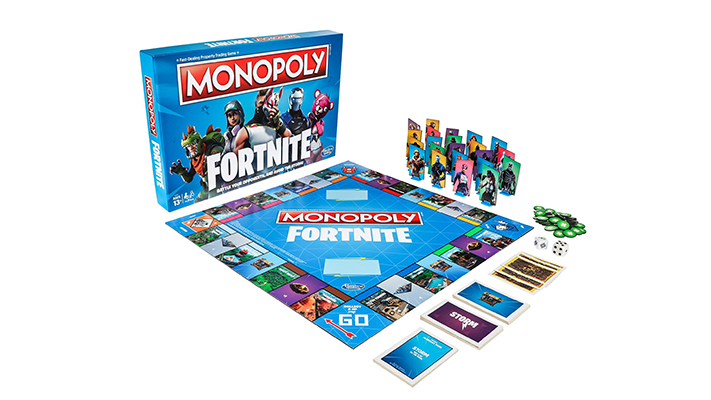 Hasbro, the toy company behind the Fortnite Monopoly board game, told IGN that the game will allow players to compete against other players to be the last person standing. The game changes money into health points, and one of the two dice will be used for actions like recovering health, attacking other players, and more. The Storm, the dangerous area on the Fortnite map that players are encouraged to avoid, will also be in the Monopoly version, as IGN said the Storm can take over spaces on the board.
This isn't the first version of Monopoly themed after a popular video game. Franchises like The Legend of Zelda and Mario Kart, among others, have their own versions of Monopoly as well.
If board games aren't your family's thing, IGN also reported that Fortnite Nerf Blasters are in the works. They'll be released in Spring 2019, but additional details aren't available just yet. Like Fortnite Monopoly, this isn't the first time video games and Nerf have combined. For instance, Overwatch Nerf guns will also be released in 2019, and multiple Nerf video games were released for console and PC in the past.