Here are some of the family-friendly highlights from Ubisoft's E3 presentation.
During this week's E3 festivities, video game company Ubisoft held its annual E3 presentation, highlighting some of the games players can look forward to trying in the months and years to come.
Many of Ubisoft's games come with an M rating (meaning they're only recommended for players 17+), but there were a few family-friendly highlights from the show. Here's what you need to know.
Just Dance 2020
The popular dancing game franchise is celebrating its 10th birthday in 2019. The next game in the series, Just Dance 2020, will feature 40 new songs that players can dance to across multiple modes, including a cooperative mode, which allows players to work together to earn a high score, and a Kids mode with "kid-friendly choreographies." Players will also have the option to subscribe to Just Dance Unlimited to access hundreds of additional songs. Just Dance 2020 will be released on November 5, 2019 for Switch, PlayStation 4, Xbox One, Stadia, and even Wii.
Adventure Time Comes to Brawlhalla
As part of a limited-time crossover event, Jake, Finn, and Princess Bubblegum from Cartoon Network's Adventure Time are now available to purchase in Brawlhalla for 300 Mammoth coins each. This crossover event also adds a new mode, stage, and themed KO effects to the game. Brawlhalla is a free-to-play fighting game that allows players to compete in both online and offline modes. It's available on Switch, PlayStation 4, Xbox One, and PC.
Assassin's Creed Odyssey is Getting a Discovery Tour Mode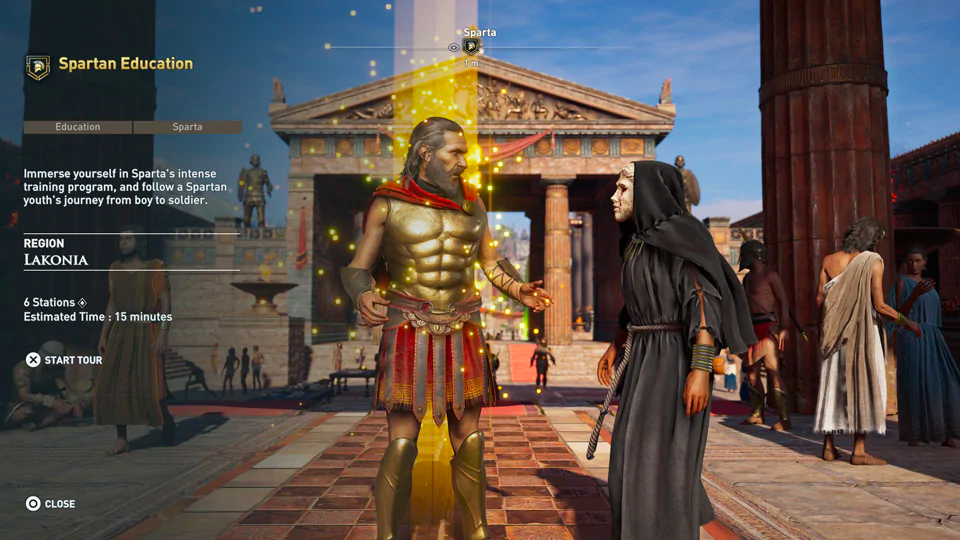 While Assassin's Creed Odyssey has an M rating due to its violence and adult content, the Discovery Tour mode will take away all of the traditional "gameplay" rules and features to allow players to explore the game's version of Ancient Greece in peace. Players will be able to take guided tours (complete with interactive quizzes) to learn about Ancient Greek mythology, architecture, and more. The Discovery Tour mode was previously seen in Assassin's Creed Origins, and it's been used to teach students about the game's setting of Ancient Egypt. Assassin's Creed Odyssey is available on PlayStation 4, Xbox One, and PC, and it will also be available on Stadia once that platform launches. The Discovery Tour mode will be released as a free update this fall.
Roller Champions
Roller Champions is a competitive multiplayer sports game that will challenge teams to score goals by throwing a ball through rings as they skate around a racetrack. Roller Champions will launch in early 2020. Until June 14, players can try a free E3 demo of the game on PC by visiting the game's website.
Gods & Monsters
In Gods & Monsters, players must rescue the Greek gods from Typhon, a creature from Greek mythology. Players will explore a colorful open world and face off against various creatures, such as Gorgons, Hydras, and Cyclops. They'll also have a variety of special powers that they can use on their quest. While Gods & Monsters hasn't been rated by the ESRB just yet, we don't expect it to receive an M rating. Gods & Monsters will be released on February 25, 2020.
UPlay+
This new subscription service for PC will allow subscribers to access over 100 games from Ubisoft's catalog, including new releases and any downloadable content (DLC) and extra features that may be available in the "premium" editions of these games. UPlay+ will launch on September 3, 2019 at a price of $14.99 per month. The service will come to Stadia in 2020. (For reference, Xbox also announced its own PC game subscription service at E3: Xbox Game Pass for PC.)