Players are challenged to help Thunder find his family in this level-based 3D platformer.
DreamWorks Dragons: Legends of the Nine Realms is now available on Switch, PlayStation consoles, Xbox consoles, PC, and Stadia.
We had the chance to try the Switch version of the game.
What is this game? What's it about?
DreamWorks Dragons: Legends of the Nine Realms is a 3D platformer inspired by the animated series Dragons: The Nine Realms, which is available to stream on Hulu and Peacock.
DreamWorks Dragons: Legends of the Nine Realms follows a Night Light dragon named Thunder on his quest to find his missing family.
How do you play this game?
DreamWorks Dragons: Legends of the Nine Realms is a level-based 3D platformer that allows players to complete levels spread across different themed worlds. For instance, one world has an ice theme, while another has a fire theme.
When players first begin the game, Thunder is their only playable character. However, players can unlock three more playable dragons as they progress through the game. Each dragon has a different speciality and abilities, and players can switch freely between dragons during a level.
During each level, players will need to avoid obstacles, trigger switches, and defeat enemy dragons as they make their way to the end. In addition to running along the ground, players can fly over gaps in the path.
Some enemies can be avoided if players move quickly enough through environments, while other enemies must be defeated before players can move on. That is, the game will frequently stop players from moving forward until they defeat a group of enemies. During these group battles, players may be challenged to defeat more than one dragon at the same time. Players can attack enemies using basic and strong attacks. They can also "dash" in an attempt to avoid attacks.
Each character has a limited amount of health, and players can lose health by being attacked by an enemy or running into an environmental hazard (such as ice spikes in the game's cold levels). There are no health items to pick up in levels. Instead, when a dragon takes damage, players can switch to a different dragon and their previous character will heal automatically while it isn't being used.
Finally, players can collect a variety of crystals as they complete each level. Players can use these crystals to unlock new powers and upgrades for their dragons, which will make them stronger. For instance, players can purchase an upgrade that increases Plowhorn's health (each dragon can be upgraded separately).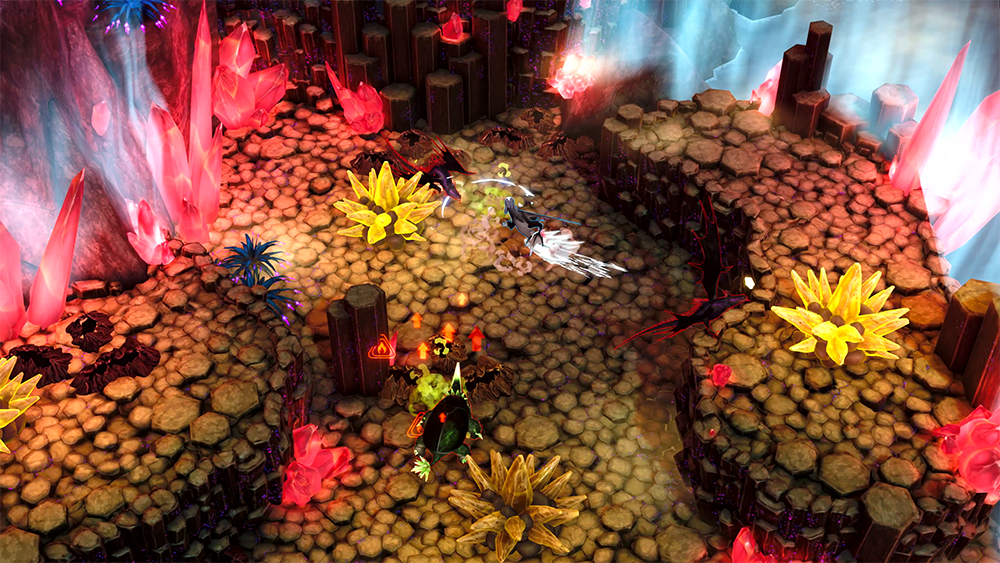 Is this game fun to play?
DreamWorks Dragons: Legends of the Nine Realms has a fun general concept, but the game has a number of issues that prevent it from reaching its full potential.
For one, the game's camera tends to sit too far back from the action, which affected our depth perception and made it easy to run into invisible walls, especially while flying to reach another platform. This problem was especially noticeable when playing in handheld mode on the Switch, since the screen on the Switch is smaller than a traditional television screen, and the objects on the screen are even "smaller" and harder to view.
In addition, some of the game's environmental hazards, like holes in the sides of environments that contain wind and fire geysers, blend in too much with the surrounding environment, making them hard to spot. Plus, some of these hazards are positioned in such a way as to feel almost impossible to avoid.
Finally, the game is rather difficult, and there are no difficulty options to choose from. The game will frequently lock players in an area where they must face off against multiple enemies at the same time while also watching out for environmental hazards, and this feels unfair. DreamWorks Dragons: Legends of the Nine Realms is rated E10+ for Everyone 10+ by the ESRB, which means the game wasn't designed for very young players, but we can still see even those 10 and up having difficulty with the game's combat.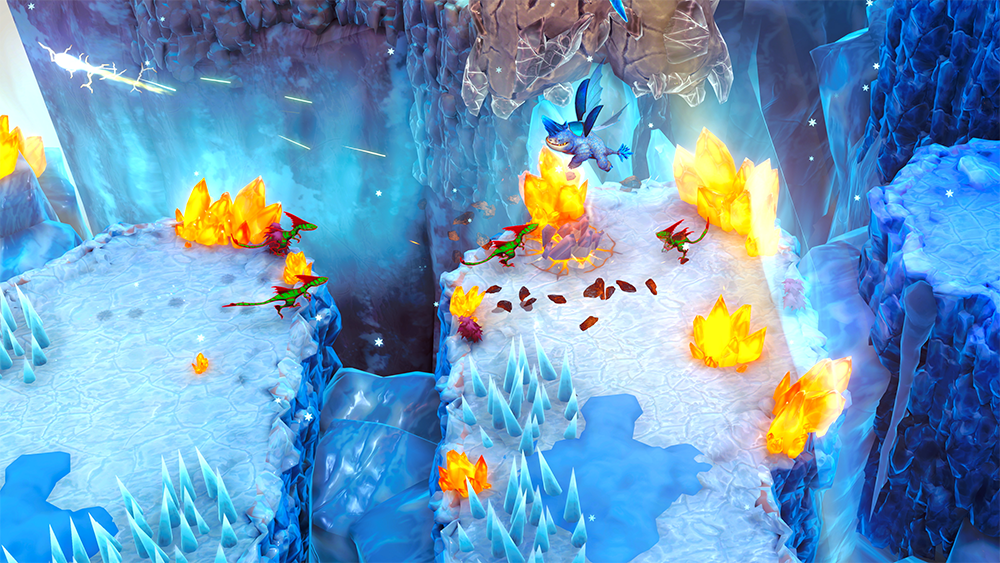 Is there anything else parents need to know about this game?
Some of the game's enemies have scary designs that may be frightening to younger players. In addition, one of Plowhorn's attacks is called the "Flaming Loogie," and some families may find this name bothersome.
On the positive side, the game features full voice acting during levels (the game has a narrator), and this voice acting is also featured on the game's upgrade menus, so players aren't required to read to know what each upgrade does.
What's the final verdict?
DreamWorks: Dragons: Legends of the Nine Realms suffers from too many issues to make the game recommendable to most players. We would only recommend this game for families who enjoy challenging games and know what they're getting into.
---
DreamWorks Dragons: Legends of the Nine Realms is now available on Switch, PlayStation 5, PlayStation 4, Xbox Series X/S, Xbox One, PC, and Google Stadia for $49.99. The game is rated E10+ for Everyone 10+ by the ESRB.
Disclosure: SuperParent received a code for DreamWorks Dragons: Legends of the Nine Realms for coverage purposes.