'Kids Profiles' and content warnings can help you control what your children watch.
After months of eager anticipation, Disney+ (pronounced "Disney Plus") is finally here! Disney's premium video streaming service is now available for $6.99 per month, or $69.99 per year.
At launch, the service contains almost 500 movies and 7,500 television episodes, pulling from the Disney, Pixar, Marvel, Star Wars, and National Geographic catalogs, along with other content. This includes everything from classic animated shorts and features (like Steamboat Willie and Cinderella) to original films and series that were made specifically for Disney+, such as Encore and The World According to Jeff Goldblum.
For superhero fans, you can watch a variety of modern films from the Marvel Cinematic Universe (including Avengers: Endgame), check out animated series like the Marvel Comics X-Men show from the 1990's, and more. Though, it's worth noting that the two recent Spider-Man films, Homecoming and Far from Home, aren't on the service.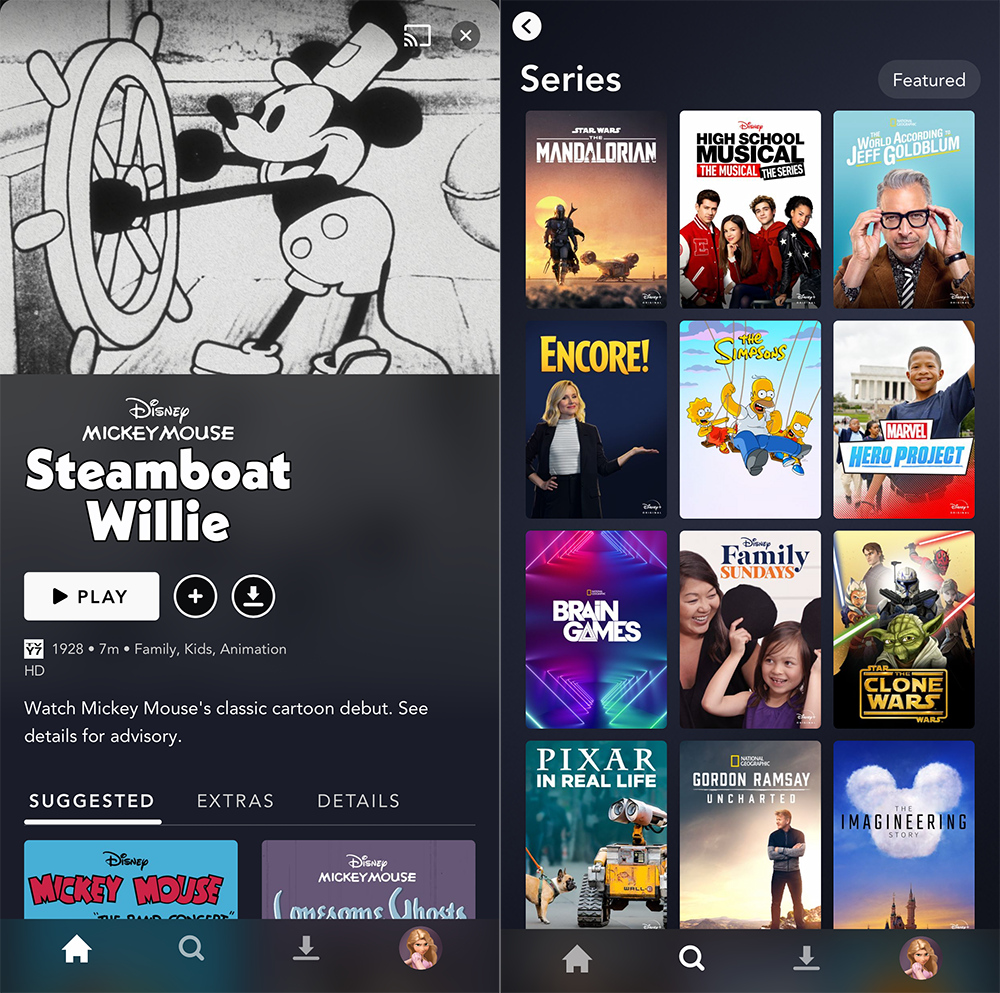 If you're into Star Wars, you can watch Episodes I–VII now, with Star Wars: The Last Jedi (Episode VIII) coming to the platform on December 26, 2019. Plus, an original series — Star Wars: The Mandalorian — was also created for Disney+, and the first episode is available now.
Or, if you grew up watching Disney Channel original movies, lots of those are here, too (Zenon: Girl of the 21st Century, High School Musical 1-3, and Luck of the Irish, just to name a few).
In addition to all of this content (we barely scratched the surface), you can watch all 30 seasons of The Simpsons thanks to Disney's acquisition of Fox.
The Disney+ app is available on tons of devices (check out the full list here), and it works similarly to other streaming platforms. You can create up to seven different profiles for each person in your home, and this includes the ability for you to turn a profile into a "Kids Profile" that will allow littles to view content that's appropriate for them with a "[k]id friendly interface."
You can add content to your watchlist for easy viewing later on, and you can even download content for offline viewing (you can access unlimited downloads on a maximum of 10 devices).
As you browse, you can view details about each piece of content, such as its length and age rating. In some cases, you'll find extra content warnings related to things like photosensitivity and tobacco usage, and there's also a common disclaimer on classic content related to "outdated cultural depictions."
Specifically, this final warning states, "This program is presented as originally created. It may contain outdated cultural depictions."
These warnings are found under the "Details" section for each piece of content, but, in terms of something like the tobacco warning, you may not see the warning if the film's age rating already accounts for suggested parental guidance.
Disney+ is now available in the U.S., Canada, and the Netherlands, and it will launch on November 19 in Australia, New Zealand, and Puerto Rico. In a post on its website, Disney said the platform will come to "markets across Western Europe—including the UK, France, Germany, Italy, Spain and a number of other countries in the region—on March 31, 2020."