Our guide will show you which crops to plant!
As players make their way through Disney Dreamlight Valley, they'll receive a quest called "With Great Power…" that will ask them to explore a location called the Mystical Cave, which is found in the Dazzle Beach area of the game.
The Mystical Cave has multiple Magic Gates for players to open.
Check out our video to see how to open the Second Magic Gate, or keep reading for the details!
The second Magic Gate will ask players to grow three specific crops in front of the statues near the gate.
The game will give players a clue related to which crops players need to plant:
"Discover the right crops to grow to continue on below. One is underground, the other gold and brown. What remains is red and round."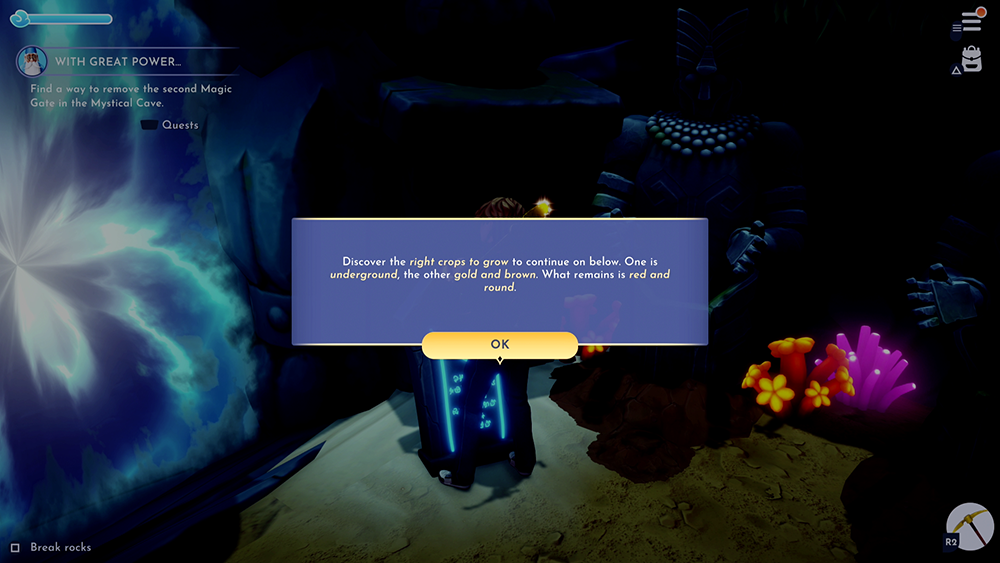 The "underground" crop is a carrot, while the "gold and brown" crop is wheat. Finally, the "red and round" crop is a tomato.
Once you collect at least one carrot seed, one wheat seed, and one tomato seed, you can plant these seeds in front of the statues. Once the seeds have grown, the second Magic Gate will open and you can continue exploring the Mystical Cave! Keep in mind, if any of the crops have withered, you'll need to water the crops before the gate will open.
And that's all there is to it! Have fun!
To learn more about Disney Dreamlight Valley or to view the rest of our guides for the game, check out our previous coverage.