Our guide will show you the recipe!
Disney Dreamlight Valley is now available in Early Access on consoles and PC! This life simulation and adventure game will allow players to complete quests alongside Disney and Pixar characters in the magical world of Dreamlight Valley.
As players make their way through Disney Dreamlight Valley, they'll be able to travel to different worlds inspired by Disney and Pixar films. One of these worlds is inspired by the film Ratatouille.
When players visit the Ratatouille world, they'll be asked to help Remy prepare a variety of dishes for his restaurant. One of these dishes is Ratatouille, which requires a specific combination of ingredients to prepare.
Here's how to prepare the Ratatouille dish in Disney Dreamlight Valley!
The Ratatouille recipe requires five ingredients: Tomato, Eggplant, Zucchini, Onion, and a Spice. You have two spices to choose from: Basil and Oregano. All of these items (including both spices) can be found in the kitchen in the Ratatouille world.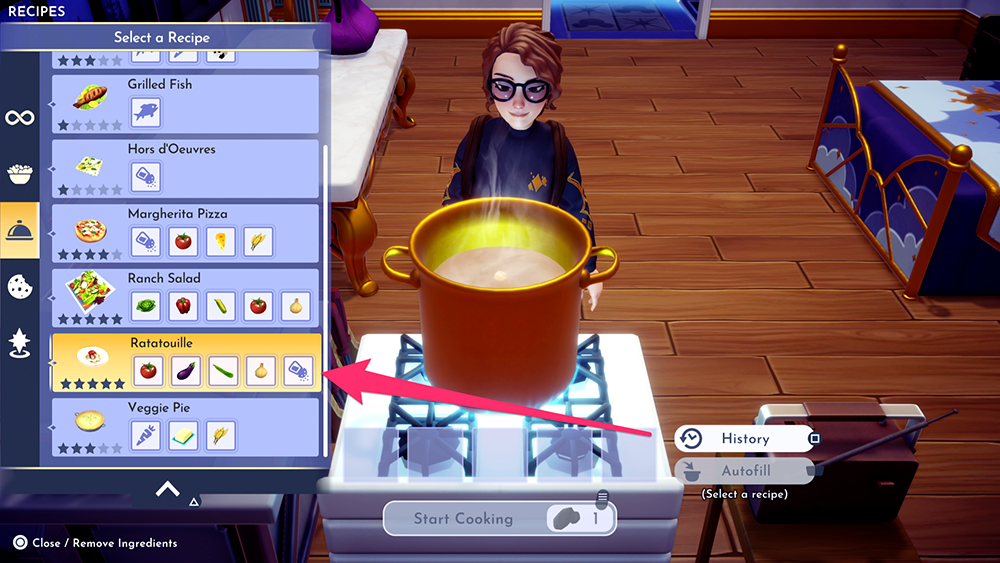 Once you prepare the Ratatouille recipe for the first time, the recipe will be added to your personal recipe book, and you'll be able to prepare the dish again once you leave the Ratatouille world. However, keep in mind that you can't take any ingredients from the Ratatouille world back into Dreamlight Valley with you, so you'll need to collect the ingredients on your own in Dreamlight Valley.
You can also return to the Ratatouille world in the future if you ever want to experiment with different ingredients and recipes, since the ingredients in this world never run out.
And that's all there is to it – have fun!
Are you enjoying Disney Dreamlight Valley? Let us know on Twitter at @superparenthq.