The STEM-focused mobile app lets kids learn about five major topics, including dinosaurs and space.
Discovery, the company behind the Discovery and Science television channels (among many others), released a mobile app called Discovery #MINDBLOWN on iOS and Android devices. The app aims to teach kids aged 6-12 about five major topics: Animals and Dinosaurs, Space and Planets, Humans, Machines and Robotics, and Our Earth.
The app lets kids choose the topic they want to learn about, and then presents them with a combination of video clips (including some from Discovery's shows, such as Mythbusters and How It's Made), mini-games, and text facts about that topic.
The app combines different bits of content into five-minute chunks, with the idea being that even spending five minutes per day in the app can make someone smarter. As users complete these five-minute blocks of content, they'll earn an in-app currency that can be spent on special rewards.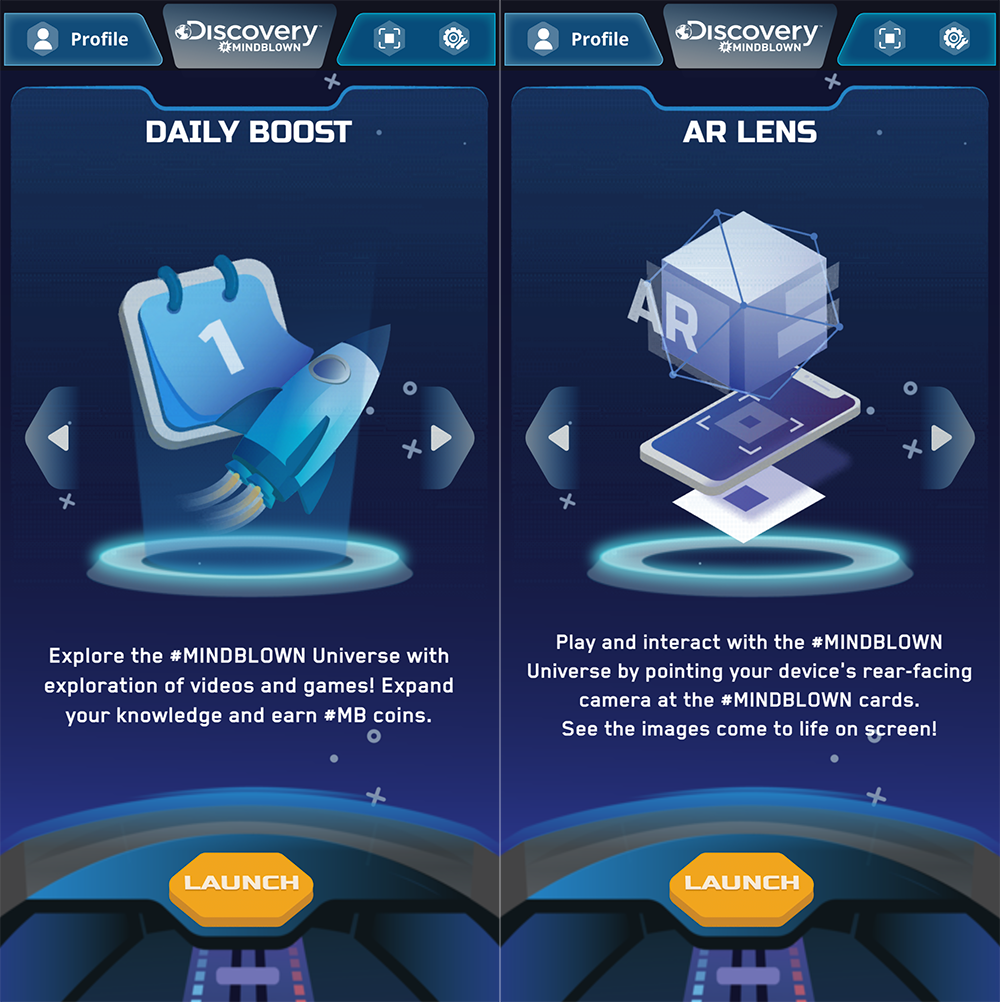 Right now, the only available reward is a discount that can be used on a future purchase on Discovery's online website, but eventually, kids will be able to redeem currency for free downloads of activity sheets and more.
Finally, the app includes an augmented reality (AR) feature, which lets littles bring objects and animals into the "real-world" around them. AR technology uses the camera on a person's device to show the world around them on the device's screen. Digital objects are then overlaid on top of the real world image on the screen to make it look like they're really there. (Think capturing a Pokemon in the mobile game Pokemon Go.)
In the Discovery #MINDBLOWN app, kids can select the object they want to view in AR, and then physically move around their real-world space to view the object from different angles.
While the app's AR feature has multiple objects to choose from, in mid-March, Discovery will begin selling card packs that contain multiple cards kids can scan using the app's camera to bring even more objects to life on their device. There will be five different packs available to purchase on Amazon and Discovery's own website, with each one relating to one of the major topics in the #MINDBLOWN app.
The Discovery #MINDBLOWN app is available to download for free on iOS and Android devices. It's worth pointing out that before a child can dive in to the app, a parent or guardian will need to create an account for them using their own email address. Adults have the option to customize their child's profile by adding their birthday (this is used to unlock special birthday content in the app) and selecting from a number of profile picture options.
Top image © Sunny studio / Adobe Stock