SuperParent went hands-on with the Switch version of this superhero adventure game.
DC's Justice League: Cosmic Chaos is now available on consoles and PC. The beat-'em-up adventure game challenges players to help DC Comics superheroes defeat Mister Mxyzptlk, who has set himself up as mayor of Happy Harbor.
DC's Justice League: Cosmic Chaos allows players to switch between three playable characters at any time: Superman, Batman, and Wonder Woman. Each hero has a different set of skills and abilities, and players can upgrade each hero's skills individually to make them stronger. For instance, if players enjoy playing as Wonder Woman the most, they could focus on upgrading her skills before upgrading the other characters' skills.
Cosmic Chaos features five difficulty levels, including a Story difficulty that makes players invincible. This Story difficulty will allow younger or less experienced gamers to play the game without worrying about taking damage. Similarly, the higher difficulty levels will allow older players or those looking for more of a challenge to test their skills. Players can change the game's difficulty setting at any time in the game's menu.
During battles, players can quickly press buttons to attack a variety of fish-themed enemies, including bosses. Certain attacks and enemies have "elemental" properties (like poison or electricity), and enemies can also have "shields" that players will need to deal with before the enemies can be defeated.
While these features add complexity to the game's combat, it's worth pointing out that players can simply press a single button repeatedly to quickly defeat many enemies. This makes the experience more approachable for youngsters or less experienced players.
DC's Justice League: Cosmic Chaos features main story missions as well as side missions for players to complete. Players can explore the open world of Happy Harbor during missions, where they can defeat enemies, drive vehicles, find collectibles, and unlock fast-travel spots that will make it easier to move around the world in the future.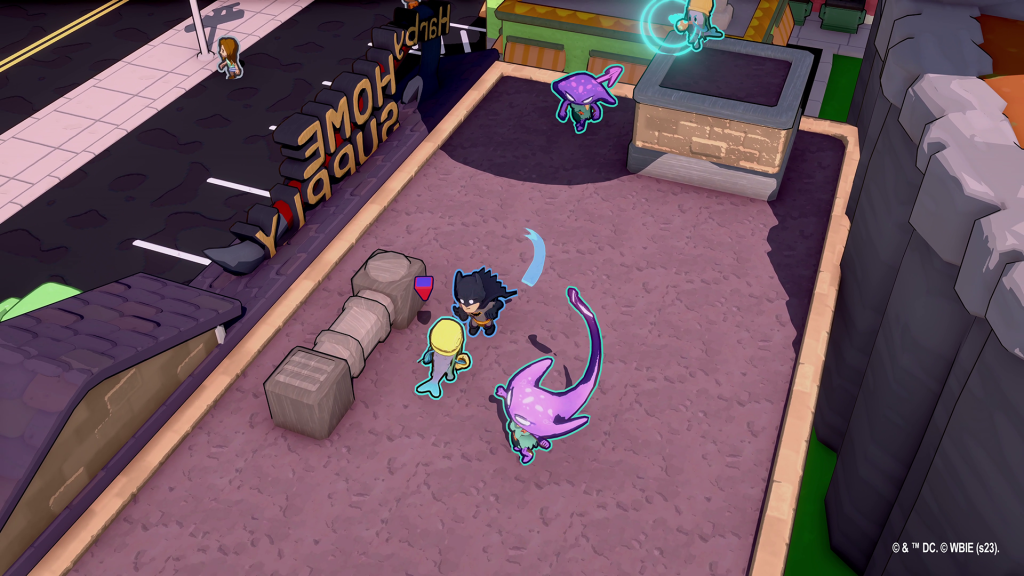 The game also features complete voice acting, so younger players don't have to know how to read to follow along with the game's storyline. This story is focused heavily on humor, sarcasm, and one-liners, rather than being too "dark" or serious.
That being said, the game does feature some mature themes and references, such as a reference to enemies dying and being sent to Hades, and graves with freshly disturbed dirt in a cemetery.
In addition to a main story mode, DC's Justice League: Cosmic Chaos features an "Instant Action" mode that allows two players in the same room to play the game together.
While we enjoyed the time we spent with DC's Justice League: Cosmic Chaos, we must point out that we encountered a bug in the Switch version of the game that is preventing us from making progress in the game's main story mode. We expect this bug will be fixed by the game's developer in the future, but in the meantime, this issue prevents us from instantly recommending the game to everyone. If the bug wasn't present, we would definitely recommend this game to families.
DC's Justice League: Cosmic Chaos is now available on Switch, PlayStation consoles, Xbox consoles, and PC for $49.99. The game is rated E10+ for Everyone 10+ by the ESRB.
Disclosure: SuperParent received a code for DC's Justice League: Cosmic Chaos for coverage purposes.