The 4-vs-4 multiplayer strategy game will challenge players to collect enough Wumpa fruit to win.
Crash Team Rumble is coming soon to PlayStation and Xbox consoles. The multiplayer strategy game is set in the world of the Crash Bandicoot video games.
Crash Team Rumble will challenge two teams of four players to be the first to collect the required number of Wumpa fruit to win each match. The game will feature multiple playable characters from the Crash Bandicoot franchise, including Crash, Coco, and Neo Cortex, among others.
In each match of Crash Team Rumble, both teams will compete to be the first to bring the required number of Wumpa fruit to their team's "Bank." Some Wumpa fruit can be found out in the open in each battlefield, and even more can be found inside breakable crates. Players can attack the opposing team to try and prevent them from collecting the Wumpa fruit they need to win. Rather than being timed, matches will last until one team collects the required number of Wumpa fruit to achieve victory.
Each of the game's hero characters will have one of three different "roles," or specialties: Scorer, Blocker, or Booster. Each character has their own moves and abilities that players can experiment with until they find a character that best suits their play style.
In addition, players can take a special "Power" with them into each match that can help their team offensively or defensively (depending on the Power).
The game's matches will take place in wide open arenas featuring multiple levels of platforms to explore. In addition to having Wumpa fruit to collect, each arena will also have Gem Clusters that teams can fight to capture to boost the number of Wumpa fruit their team collects each time Wumpa are "banked." Relics can also be found scattered throughout arenas. As players collect these Relics, they can spend them at Relic Stations to unlock a temporary advantage for their team.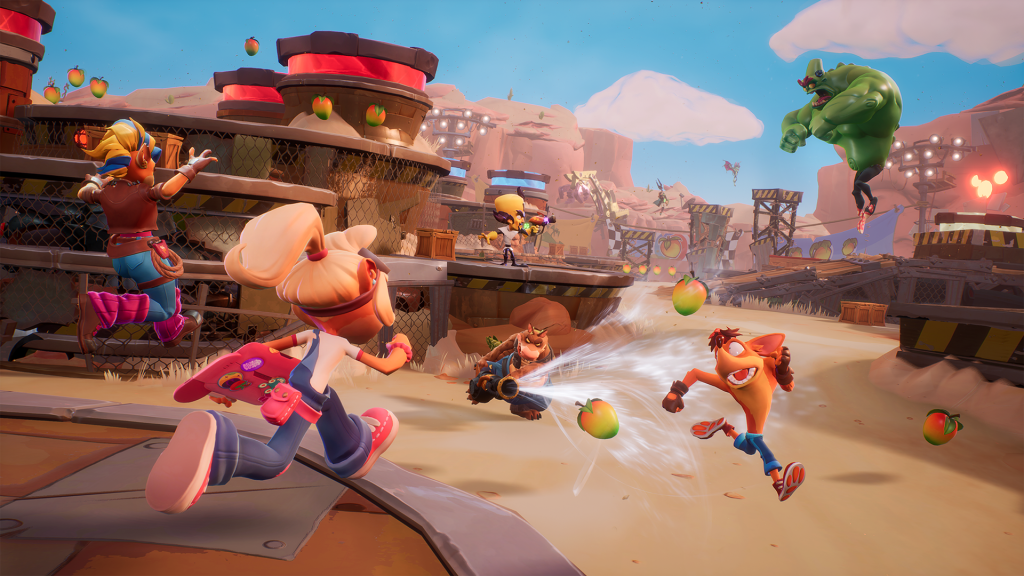 Crash Team Rumble will be released on PlayStation 5, PlayStation 4, Xbox Series X/S, and Xbox One on June 20, 2023. The game will offer cross-platform gameplay, meaning players will be able to play with and against other people on both platforms.
Crash Team Rumble will be available to purchase in two editions. The Standard Edition will be priced at $29.99. It will give players access to the Premium Battle Pass for the game's first Season.
The Deluxe Edition, meanwhile, will be priced at $39.99. It will give players access to the Premium Battle Pass for Seasons 1 and 2, and it will also instantly unlock 25 tiers in the game's Season 1 Premium Battle Pass. Finally, the Deluxe Edition will include the "Digital Proto Pack," which features eight character skins, a "Pixelated" shadow, and more.
Crash Team Rumble is now available for pre-order. Players who pre-order the game will have the option to try the game during its beta test, which will run from April 20, 2023 to April 24, 2023.
While Crash Team Rumble has yet to be rated by the ESRB, representatives for Toys for Bob, the game's developer, said they expect the game will be rated E10+ for Everyone 10+.
Is your family excited to play Crash Team Rumble? Let us know on Twitter at @superparenthq.