Players can prepare recipes in this step-by-step cooking game.
Cooking Mama: Cuisine is now available on Apple Arcade, Apple's game subscription service that gives subscribers unlimited access to a curated selection of games for a single monthly price.
Cooking Mama: Cuisine is the latest title in the Cooking Mama franchise, which began with the original Cooking Mama video game on Nintendo DS in 2006.
In Cooking Mama: Cuisine, players can prepare a variety of dishes alongside a character named Mama using ingredients like eggs, carrots, flour, and more, as well as cooking appliances like a saute pan or oven, among others. The ingredients and cooking appliances players have access to will change each day.
Rather than choosing the dish they want to prepare by looking at a recipe book, players will tap on an ingredient they want to cook with, which will show them the other ingredient(s) and appliance(s) that can be used with that ingredient. For instance, when players tap on the eggs, they can immediately begin cooking in order to create the "boiled eggs" recipe. Or, they can tap other ingredients that can be used alongside the eggs, like milk and flour, to create a different recipe instead.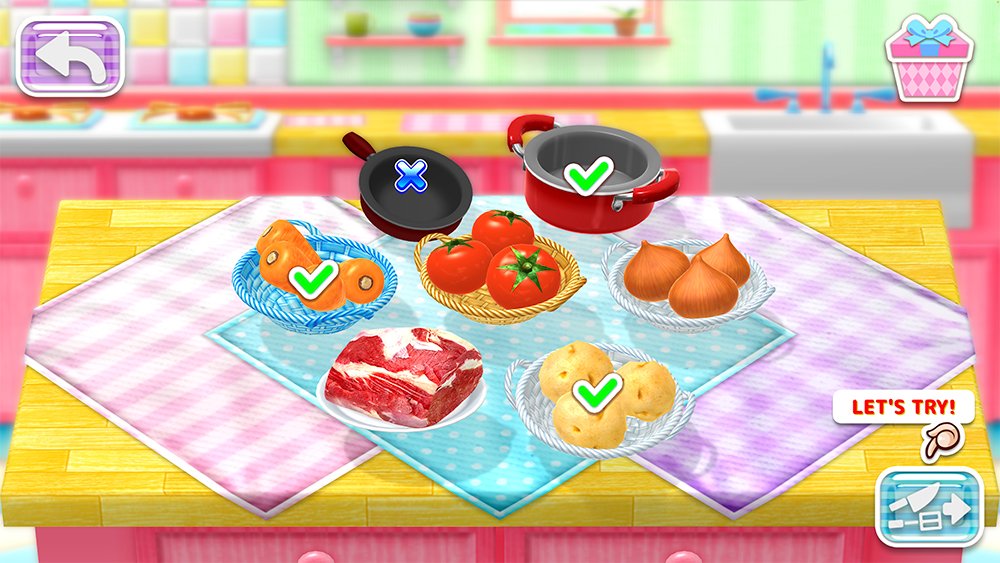 Once players have selected one or more ingredients and cooking appliances that go together to form a complete dish, they can begin cooking. Players won't be told which dish they're creating when they select a particular item combination. However, once players create a dish for the first time, the recipe will be added to their recipe book. The recipe book will show players the ingredient(s) and appliance(s) required to create each dish they've already prepared at least once, and it will also allow players to replay dishes they've previously created and practice the particular steps in each dish.
Players can prepare each dish in a step-by-step process. Each step will ask players to swipe or tap on the screen to complete actions like peeling and chopping vegetables, sifting flour, mixing ingredients, and more. The tasks players will need to complete will be determined by the recipe they're preparing.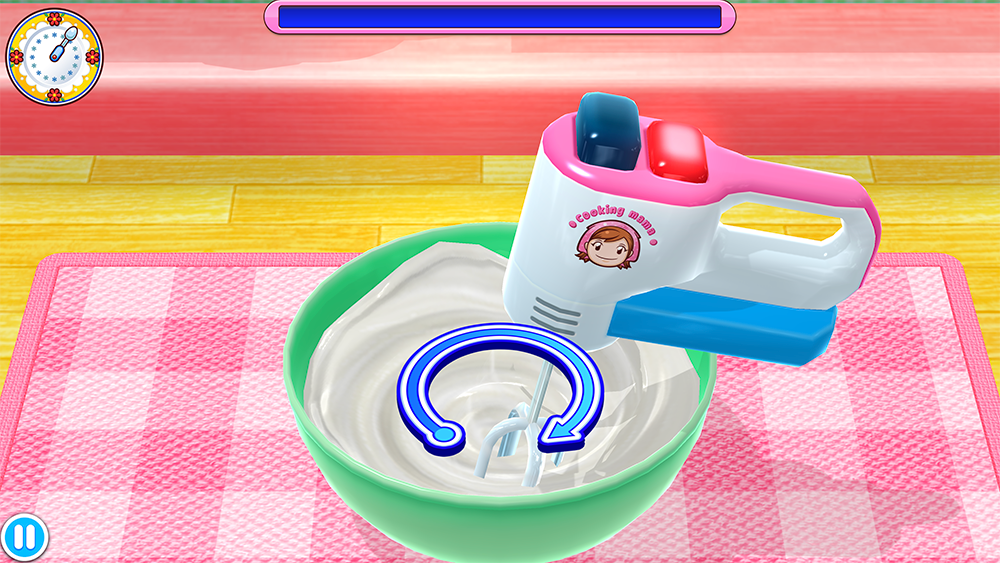 Players have a limited amount of time to complete each step in the cooking process, and they'll receive up to three stars for each step, depending on their performance. Once a dish is finished, players will receive up to three stars for the overall dish, again, depending on their performance during the cooking process.
As players collect stars in bulk (only the stars in a recipe's final rating count), they'll unlock new customization options they can use to change Mama's appearance and the look of their in-game kitchen. Players will also receive a bonus star each time they create a recipe for the first time.
Players can prepare the same recipes multiple times to earn additional stars. They can also replay a recipe in an attempt to improve their overall star rating for the recipe if they haven't previously earned three stars for that dish.
Apple Arcade games don't contain advertisements or optional in-game purchases. This means the only way players can unlock content in Cooking Mama: Cuisine is by playing the game.
Cooking Mama: Cuisine is now available to download on Apple Arcade. The game has an age rating of 4+.
Check out some gameplay from Cooking Mama: Cuisine on iPhone in our video below.