Add some holiday cheer to your device with these mobile game updates.
Christmas is nearly here, and from Animal Crossing: Pocket Camp to Toca Life: World, lots of family-friendly mobile games are celebrating the holidays with themed content updates. Here's a look at just a few.
Animal Crossing: Pocket Camp
Rated 4+ on iOS and E for Everyone on Android
The holiday or "Toy Day" celebration in Animal Crossing: Pocket Camp is in full swing, with a Starry Fishing Tourney finishing up this week and, most likely, a holiday-themed Gyroidite scavenger hunt beginning in a few days.
These events allow you to earn a variety of free holiday-themed goodies for your collection, but if you're willing to spend some Leaf Tickets (premium currency / real money), you can collect even more.
For one, the "Jingle's Holiday Balloon" item from last year's Toy Day event has been re-released for 300 Leaf Tickets, and another premium furniture item, Brewster's Winter Cote, has been released for the same price.
You can also craft premium items in the "Warm Winter Style Collection," purchase premium holiday-themed Fortune Cookies (mystery boxes), and more.
---
Lego Duplo World
Rated 4+ on iOS and E for Everyone on Android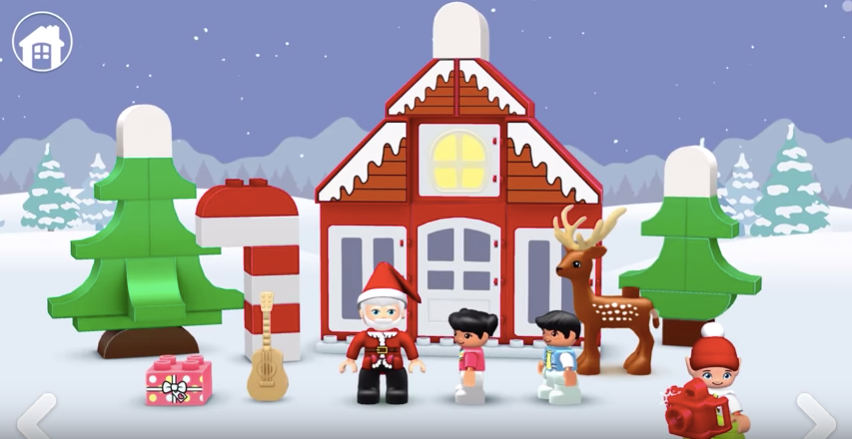 While Lego Duplo World is a free-to-play educational game/app for kids, it does contain optional in-app purchases that give kiddos access to extra content beyond the game's free offerings. For the Christmas season, adults can purchase the "Winter Holiday" pack for $3.99, which includes three different activities for kiddos to try.
With this pack unlocked, players can help Santa give gifts to children, build a snowman, and go ice skating. These activities focus on different learning areas, such as "Imagination & Creativity" and "Fine Motor Skills."
To learn more about Lego Duplo World, check out our SuperParent First Look about the game.
---
Toca Life: World
Rated 4+ on iOS, E for Everyone on Android, and "All Ages" on Amazon
Toca Life: World is a free-to-play sandbox app for kids that gives them a bunch of tools and friendly characters to play with, and lets them do whatever they want with them. The game's holiday update added a premium Ice Skating Village to the in-game store, which can be purchased for $1.99.
Once you unlock this add-on, the Ice Skating Village will be added to the Pom-Pom Peaks section of the in-game map. It contains two different locations to explore: the Winter Apartment and an actual Ice Skating Rink. It also includes nine new characters for kids to play around with.
Both locations are full of interactive objects. For instance, the Ice Skating Rink has a crepe stall, a fire pit, lots of presents under an evergreen tree, and the rink itself, among others. Since the rink is covered in ice, you can lightly tap and drag on characters to see them "skate" across the ice even after you lift your finger.
Meanwhile, the Winter Apartment includes a small kitchen, bathroom, hot tub, and more. There are lots of party accessories (like party hats and masks) that players can use to dress up their characters, and they can even play around with a computer, camera, and television, among other items.
Disclosure: Toca Boca gave SuperParent a code to download the Ice Skating Village for coverage purposes. Our coverage remains objective.
---
Best Fiends
Rated 4+ on iOS, E for Everyone on Android, and "Guidance Suggested" on Amazon
This line-drawing puzzle game is celebrating the holidays with multiple free events.
First, the Holiday Gifts event is running from now until January 7, 2020. It asks you to collect Gifts by completing levels, defeating slugs, and spinning the Fiend of Fortune wheel. There are 40 different challenges to complete in this Holiday Gifts event, with each one asking you to collect the required number of Gifts. As you complete each challenge, you'll receive in-game prizes such as Gold, Diamonds, and more. If you can complete all 40 challenges, you'll receive Gift Box Bob for your Fiend collection.
The other event is called Fiendmas Eve, and it's available to complete from now until January 5, 2020. It asks you to complete 30 different tasks lists (tasks include things like beating a level with a specific Fiend on your team, watching an in-game animation, and so on) to receive in-game prizes. If you can complete all 30 lists, you'll receive Merrymaker Moose for your team.
Top image © Pasko Maksim / Adobe Stock