'Tis the season for holiday-themed content updates in free-to-play mobile games!
From Pokemon Go to Overcooked 2, all sorts of video games have been updated to celebrate the holiday season. Here's a look at the holiday-themed content updates in a handful of popular (and family-friendly) mobile games.
Animal Crossing: Pocket Camp
Rated E for Everyone
Available On: iOS, Android
There's so much going on in this life simulation game that it's hard to know where to begin! Players can help Jingle (the game's adorable holiday reindeer character) celebrate Toy Day by collecting bell ornaments. Currently, that can be done by collecting Toy Day gyroidites that appear in the game's various locations. When players collect enough Toy Day gyroidites, they can use them to craft an assortment of holiday clothing items, like a Festive-Tree Dress and an Ugly Toy Day Sweater. Meanwhile, collecting enough bell ornaments will reward users with tons of bells, the game's free currency.
The gyroidite scavenger hunt event will only be available for a few more days, but it's not the end of the events! Soon, a special fishing tournament will begin, giving players even more chances to collect bell ornaments and earn in-game goodies.
In addition to these limited-time events, players can craft Jingle's Holiday Balloon for 350 Leaf Tickets, the game's premium currency. Users can place this large hot air balloon in their campsite to cause Jingle to come and visit. Players can tap Jingle to talk to him; you can see what the balloon looks like in action in our video above!
Finally, players can purchase the new Fauna's Toy Day fortune cookie in the in-game store for 50 Leaf Tickets. Fortune cookies are Pocket Camp's version of mystery boxes — players will receive a random item from a themed collection when they open each cookie. In this case, the cookie contains all sorts of holiday items, like a Snowy Toy Day Sleigh, a Light-Up Reindeer, and a Snowy Toy Day Sweater. Since the contents are randomized, you'll likely need to open a ton of cookies if you want every item from this collection. Be on the lookout for free cookies that may appear in the store at a price of 5,000 bells each.
---
Best Fiends
Rated E for Everyone
Available On: iOS, Android, Amazon
This colorful match-three puzzle game lets players collect critters called Fiends, which they can use to defeat slugs across thousands of levels. For the holiday season, players can participate in two limited-time events to earn in-game prizes.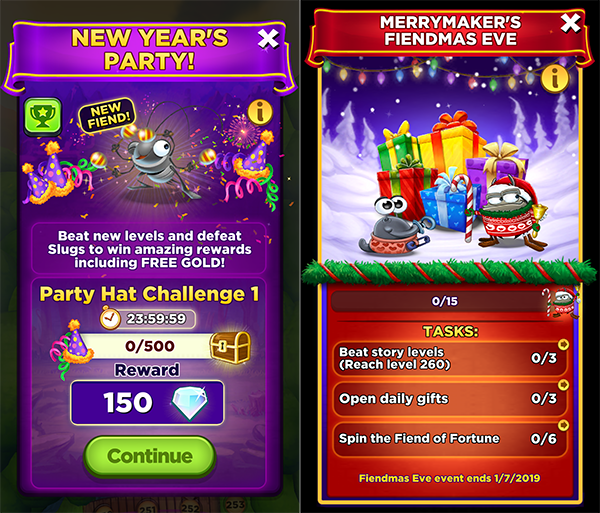 First, the Friendmas Eve event asks players to complete 15 tasks, like beating a required number of levels or opening daily gifts (received for logging in once per day). If players complete all of the tasks, they'll receive the "Friendmas" costume for Moose, one of the game's Fiends. The Friendmas Eve event ends January 7, 2019.
The other event, New Year's Party, asks players to complete 40 timed Party Hat Challenges by collecting party hats as they complete levels. Earning party hats happens automatically as users play, and players will receive in-game rewards as they make their way through each challenge. If players can complete all 40 challenges before the event ends on January 8, they'll unlock a fiend named Freddie.
---
The Sims Mobile
Rated T for Teen
Available On: iOS, Android
The Sims Mobile is a life simulation game that allows users to create digital humans (called Sims) and control their lives, doing everything from sending them to work to choosing who they marry and beyond. For the holiday season, players can participate in the 12 Days of Winterfest event to earn a variety of outfits and housing decorations for their Sims.
For this event, players will be able to collect a special Candy Cane currency (say that 10 times fast) by completing timed Winterfest activities, normal in-game activities, and LlamaZoom tasks. Users can also earn Candy Canes by completing special Winterfest quests, which will only be available for a limited time. As examples, some of these quests asks users to complete in-game actions in order to earn the required number of Simoleons (the game's free currency) or Candy Canes.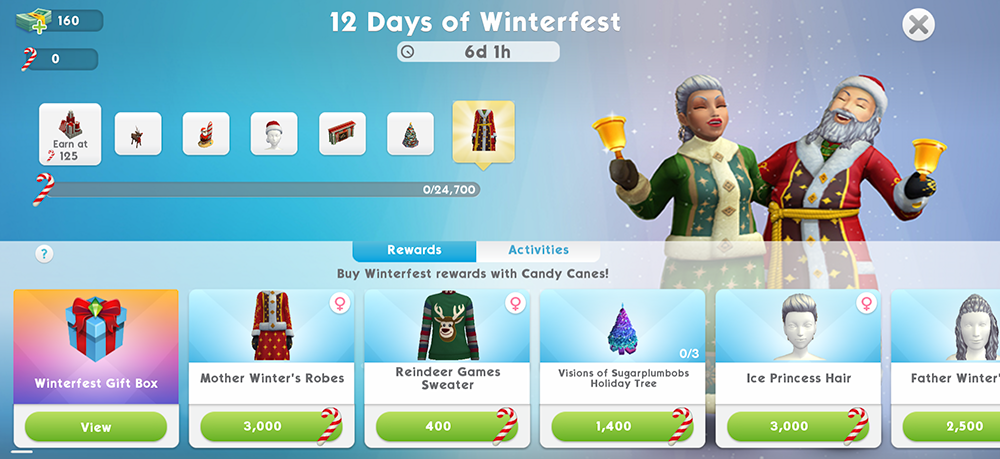 As players reach Candy Cane collection milestones, they'll receive special event prizes they can use to decorate their Sims' home or dress up their Sims for the festive season. The first item, a pile of Winterfest Gifts, will automatically generate free Candy Canes users can collect over time during this event.
Players can spend their Candy Canes on items like a Reindeer Games Sweater and a Visions of Sugarplumbobs Holiday Tree in a special in-game store. Even if players spend some of their candy canes, they won't lose any of their progress toward the Candy Cane collection milestones.
Finally, Candy Canes can also be spent on Winterfest Gift Boxes, mystery boxes that contain themed prizes like pieces of garland, lanterns, and menorahs. Players won't know which item they'll receive when they purchase a box. Each box costs 25 Candy Canes.
---
Kingdom Hearts Union χ[Cross]
Rated E10+ for Everyone 10+
Available On: iOS, Android
This role-playing game in the popular Kingdom Hearts franchise lets players create and customize their own character (avatar), and then complete missions in famous Disney worlds as they interact with beloved characters like Alice, Aladdin, and more.
Kingdom Hearts Union χ[Cross] frequently holds limited time events and releases limited time content — for the holidays, this is no exception. For one, until December 24 at 11:59 P.M. PT, players can purchase Elsa, Anna, and Olaf avatar boards for 2,500 Jewels each (one of the game's currencies). Each board contains special clothing items players can use to dress up their avatar like these Frozen characters, as well as a special title for their avatar, four skills, a Gem, and a variety of Medals.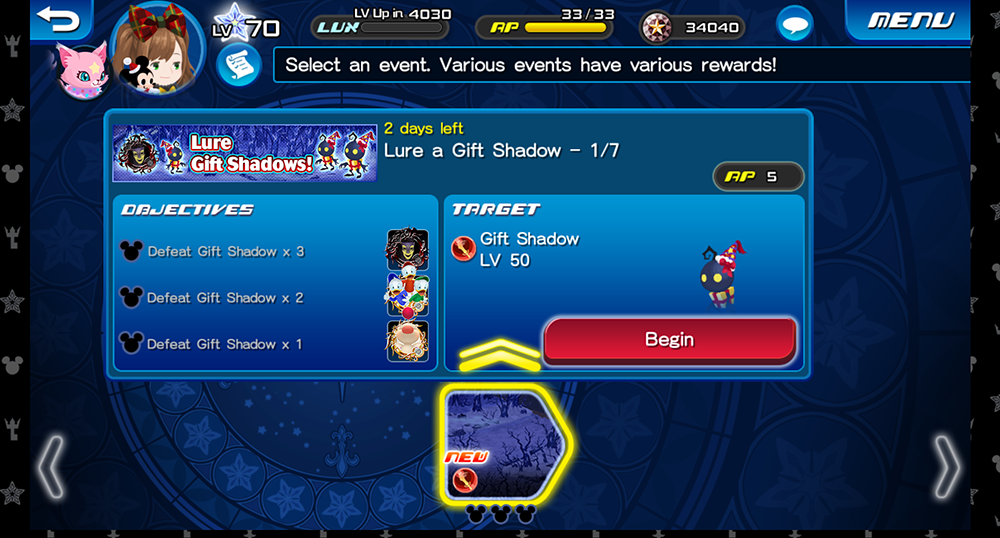 In addition, two "Holiday Night Santa" avatar boards are available to purchase for 2,500 Jewels each. Both boards allow players to unlock items from the same general outfit, but one board is for female avatars and the other is for male ones. Each board also contains a title for the player's character.
Next, a Lure Gift Shadows event is available now until December 20 at 11:59 P.M. PT. For this event, Heartless (one of the game's basic enemy types) have hidden themselves in the snow, and players will need to complete seven quests in order to find and defeat them all. In exchange, they'll receive rewards such as Magic Mirror medals.
Finally, the game's newest Weekly Raid event and the Festive Green Hat and Festive Ribbon Union Cross event allow players to complete battles to earn prizes like Medals, spirit parts, and more. The weekly event will end December 23 at 11:59 P.M. PT, while the Festive Green Hat and Festive Ribbon Union Cross event will end December 25 at 11:59 P.M. PT.