There's a skier and a fisherman!
In 2019, Funko released the first Pop figures in its Peppermint Lane collection, which features Christmas-themed characters like Santa Claus, Mrs. Claus, and Randy the Elf.
In 2020, Funko expanded the Peppermint Lane series with new characters like Harry Chitwood (a crossing guard) and Harriet Camber (a pilot).
Now, in 2021, Funko has added two more characters to the world of Peppermint Lane: Bjorn Cranmore and Dauber Higgins.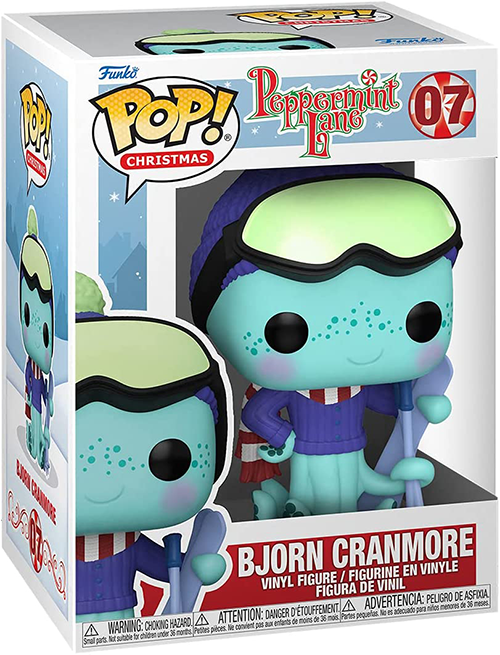 First, Bjorn Cranmore is an octopus who loves outdoor sports. This Pop figure is holding a set of skis and a snowboard. The Bjorn Cranmore Pop stands on five of the figure's eight legs, while the others are positioned like arms. You can rotate Bjorn's head a full 360 degrees if you want to make the figure look in a different direction when displayed outside of the box.
The Bjorn Cranmore figure measures roughly 4.25 inches tall when measured from the bottom of the figure to the top of the pompom on Bjorn's hat.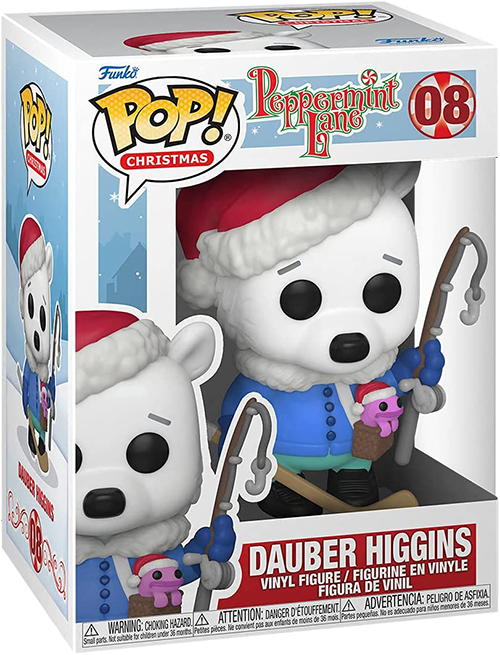 Next, Dauber Higgins is a polar bear that enjoys fishing and hockey. This Pop holds a fishing pole in one paw and a hockey stick in the other, and it's wearing ice skates. The Pop also has a small pink fish sticking out of a basket that's hanging around Dauber's neck.
The Dauber Higgins Pop measures between 4.25" and 4.5" inches tall when measured from the bottom of Dauber's ice skates to the top of the figure's hat. Even though this figure is wearing ice skates, it has no problem standing on its own without falling over.
Like the Bjorn Cranmore figure, you can rotate Dauber's head left and right if you want to make the figure face a different direction while on display. However, the figure's head can't rotate a full 360 degrees because the pompom on Dauber's hat hits the fishing pole.
Funko's new Peppermint Lane Pops will be released before the end of 2021, but keep in mind that different retailers may release the same Funko products at different times and for different prices. For instance, Entertainment Earth has a listed release date of November 2021 for these Pops, while Amazon says they won't be released until January 5, 2022.
Make sure to shop around to find the best price and release date if you want to add these Pops to your collection!
Disclosure: Funko sent the Bjorn Cranmore and Dauber Higgins Pops to SuperParent for coverage purposes.