From Disney to dinosaurs, there's something for everyone in this new release.
January is National Puzzle Month (National Puzzle Day is January 29), and while jigsaw puzzles are fun to put together any time of year, the cold winter months are a perfect time to grab a cup of cocoa and gather around the table for some classic family-friendly fun.
In a 2018 survey, Ipsos, on behalf of puzzle manufacturer Ravensburger, polled almost 1,000 adults about their puzzling habits. In the survey, seven out of 10 people said "solving jigsaw puzzles is a family tradition." Relaxation, fun, relieving stress, brain boosting, and connecting with others were the top five reasons respondents said they complete puzzles, and 84 percent of respondents said they complete puzzles together with other people. Check out the full survey infographic at the bottom of this post.
Filip Francke, CEO of Ravensburger North America, had this to say about puzzling:
"Puzzles create a comfortable space for connecting and relaxing, which gives families a great opportunity to spend quality time together. We encourage families to walk away from screens and 'take a puzzle break.' We also hear from our customers that our jigsaw puzzles are a part of many family traditions, whether over the holidays or during summer vacations. From my own personal experience, I believe families — especially with older children — should also keep an unfinished puzzle out on a table. They allow for organic conversations to flow."
To celebrate National Puzzle Month, Ravensburger has released a new selection of puzzles for puzzlers of all ages. While the puzzles can technically be separated into "children" and "adult" categories, at SuperParent, we're firm believers that any puzzle can be enjoyed by people in multiple age groups. For instance, while a puzzle made for adults may have smaller pieces than a children's puzzle, littles can still help out by searching for pieces with a specific color, or by finding pieces that make up the edge of the image.
Here's a look at all of Ravensburger's recent releases. (The prices are current as of the time of this writing.)
Children's Puzzles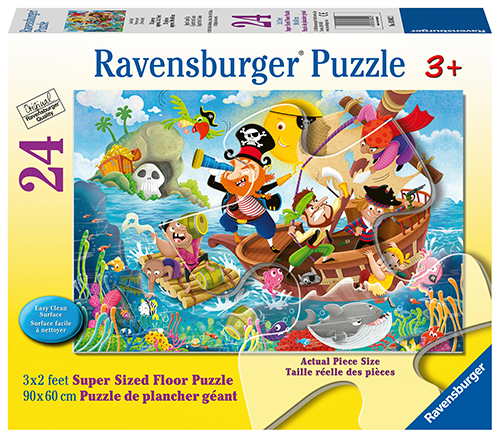 Land Ahoy! (Rated 3+, $15.99 on Amazon) – This 24-piece floor puzzle measures 2′ x 3′ when it's fully completed. The colorful image features pirates who are getting into some shenanigans on the high seas.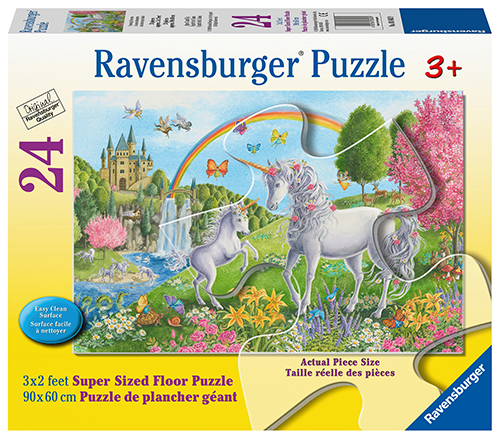 Prancing Unicorns (Rated 3+, $15.99 on Amazon) – This is another 24-piece floor puzzle with the same dimensions as Land Ahoy! Instead of pirates, this puzzle has a lovely image of unicorns who are enjoying a lush hillside.

Me & My Pal (Rated 4+, $11.01 on Amazon) – This adorable puppy-themed release is actually two 24-piece puzzles in one, with each puzzle having a different image to put together. We had a chance to try this one ourselves, and we love how vibrant and clear each image is. Each puzzle measures 7″ x 10″ when it's finished.
These sorts of puzzles are designed to come fully assembled in the box, so you and your littles can decide whether you want to keep the pieces for each puzzle separate, or mix them up to increase the challenge when putting them together again. The puzzle with the pink theme has pieces with special symbols on the back, which can help with the sorting process if you choose to mix the pieces together.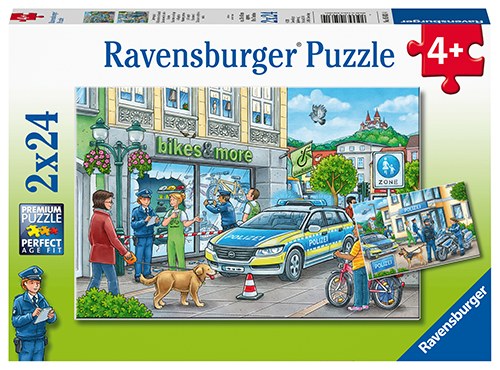 Police at Work (Rated 4+, $10.97 on Amazon) – Similar to the Me & My Pal puzzles above, this one is a two-pack of 24-piece puzzles. Each one contains an illustration of police officers doing their jobs.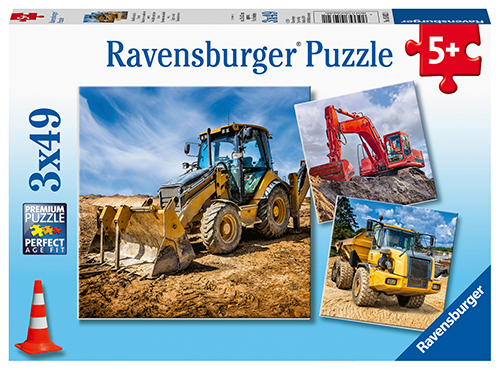 Digger at Work (Rated 5+, $16.59 on Amazon) – This set contains three 49-piece puzzles, with each one letting kids put together a photograph of construction equipment.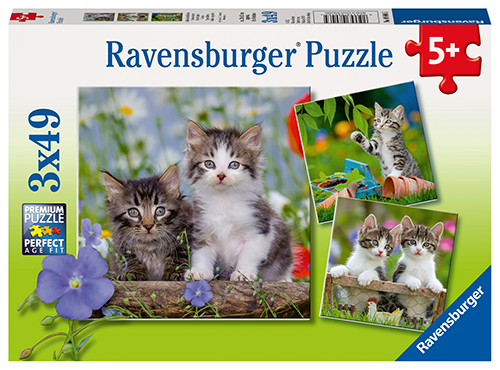 Tiger Kittens (Rated 5+, $12.49 on Amazon) – The Tiger Kitten set contains three 49-piece puzzles that feature images of adorable kittens.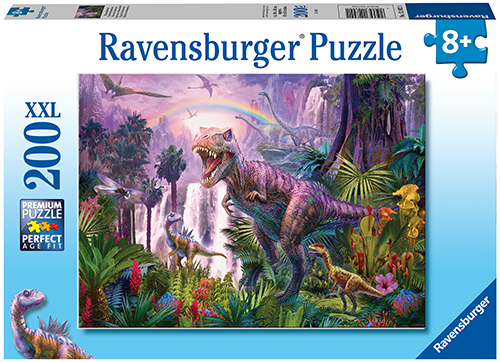 King of the Dinosaurs (Rated 8+, $14.49 on Amazon) – For kids who want a bit more challenge, this one is a 200-piece puzzle that has Ravensburger's "XXL" pieces, which are bigger than standard jigsaw puzzle pieces.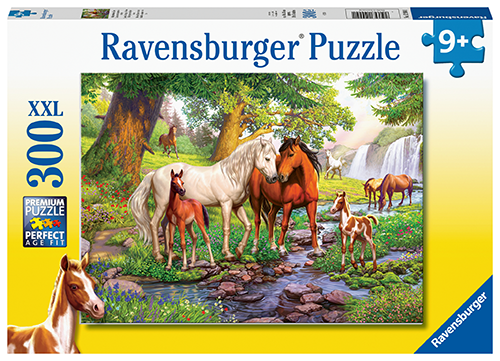 Horses by the Stream (rated 9+, $11.99 on Ravensburger's website) – The last children's puzzle in Ravensburger's latest release contains 300 "XXL" pieces. The picture features a group of graceful horses standing near a gentle stream.
---
Adult Puzzles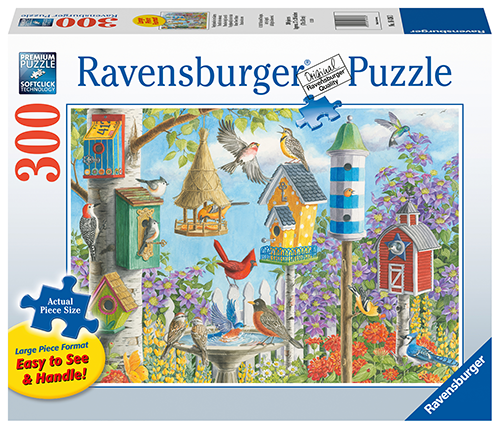 Home Tweet Home ($18.49 on Amazon) – This 300-piece puzzle contains an illustration of birds and some colorful bird houses. This one has "large" pieces when compared to a traditional jigsaw puzzle, so they're easier to handle.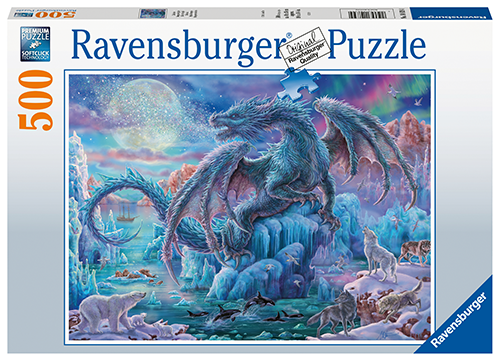 Mystical Dragons ($23.58 on Amazon) – Mystical Dragons is a 500-piece puzzle that features lots of different shades of blue and white, so we expect it will be more challenging than a traditional puzzle with this piece count.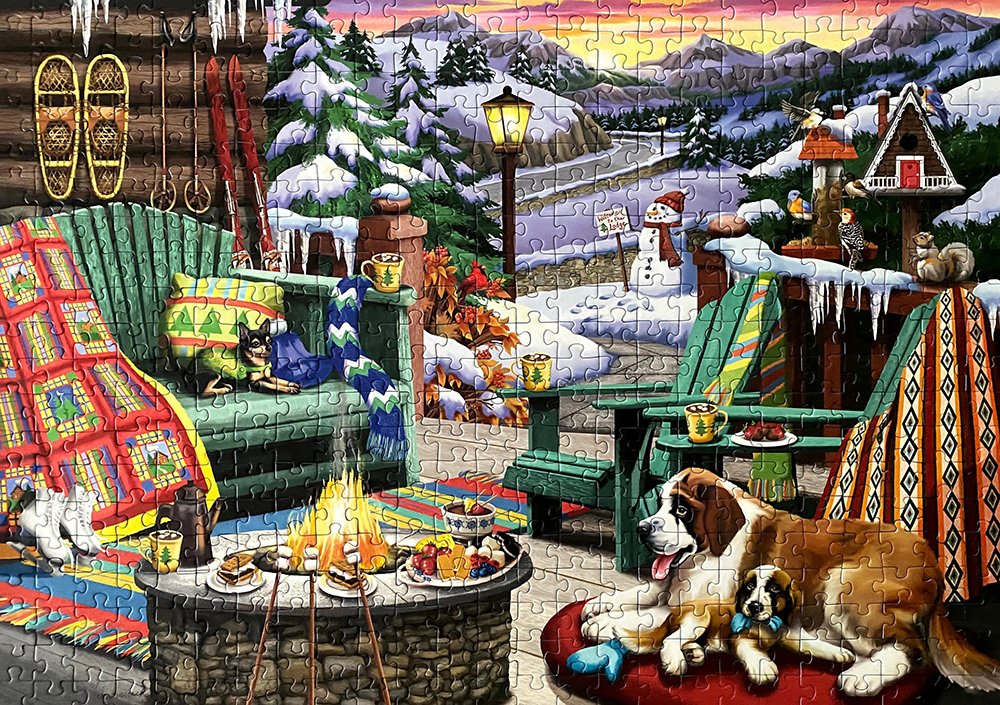 Apres All Day ($18.49 on Amazon) – Similar to the Home Tweet Home puzzle, this 500-piece puzzle has "large" pieces, which are easier to handle than traditional puzzle pieces. We also had a chance to go hands-on with this puzzle, and we really enjoyed our time with it. The cozy winter scene is perfect for the January timing of National Puzzle Month, and the colorful image features small details you might not notice at first glance, such as the squirrel hanging out near the birdhouse and bird feeder at the right side of the image.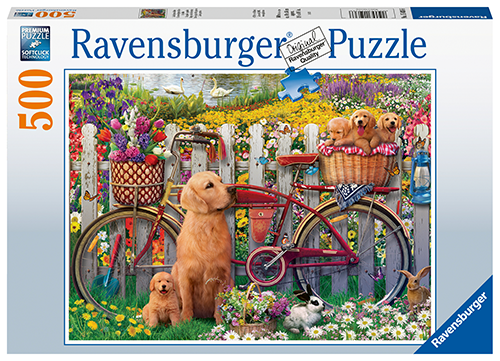 Cute Dogs in the Garden ($10.99 on Amazon) – This 500-piece puzzle contains an adorable scene of puppies and bunnies hanging out near a fence.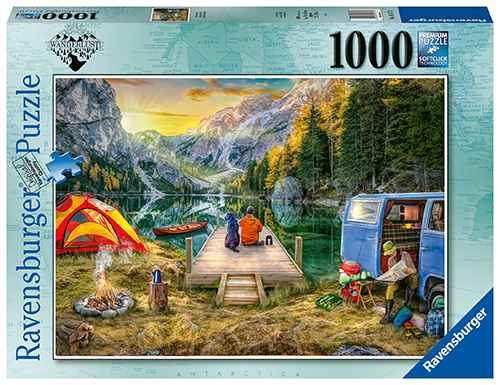 Calm Campsite ($20.99 on Amazon) – Upping the difficulty, this is a 1,000-piece puzzle that shows off a relaxing campsite next to a beautiful lake and mountain range.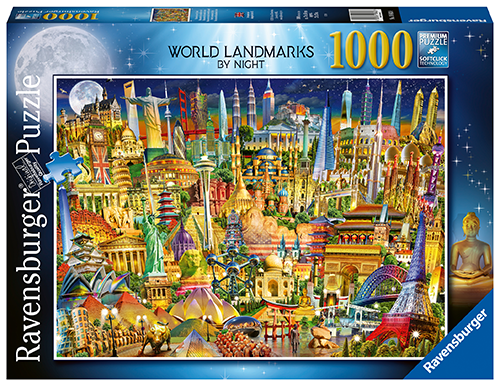 World Landmarks by Night ($21.99 on Amazon) – World Landmarks by Night is a 1,000-piece puzzle featuring a collage of landmarks found in countries around the world, such as the Eiffel Tower and Mt. Rushmore. There are lots of gold tones in this puzzle, so we expect it would give you a decent challenge if you're looking for one.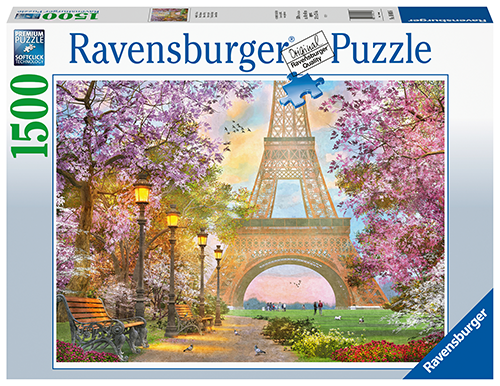 A Paris Stroll ($33.33 on Amazon) – If you really want to test your puzzling skills, try this 1,500-piece puzzle containing a picture of the Eiffel Tower and some colorful trees.
---
Escape Puzzles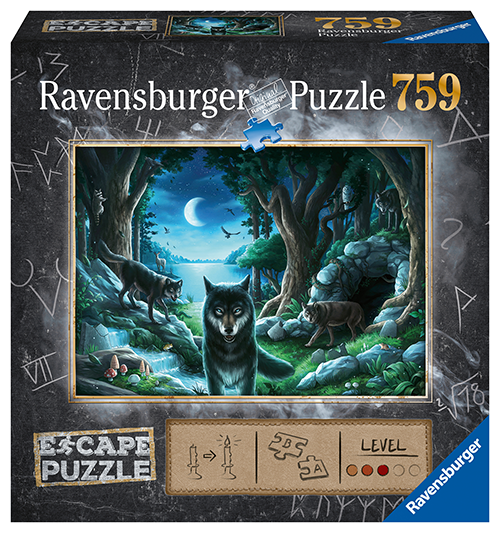 The Curse of the Wolves ($19.99 on Amazon) – This 759-piece puzzle is one of two new releases in Ravensburger's Escape Puzzle series. These puzzles combine the idea of an escape room with a jigsaw puzzle. First, you'll put together the image (in this case, it's a spooky forest with menacing wolves), and then you'll need to solve riddles found in the puzzle's image to escape the puzzle's setting. To add even more challenge, the picture on the box varies slightly from the image you'll actually put together.
For more information about Ravensburger's Escape Puzzles, check out our previous coverage.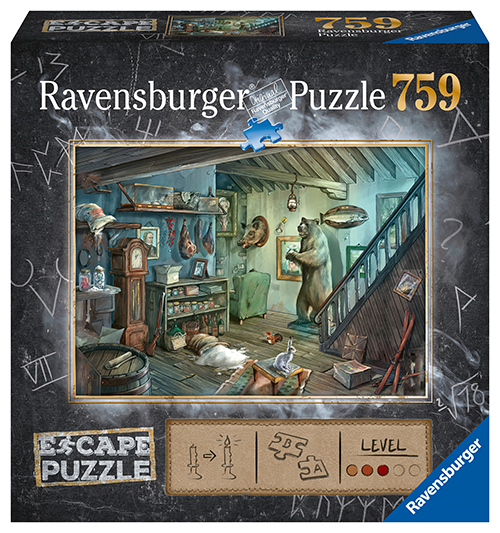 Forbidden Basement ($19.99 on Amazon) – This second new Escape Puzzle for 2020 challenges you to escape from a cluttered basement. Like the other Escape puzzles, this one features 759 pieces.
---
3D Puzzles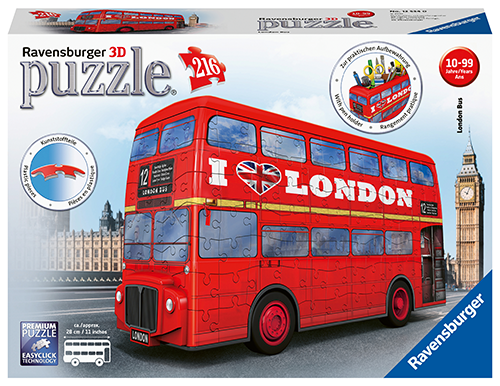 London Bus ($24.18 on Amazon) – Rather than being a traditional jigsaw puzzle that rests flat on a tabletop, this is a three-dimensional puzzle comprised of 216 plastic pieces. Each piece is numbered, so you can put them together in numerical order, or you can attempt to put the bus together on your own by sight. The puzzle comes with moving wheels, so kids can (gently) play with the completed puzzle like a normal toy. The top of the puzzle is also hollow, so you can use it to store things like pens or scissors on your desk.
---
Disney Collector's Puzzles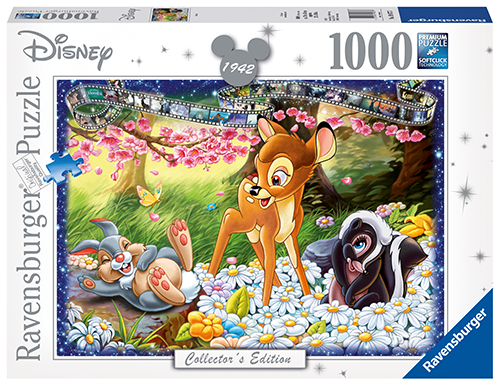 In 2016, Ravensburger released a 40,320-piece puzzle featuring scenes from classic Disney animated films, such as Snow White and the Seven Dwarfs and Fantasia. Last year, the scenes from that puzzle were released as individual 1,000-piece Collector's Edition puzzles, though their availability was limited. Now, you can pick them up on Amazon.
You can choose from Snow White and the Seven Dwarfs, Fantasia, Dumbo, Bambi, Cinderella, Peter Pan, The Jungle Book, The Little Mermaid, and Beauty and the Beast. All of the puzzles cost around $20-25, depending on the one you choose.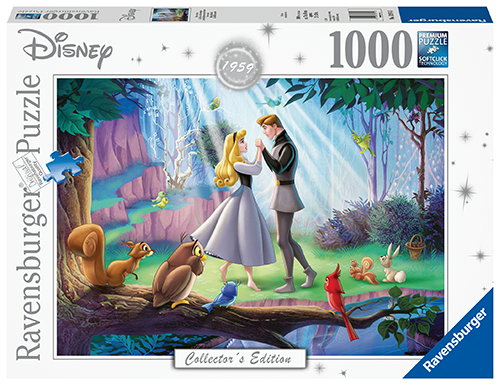 Another Disney Collector's Puzzle lets you put together an image from Sleeping Beauty, but this image wasn't pulled from the 40k-piece puzzle. This 1,000-piece puzzle can be picked up on Amazon for $23.99.
Disclosure: Ravensburger sent SuperParent the Me & My Pal, Apres All Day, and Snow White puzzles for coverage purposes. Our coverage remains objective.
Ravensburger Survey Infographic